Ellicia Wong Wins Miss Chipao Malaysia 2017 Pageant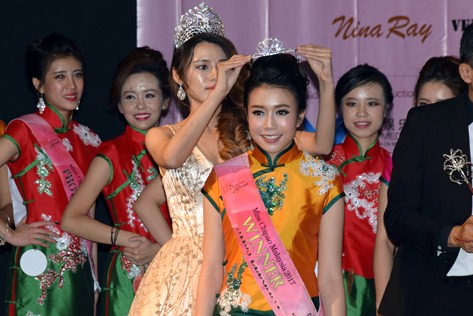 Freelancer Ellicia Wong Bei Ying, 26, of Kuala Lumpur was crowned Miss Chipao Malaysia 2017 at the grand finals held at Palace of The Golden Horses in Seri Kembangan, Selangor on 18th March.
The 5 feet 5 inches (164 cm) tall lady received the crown and sash from her predecessor, Miss Chipao Malaysia 2016 Verselle Yong.
Vocal teacher/singer Catherine Soon Zhi Ling, 27, from Penang and financial  planner Jaquee Lee, 22, from Kuala Lumpur were named first and second runner-ups,  respectively.
Ellicia who also won the Miss Elegant subsidiary title will go on to represent Malaysia at the Miss Chipao International world finals in China in the later part of this year.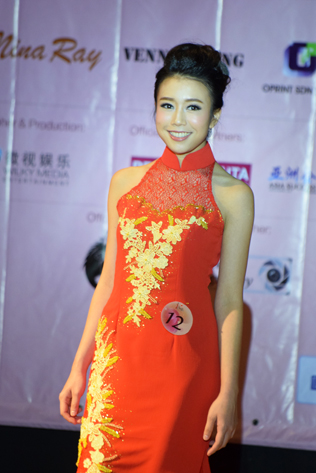 As for the Mrs Chipao Malaysia 2017 title, beautician San Yee Ching from Selangor,  29, emerged as the winner, while dance instructor Adeline Cheng, 47, also from Selangor and housewife Rachel Yeo, 44, from Malacca were first and second runner-ups, respectively.
Miss Chipao Malaysia president and founder Jason Hee placed the crown on San's head as the first winner of Mrs Chipao Malaysia 2017.
Hee said Miss Chipao Malaysia was discovered in 2012 and this was the 4th year of the local pageant with the same concept, mission and vision of the Miss Kebaya Malaysia (MKK) pageant which he also founded six years ago.
"For this year's Miss Chipao Malaysia, we decided to add another category which is Mrs Chipao Malaysia because of the great support from the public," he said.
23 finalists, including six married women, contested in the 2017 Miss & Mrs Chipao Malaysia pageant. A total of 10 subsidiary titles were awarded during the finals. Six Miss Chipao Malaysia 2017 ambassadors were also crowned.
Here's the Miss & Mrs Chipao Malaysia 2017 final results:
MISS CHIPAO MALAYSIA 2017
Champion: Ellicia Wong Bei Ying, 26, freelancer
First runner-up: Catherine Soon Zhi Ling, 27, vocal teacher/singer
Second runner-up: Jaquee Lee, 22, financial planner
MRS CHIPAO MALAYSIA 2017
Champion: San Yee Ching, 29, beautician
First runner-up: Adeline Cheng, 47, dance instructor
Second runner-up: Rachel Yeo, 44, housewife
SUBSIDIARY TITLE WINNERS
Body Beautiful: Jaquee Lee, 22, financial planner
Best Catwalk: Jaquee Lee, 22, financial planner
Miss Elegant: Ellicia Wong Bei Ying, 26, freelancer
Beautiful Skin : Gladys Seong, 21, event marketing executive/makeup artist
Miss Congeniality: Jean Chong, Li Jin, 25, online business owner
Inner Beautiful: Carmen Tang, 19, student
Popularity: Tiffany Chong Shu Yin, 18, ballet teacher
Photogenic: Eve Koh Ying Theng, 20, freelance model
Best Talent:
(Miss) Catherine Soon Zhi Ling, 27, vocal teacher/singer
(Mrs) Adeline Cheng, 47, dance instructor