US Sailor Surprises Crowd with a Malay Song at eCurve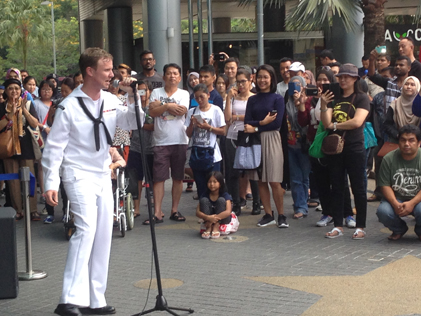 Shoppers at eCurve shopping mall in Mutiara Damansara, Petaling Jaya were treated to a special live performance by two United States Navy Bands at the mall's entrance on 9th April, 2017.
They were the U.S. Pacific Fleet Band's popular music group "Pipeline" and the U.S. Seventh Fleet Band's music group "Orient Express."
The Pipeline performed first with Petty Officer 3rd Class Brent Mitchell, 31, the only vocal in the band, rendered popular chart-topping hits such as Beat It by Michael Jackson, Careless Whisper by George Michael and Hotel California by Eagles for the large crowd gathered in the afternoon heat.
Then Mitchell surprised the crowd by belting out a popular Malay song "Assalamualaikum Ustazah" by Malaysia's rock band Khalifah and sounded pretty good and convincingly in Malay.
The crowd loved it and erupted into a huge round of applause for Mitchell and the band.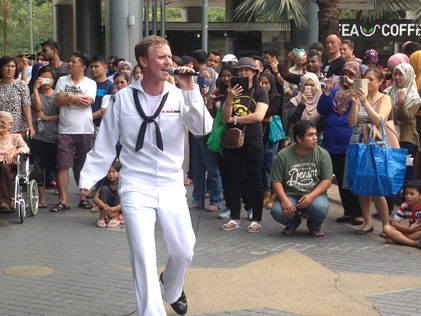 Mitchell, from Maryland, joined the US Navy three years ago told Citizen Journalists Malaysia (CJMY): "I am enjoying myself for my first time in Malaysia and I am happy to see the warm smiles on everyone's face here."
After Pipeline finished their performance, the Orient Express came in to play their songs but halfway through, their performance had to be cut short due to changing weather that brought strong winds and heavy rain.
The 3-hour musical showcase presented by the U.S. Navy was part of the Pacific Partnership 2017 Community Outreach Program in collaboration with the Malaysian Ministry of Defence (Mindef).