Salman Khan Live In Malaysia Rescheduled
Bollywood superstar Salman Khan's Da-Bangg Tour: Salman Khan Live In Malaysia 2017 that was to take place at MIECC on 14th April, 2017 has been rescheduled to July 2017. The organizers GHC Solutions Sdn Bhd have said that the exact date will be informed soon.
"We hereby give notice that the Da-Bangg Tour Show in Kuala Lumpur which was scheduled to be held on 14th April 2017 at MINES Exhibition Centre has be rescheduled due to unavoidable and unforeseen circumstances.
The tentative new date for the rescheduled show will be in July 2017 and we will update accordingly with the exact date upon confirmation with the artistes concerned." the organisers informed in an official notification.
Actor Salman Khan has tweeted that only Malaysia leg of the tour will be affected and there is no change in the rest of the schedule.
"Hello Malaysia, the organisers have requested me to reschedule Da Bangg show in Malaysia. We will share the new Malaysia date soon. No change in the rest of the schedule. Hong Kong, Auckland, Sydney, Melbourne see you soon." he wrote.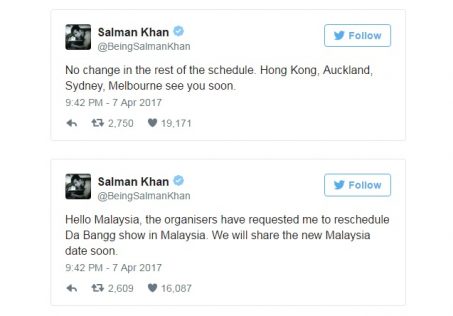 All present ticket holders have been advised to retain their tickets as upgrades and or special incentives will be offered as appreciation at the rescheduled show.
Those who purchased their tickets online are advised to contact 
[email protected]
to obtain a refund, while those who have any queries may contact the organizers at 
[email protected]
.