Mrs Tourism Queen Msia & Int'l Launched at KL Tower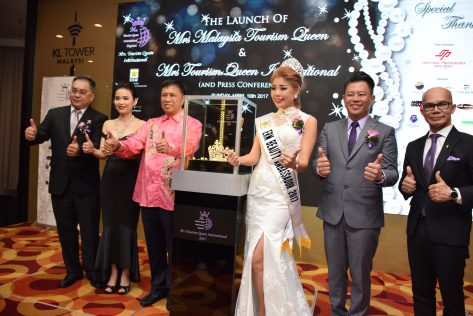 The search is on for married women to showcase their confidence, intelligence and beauty through the Mrs Malaysia Tourism Queen 2017 pageant.
Organised by Sentinel Pageant Sdn Bhd, the pageant offers two titles – Mrs Malaysia Tourism Queen for married Malaysian women or permanent residents aged between 25 – 40; whilst Classic Mrs Malaysia Tourism Queen for those aged 41 and above.
Speaking at the official launch of the highly anticipated Mrs Tourism Queen International Pageant and the Malaysian edition – Mrs Malaysia Tourism Queen Pageant – at KL Tower on 16th April 2017, pageant director Jenet Foo said the pageant was aimed at empowering and connecting more married women besides recognizing their accomplishments and contributions.
Mrs Tourism Queen International is the sister-pageant to the Miss Tourism Queen International beauty pageant.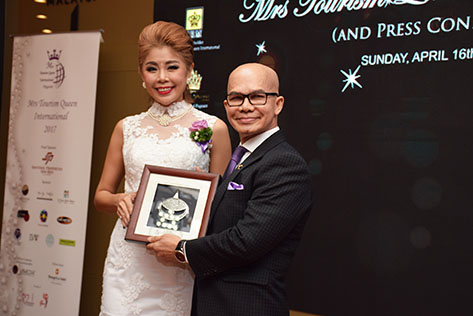 "Being married with two young children myself, our world does not end there. In fact, it is a new beginning for us to remain beautiful, elegant and confident. Married women of today should be admired for their charisma, intelligence and individually and more so through this pageant they can now be recognised for their contribution to our nation's vision of promoting Malaysia as a tourist destination to the world," said Jenet who has won numerous beauty pageant titles, including Mrs Malaysia World 2015.
She said the pageant will also serve as a platform for conducting corporate social responsibility programs to increase social awareness, including teaching compassion to the younger generation.
Present at the launch were Mrs Tourism Queen International 2017 patron Wan Ahmad Abas, Exclusive Resources Marketing (ERM) Pte Ltd founder and managing director Alex Liu, ERM Marketing (Malaysia) general manager and Miss & Mrs Tourism Queen International vice president Sean Chia, marketing manager Alina Wang, Sentinel Pageant executive director Raymond Yap, a bevy of beauty queens past and present, celebrities, sponsors, partners and members of the media.
A memorandum of agreement was signed between ERM Marketing Sdn Bhd and Sentinel Pageant Sdn Bhd to administer and organize the Mrs Malaysia Tourism Queen and Mrs Tourism Queen International pageants.
Jenet Foo expressed joy over the opportunity offered to her as pageant director of Mrs Malaysia Tourism Queen and Mrs Tourism Queen International pageants by Alex Liu and Sean Chia who were impressed with her abilities shown during the Mrs World 2016 pageant in Seoul, South Korea last year.
Realising that this would give her the chance to achieve her vision of restoring the confidence and empowering married women, Jenet took up the challenge and incorporated Sentinel Pageant.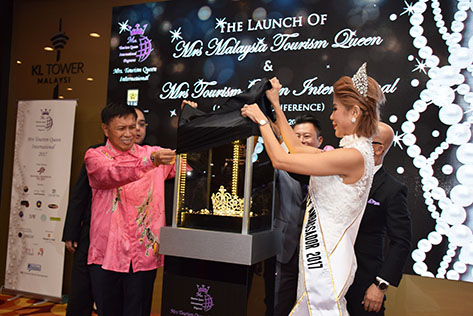 The shimmering crown that symbolizes a wise married woman was unveiled with much ooh from the guests present. It was specially designed and customized by Jenet herself, adorned with pearls and crystal gems that reflect an alluring lilac hue.
Three ambassadors queens were crowned to assist with the pageants. Jenet Foo was officially crowned ERM Beauty Ambassador, whilst Mrs Malaysia World 2016 Datin Geraldine S. Bigar and Mrs Borneo World 2016 Ann Hee were crowned Mrs Tourism Queen International Ambassadors.
Jenet said the winner of Mrs Malaysia Tourism Queen will represent the country in the Mrs Tourism Queen International world finals – together with beauty queens from over 40 countries – which will be held for the first time in Malaysia in April next year.
Pageant hopefuls are requested to send in their personal particulars together with a recent full-length photograph by email to [email protected]. The application form will then be sent to them.
Registration fee for the pageant is RM500 and will close on June 10, 2017, and followed by an audition. Pageant finalists will go on tour of several places of interest for filming and engage in numerous tourism promotional activities contributing towards achieving Malaysia's target of getting 31.8 million visitors in 2017 under the theme "Malaysia Truly Asia".
The grand final will be held at Shangri-La Hotel Kuala Lumpur on Nov 24, 2017.