Miss Malaysia Petite Spokesperson 2017 Finalists Announced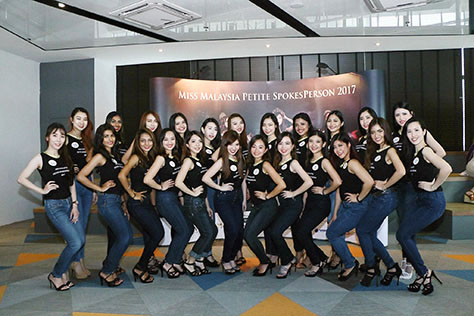 The inaugural beauty pageant exclusively designated for petite ladies, the Miss Malaysia Petite Spokesperson 2017 was officially launched at Atria SOFO Suites, Damansara Jaya in Petaling Jaya on 20th April 2017.
The Top 25 Miss Malaysia Petite Spokesperson finalists who are vying for the title of Miss Malaysia Petite Spokesperson 2017 were announced at a packed press conference. They will compete to wear the prestigious crown at the grand finals at Galaxy Banquet Hall @ HGH Convention Centre in Sentul, Kuala Lumpur on 26th May 2017.
"Height is no more a barrier for women to foray the modelling and pageantry worlds. I am pleased and honoured to provide such platform to encourage petite ladies to step out of the enclosed frame of the typical definition of beauty," said Irene Tan. a former winner of Miss Petite World 2012 and director of I Tiara Production Sdn Bhd which is organising the event.
She said a mere beauty appearance was no longer enough to be a beauty queen. Modernization of global development required multi-skilled talent to keep up the pace of the world.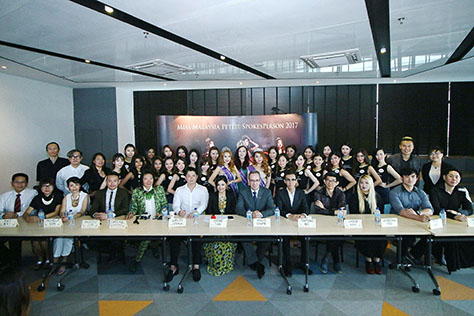 "The rapid demands of the world now requires a winner not just about physical beauty but also have a heart and a brain. The winner needs to be witty, compassionate, outspoken and patient," said Tan.
The pageant is opened to ladies between 18 to 29 years old, with a height limitation requirement of not more than 167.5cm (5 feet and 5.94 inches).
The finalists come from all over the country and they are (in number sequence) :
Venetia Chan Xue Wen
Litsan Chong
Lim Huey Meen
Sarah Jane Tey Li Yee
Janice Lim Hui Wern
Cheng Yuen Wai
Rashvinder Kaur Piara Singh
Khaw Joo Cheng
Nathasha Dharwahne A/P Balachandran
Delea Tan Siu Phing
Yong Yvonne
Sow Huey Ru
Ginny Choong Siew Yen
Vinodtha A/P Sethuraman
Winnie Jiau Xiao Hui
Lau Ser Lyne
Ong Ying Wei
Avalon Julia Dawson
Choong See Way
Lee Yee Vian
Beledees Lavaours Lim
Yew Hoe Yan
Shubasini a/p Revichandren
Law Yen Ping
Mon Lee Yik Fann
Tan pointed out that there will be no swimsuit round during the final. There will be about 12 judges for the pageant and include Dato' Sri Joshua Chong, Dato' Kee Hua Chee, Dato' Wenddi Anne and Vicky Chai, with more celebrity judges to be announced for the final.
About 1,000 VVIP guests from various fields of businesses are expected at the grand final.
Among the event sponsors and partners are AGP Group of companies, Laco, SE Wellness, SkinEye and Nego50, Lamode Artology, Baddogz Studio, MakeUp Puzzle, Younique Image Venture, Corporate Orient, Mun Hoo Photography, Timothy Teoh Photography, Benggy Yeong Photography, Taro Chat, Signature Fitness, WataTime, Amber Chia Academy, Rentak Sejuta, International Beauty Health @ Education Association and Shoot.com.my.
For more info, visit www.MissPetiteSpokesPerson.com or www.facebook.com/MissMalaysiaPetite. For purchasing of VVIP tickets, contact Sam at 010-8997106.