Cat Lovers Get Together for Cat Talk
There was a time when collecting old stamps, currencies, steel badges and butterfly, was considered as a popular hobby among urbanites. However, these hobbies have since fallen out of the mainstream and a growing number of city dwellers have taken their love for felines as the hobby.
The current trend of cat breeding and grooming are definitely not new to Malaysians. However, the sprouting of pet shops specialising only on felines is a testament to the growing interest among urbanites especially on special imported breeds suach as British Short Hair, Scottish Fold, Bengal and Maine Coon.
The huge interest in cat breeding and grooming was also evident during the recent event held during Made Malaysia FEST at Kompleks Kraft. Experts was invited to give talks on various aspects of caring for their cats, monitoring their health, grooming, and feeding.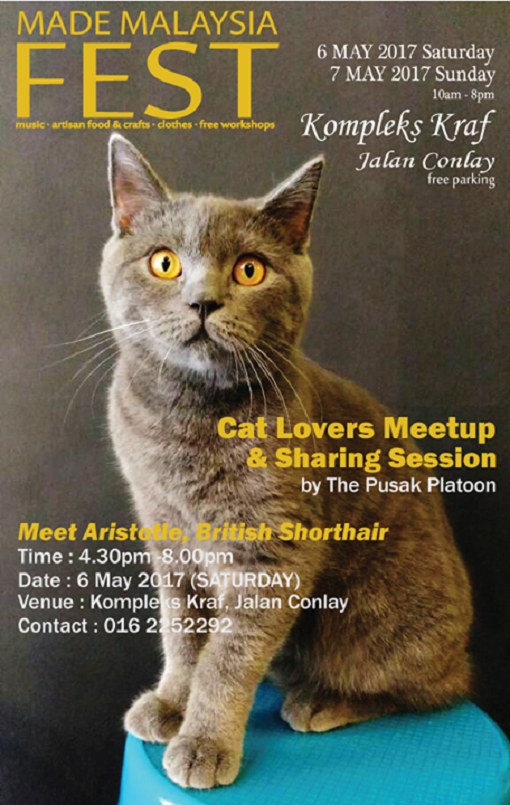 The cat lovers meet up and sharing session during Made Malaysia FEST  was organised by cat breeder and groomer The Pusak Platoon. The proprietor Azree Zain gave a take on species selection, grooming, and healthcare during the sharing session.
Azree, who holds Masters degree from Tasmanian University, has been involved in the feline industry due to deep interest and love of cats. He has since opened a pet shop, specialising in various breed of cats.
The Pusak Platoon also provides on-site grooming services, cat boarding, feline products retail as well as cat breeding and adoption services.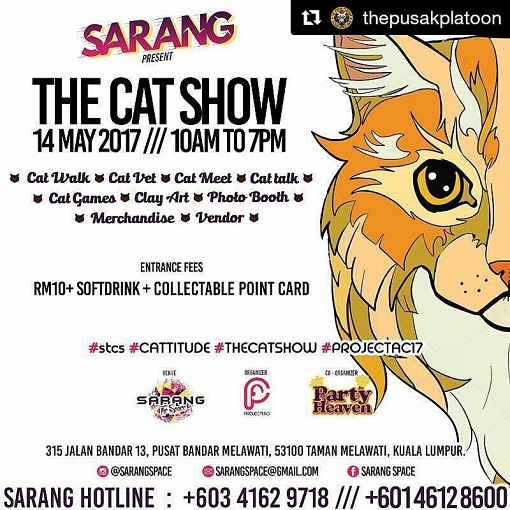 Feline lovers will once again have the opportunity to mingle around during The Cat Show, which will be held at the Sarang Space, Pusat Bandar Melawati on May 14, 2017.
The Cat Show will be first project of the year and will kick off a series of event, which will be organised by Projetac. Among the activities lined up for the event are cat walk, cat games, cat talk, booth, photo session and many more. Visitors are encouraged to bring their cats.
For more information on the event, please get in touch through Sarang hotline 03-4162 9718 or 016 612 8600