Colour of Voices akan Mewarnai eCurve Sempena Ramadhan
eCurve akan menyambut kehadiran bulan Ramadan dengan menganjurkan kempen Raya Acapella Special with Colour of Voices untuk memeriahkan musim perayaan ini dan meraikan kepelbagaian budaya di Malaysia menerusi muzik.
Colour of Voices, sebuah kumpulan acapella yang ahlinya terdiri daripada pelbagai latar belakang, bangsa dan budaya akan menghiburkan pengunjungnya dari 26 Mei hingga 27 Jun 2017 di eCurve.
Kumpulan yang berbakat ini menerima tumpuan ramai sejak tular di laman media sosial dan akan memukau penonton dengan kelunakan dari keharmonian vokal mereka, dendangan lagu-lagu Raya klasik dan muzik hit kontemporari yang akan menghidupkan suasana "balik kampung" dalam kalangan pengunjung.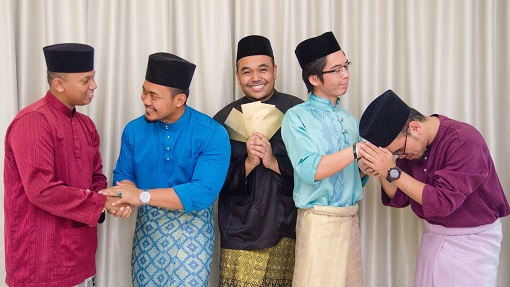 Pengunjung boleh menyaksikan persembahan ini di Centre Atrium eCurve yang telah dihiasi bagaikan sebuah Bazar Hari Raya dengan kanopi berwarna merah jambu dan disinari cahaya pelita juga lampu candelier yang direka khas bagi menyerlahkan lagi kemeriahan suasana perayaan.
Azizul Hisham Ahmad, Pengurus Kompleks eCurve berkata, "Mengekalkan keharmonian dan semangat perpaduan adalah sangat penting terutamanya di bulan Ramadhan. Sehubungan itu, Colour of Voices turut membawa mesej keharmonian khususnya terhadap masyarakat majmuk di negara ini dimana ianya bertepatan dengan kemuliaan bulan Ramadhan."
Pengunjung akan dihiburkan dengan persembahan Colour of Voices pada pukul 3.30 petang dan 6 petang setiap hujung minggu serta hari cuti umum sepanjang tempoh kempen itu berlangsung.
Selain itu, jangan lepaskan peluang untuk menyaksikan pertunjukan seni tari yang menampilkan gabungan koreografi tari Melayu dan Timur Tengah oleh sekumpulan penari yang menggayakan fesyen hijabista yang terkini. Tarian ini pula akan diadakan jam 4 petang setiap hujung minggu.