Shubasini Revichandren is Miss Malaysia Petite SpokesPerson 2017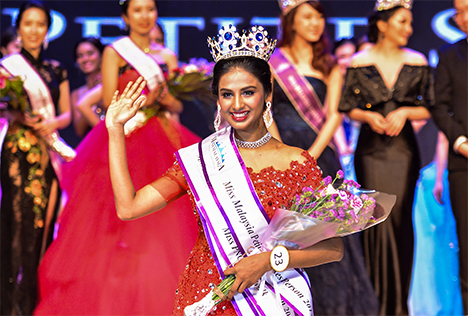 Loud cheers and thunderous applause greeted Shubasini Revichandren after she triumphed over fellow contestants to win the inaugural Miss Malaysia Petite SpokesPerson 2017 pageant at the grand finals held at HGH Convention Centre in Kuala Lumpur on 26 May 2017.
The 28-year-old young entrepreneur hailing from Kuala Lumpur has plenty to celebrate after taking the crown. She not just went on to win the first Miss Malaysia Petite SpokesPerson 2017 title but also, beautifully, made a sweep of five subsidiary titles out of 12 awarded, bagging the Miss Popularity, Miss Beautiful Skin, Miss Intelligent, Miss Photogenic and Miss PNCM Catwalk.
Standing at 162 cm (5' 3") with a vital statistics of 33-25-34, the former air stewardess was crowned by last year's Miss Malaysia Petite Universal 2016 Esthe Lim.
It was a remarkable feat, indeed achieved by Shubasini on her third attempt at pageant before finally success came. Her first was in 2012 where she participated in the ATV Miss Asia Pageant Malaysia 2012 but only managed to bag the Miss Elegant subsidiary title and the following year in the Miss Malaysia India 2013. She never gave up after she failed to win a crown but that made her determined to keep competing.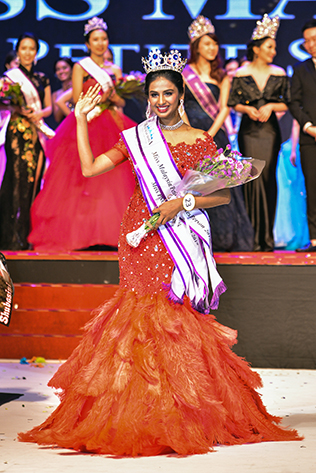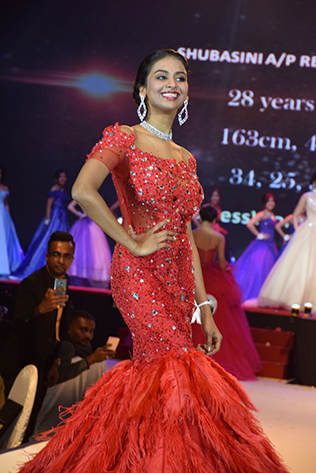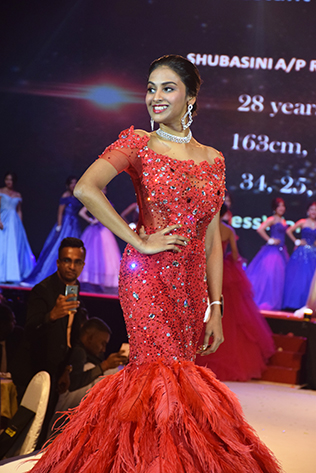 "I was stunned for a moment to hear my name being announced as the winner. I feel very blessed, excited and really proud of myself winning the crown. To be very honest I was shock when I was announced winner of 5 subsidiary titles. What can I say! It is all God. I am truly blessed ," an elated Shubasini told Citizen Journalists Malaysia (CJMY).
In fact when Shubasini joined the pageant, she had told pageant organiser Irene Tan and other contestants that, "I'm here to win the crown." And a terrific win she did probably holding the all-time record of six titles – winner of pageant title and five sub-titles!
"I have prepared well for this pageant and I felt very confident and believed in myself I can make it this time and become an inspiration," said Shubasini.
She said it was all hard work spending much time and dedication towards winning the crown.
"It's been about two months since my father passed away and emotionally I was down but to make my father's wish comes true, I keep reminding myself to do better everyday. My supportive family has always been there giving me their support all the way since the first day I joined the pageant. Without them I would not be myself.
"Because of my father, I joined the pageant as he always wished to see me become a beauty queen and a role model for all women out there. He left us two month ago due to brain injury and will not longer be with me physically but I know he's watching over. I took this as a challenge and win the crown for him. Now the crown is placed beside his frame. I am glad that I have fulfilled his wishes," said Shubasini.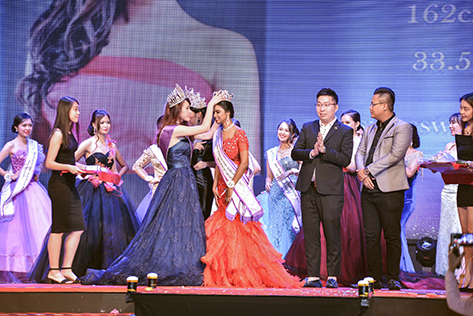 Shubasini hopes to use her position to share her message of empowering petite women.
"I hope all petite women out there understand that despite their petite frame, there's not setback for them in their life or career achievement. They should overcome low self-esteem and build confidence in themselves. No matter what obstacles come their way, they can and have the ability to overcome them to become leaders and achieve success in their career and personal lives. Lesson I gained from this pageant is 'No matter what, Don't give up. Take up the challenge!"
Shubasini said being a beauty queen will elevate her to the highest level of reputation giving her the opportunity to bring great contacts and knowledge and a path to realize her ambition to become a successful businesswoman.
Other winners were first runner-up KDU mass comm student Yew Hoe Yan, 20, from Klang; second runner-up lawyer Litsan Chong, 29 from KL; third runner-up operations manager Sow Huey Ru, 27, from Johor Bahru and fourth runner-up Taylor's College student Beledees Lavaours Lim, 21, from Penang.
The top 3 winners received an additional RM20,000 – RM30,000 worth of prizes on top of the over RM30,000 worth of courses and trainings awarded to all the 25 finalists.
The competition saw all the finalists in evening wear segment and seven selected finalists performing a variety of talents, such as singing, dancing, painting and aerial hoop during the talent show.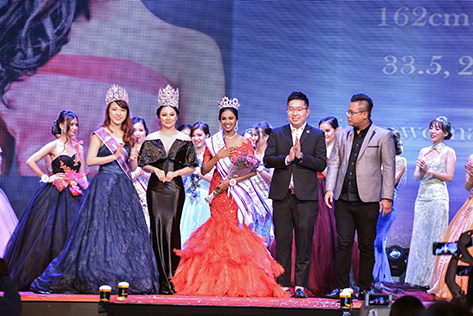 The top 10 finalists selected from the elimination round had to perform Role-Play replacing the Q&A. Each one of them took turns to pick an envelope and performed live-action roleplaying face-to-face with Dato' Irwin Cheong based on a scenario described inside the envelope; and they were tested, among others, on their skills of verbal communication, listening, negotiating, time management and leadership.
The Miss Malaysia Petite SpokesPerson pageant, organised by I Tiara Production and presented by AGP Group, was specially designed for petite ladies, aged 18 to 29 with maximum height 167.5cm (5' 6") and below, to develop and showcase their abilities to be a role model to the world.