Miss Chinese World Contestants Embrace Their Heritage
Beauties from 9 countries worldwide took part in The Miss Chinese World pageant's glitzy World Finals Gala to honor and rekindle passion for the Chinese heritage. The 31 contestants  from China, Laos, Cambodia, Thailand, Indonesia, Myanmar, Taiwan, Vietnam and Malaysia proved to be more than just looks as they wowed the audience with their talent, knowledge and appreciation of the all things Chinese.
Held at One World Hotel in a event the pageant jointly organized by Miss Chinese World Sdn Bhd and Legacy Film Sdn Bhd. With this year's theme 'Heritage of the Orient' the pageant was an interesting showcase of talent and mental prowess as the beauties displayed a strong sense of understanding of what it means to be a Chinese.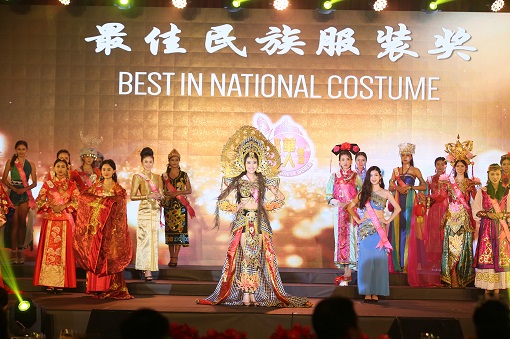 The evening began with a light-hearted skit, followed by a national costume parade by the contestants. Next, the contestants revealed their sporty side in the sportswear segment before transforming into fine artists during the talent segment, impressing all with a variety of modern and traditional Chinese performances.
The evening followed the contestants sashay down the runway with glam, first wearing beachwear designed by Orson Liyu and then with a collection of an exquisite figure-hugging Qi Pao (traditional Chinese costume) by Jason Yek before the TOP 10 was announced.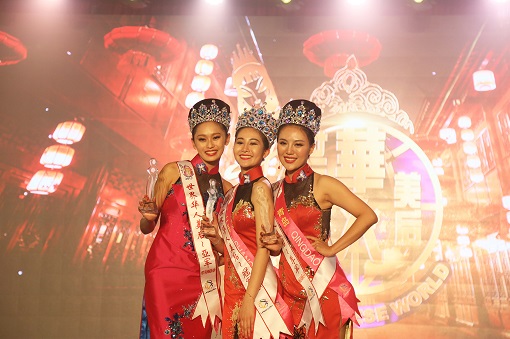 Finally in anticipation, Yin Zhuo Qun of China, Shanghai was announced as the Miss Chinese World Champion with the breathtakingly beautiful crown, exclusively designed by renowned Malaysian designer Orson Liyu placed on her head. On top of the main title, several subsidiary title winners were also announced during the event with the winners appointed by the sponsors and will be the ambassadors for the brand throughout the year.
The brains behind the Miss Chinese World pageant, Tan Sri Datuk Danny Ooi from D'Touch International, could not be any prouder. "I am impressed by the contestants' performances tonight. It is evident that these ladies are truly passionate and in touch with their Chinese roots. I hope that moving forward, they will all become ambassadors of our heritage in their respective countries", said Tan Sri at the finals.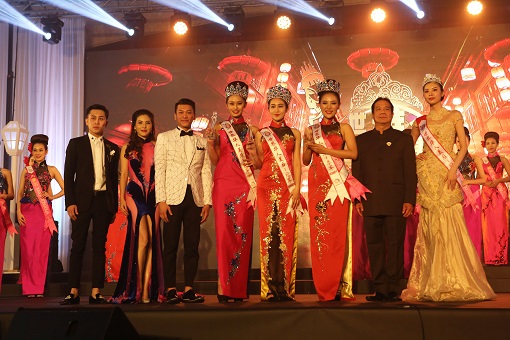 The winners for Miss Chinese World 2017 are:
Miss Chinese World Champion – Yin Zhuo Qun (China, Shanghai)
Miss Chinese World 1st Runner Up – Chang Yu Chin (Taiwan, Taipei)
Miss Chinese World 2nd Runner Up – Dai Tian (China, Qingdao)
Subsidiary Titles
1.Miss GMCI Body Beautiful – Lim Nai Sim (Cambodia, Phnom Pehn)(Adopted by GMCI)
2.Miss DEWS Healthy Skin – Lee Hui Qian (Malaysia, Kuala Lumpur)(Adopted by DEWS)
3.Miss Gintell Wellness – Yin Zhuo Qun (China, Shanghai)(Adopted by Gintell (M) Sdn Bhd)
4.Miss Beautiful Leg – Gao Yue (China, Shuozhou)(Adopted by Star Mode Entertainment)
5.Miss Eastern Beauty – Jiang Zuo Jun (China, Harbin)(Adopted by Snips College of Creative Art)
6.Miss Crowning Glory – Xu Ting Ting (China, Guangzhou)(Adopted by Jenkworkz Hairloft)
7.Miss Glamour – Wang Ruo Han (China, Qinhuangdao)(Adopted by AD Time Sdn Bhd)
8.Miss Hai-O Vitality – Zhang Nan (China, Hangzhou)(Adopted by Hai-O Enterprise Berhad)
9.Miss Oriental – Chong Jia Ying (Malaysia, Perak)(Adopted by New Shanghai Group)
10.Miss Friendship – Wang Ruo Han (China, Qinhuangdao)(Adopted by One World Hotel Sdn Bhd)
11.Miss Congeniality – Yin Zhuo Qin (China, Shanghai)(Adopted by Suaviss Lab White)
12.Best in Talent – Wang Zhen (China, Tai Yuan)(Adopted by Legacy Film)
13.Best in National Costume – Fransiska Indrayani – (Indonesia, Surabaya)