Abdillah is Malaysia's "Fastest Pizza Maker"
Domino's Pizza country operations manager Abdillah Abdul Shukor, 36,  emerged the champion beating off 15 other pizza makers from across the country to claim the title of Domino's Pizza Malaysia 2017 fastest pizza maker in the chain's nationwide annual contest held at The Weld shopping mall in Kuala Lumpur on Sept 13, 2017.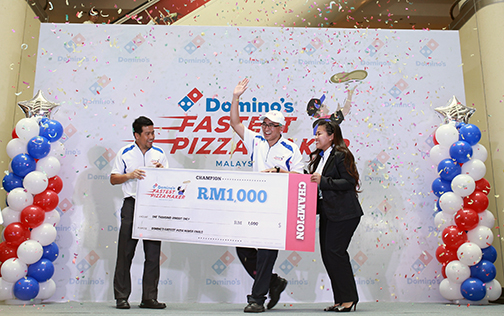 Abdillah's beguiling skills and speed earned him the win at the contest. During the competition, he made three large pizzas, including Beef Pepperoni, Mushroom, and Plain Cheese in a total time of 1 minute 33 seconds. He was awarded RM1,000 cash for his outstanding feat.
"After a long break, I decided to participate in the contest this year as a way to keep my team members motivated and giving their very best on the job. If I can do it, they can do it too. I am glad I made it this far because we take great pride in working at Domino's Pizza Malaysia," he said.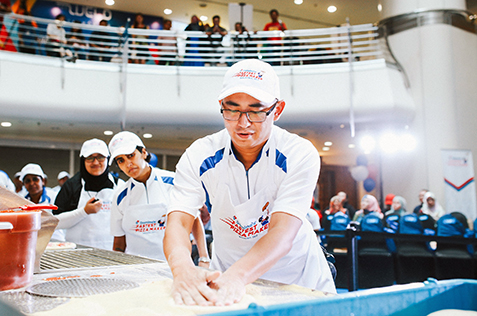 Abdillah will represent Malaysia to compete against other top pizza makers at the Asia Pacific region of the competition. The winner will then proceed to compete for Domino's World's Fastest Pizza Maker title in Las Vegas, USA.
The first runner-up was full-time pizza maker Fadzwanli Bin Mohd with three seconds behind with a time of 1 minute 36 seconds. He won RM500. Second runner-up was district manager Zuliskandariah Bin Khalid who took home RM300.
The competition aimed to recognise the expertise and time management skills of Domino's pizza makers globally. Opened to all pizza makers at Domino's Pizza, participants showed off their skills at baking three types of pizzas to create a perfect 10-point pizza in the shortest span.
Domino's Pizza Malaysia and Singapore, senior general manager for operations Shamsul Amree said "This competition is unique to Domino's and is a great platform to witness the talent of our pizza makers who are usually hidden away working behind the scenes."
"All our pizza makers must master two important characteristics: speed and quality. We do not compromise on either. Time is a crucial factor for Domino's Pizza because as the pizza delivery expert, we must deliver within 30 minutes to meet the quality expectations of customers."