Miss and Mrs Msia Petite World 2017 crowned
Angeline Goh Lee Lee, 28, and Lyann Loh Lee Lin, 33, may be short in stature but they rose above the rest of the contestants to claim top honours in their respective titles at the Miss & Mrs Malaysia Petite World 2017 Pageant finals held at Galaxy Banquet Hall, Sentul, Kuala Lumpur on 13th Oct 2017.
Goh, at 158 cm (5' 2") tall, was in spell-binding form when she beat off strong challenge from 10 other girls to grab the Miss Malaysia Petite World 2017 title. This singer from Skudai, Johor is happy and excited as it was her dream to win the crown. Her interests include swimming and travelling.
Loh, with a height of 150 cm (4' 11") competed against seven other women to clinch the Mrs Malaysia Petite World 2017 title. The mother of two kids aged 7 and 12 said winning the title was a huge achievement as she never expected to be crowned. The hair salon owner from Kepong, Selangor has proven her worth and hopes her profile as Mrs Malaysia Petite World would help to attract more attention and find new customers for her salon business. Loh enjoys hobbies such as dancing, shopping, travelling and spending time with family.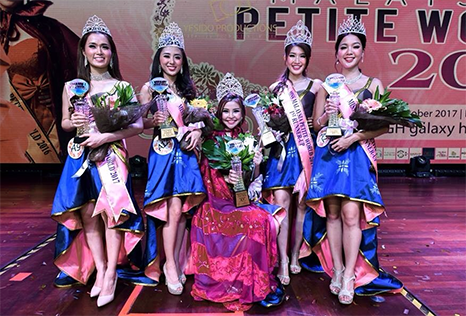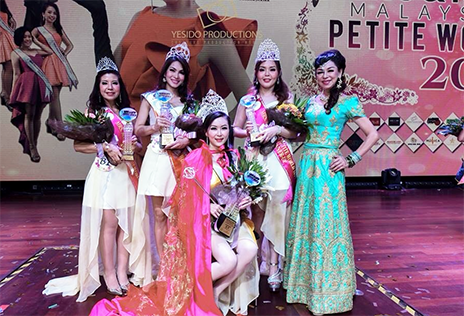 Goh and Loh each won the top prize of RM3,000 cash and RM30,000 worth of sponsorship prizes. Consequently both qualified to represent Malaysia at the Miss & Mrs Petite World 2018 competition in the United States.
During the event, two special titles for Borneo petite queens were awarded. Shirlyn Sarina Hendry, a 22-year-old Bachelor of Business final year student from Miri, Sarawak won the Miss Malaysia Petite Borneo 2017 title. She was placed third runner-up in Miss Malaysia Petite World 2017.
Florinda Johnson, 30, and a mother of three kids from Kota Kinabalu, Sabah won the Mrs Malaysia Petite Borneo 2017 title and emerged first runner-up in Mrs Malaysia Petite World 2017.
A panel of 13 judges scored contestants during the finals. Among others, they included Mrs Malaysia Petite World 2015 Dr May Heong, supermodel Amber Chia, Glitterama Ladies Charity Group president Datin Maylene and ERM Marketing Sdn Bhd marketing manager Alina Wang.
Organised by Yinzi Events & Marketing, the 6th edition of Miss & Mrs Malaysia Petite World 2017 Pageant was opened to single and married ladies below 163 cm tall. Managing director Madam Lim Siew Cheng said the pageant platform helps petite ladies develop confidence and expand personal network internationally.

Honour Roll
Miss Malaysia Petite World 2017
Champion: Angeline Goh Lee Lee, 28, Skudai, Johor
1st runner-up: Renie Tan Zhi Ying, 25, KL
2nd runner-up: Tiw Thing Ling, 20, Shah Alam
3rd runner-up: Shirlyn Sarina, 22, Miri, Sarawak
4th runner-up: Christal Ong Jim Vun, 22, Puchong
Mrs Malaysia Petite World 2017
Champion: Lyann Loh Lee Lin, 33, Kepong
1st runner-up: Florinda Johnson, 30, Kota Kinabalu
2nd runner-up: Vwine Tan Hoay Yoke, 40, Selangor
3rd runner-up: Shalini A/P Subramaniam, 29, KL
4th runner-up: Melanie Foo Mei Lian, 57, KL
Miss Malaysia Petite Borneo 2017
Shirlyn Sarina Hendry, 22, Miri, Sarawak
Mrs Malaysia Petite Borneo 2017
Florinda Johnson, 30, Kota Kinabalu, Sabah