Samantha to wear nasi lemak national costume at Miss Universe
Miss Universe Malaysia 2017 Samantha Katie James, 23, will wear the nasi lemak inspired costume when she takes the stage for the national costume segment at the Miss Universe 2017 pageant final at Las Vegas, Nevada, USA on Nov 26 this year.
The unique nasi lemak creation designed by Malaysian designer Brian Khoo along with a stunning red evening gown for the preliminary evening gown competition, and a two-dimensional art piece titled "The Tropical Rainforest" as a memento for the national gift auction segment were unveiled at a special preview at MYEG Tower, Petaling Jaya on 31 Oct 2017.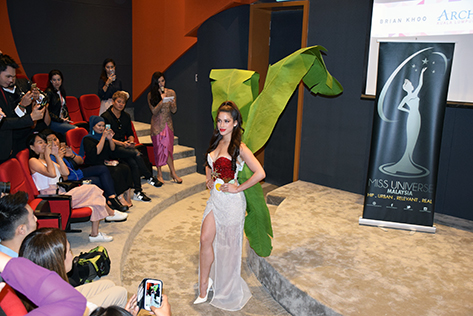 Samantha presented both outfits at the press conference attended by Miss Universe Malaysia Organisation (MUMO) national director Datin Elaine Daly, Brian Khoo, sponsors, partners and members of the media.
"It's super light and easy to wear," said Samantha on the nasi lemak dress.
When she was asked her first impression when told she will be donning the nasi lemak dress, she said: "I am super happy, no shock because that's exactly what I want. Malaysia is nasi lemak and nasi lemak is me."
The Chinese-Brazilian model who hails from Klang, Selangor was clearly excited in her costume.
"I am super excited because it's my favourite food. I cold explain about it so well to everyone and I wish I could cook this food in Las Vegas where they could try it too because it's really taste good, right?" said Samantha who loves to cook for her grandmother.
The elaborate dress is made with meticulous attention to detail and bears resemblance to an actual banana leaf-wrapped packet of nasi lemak, such as the pearlescent beaded ivory silk dress that represents the fragrant coconut milk rice and the ruby crystals represent the spicy sambal (chilli paste). It even has two slices of cucumber (peeled), a fried egg, fried ikan bilis (anchovies), kacang goreng (roasted peanuts) and even banana leaves made of silk fabric.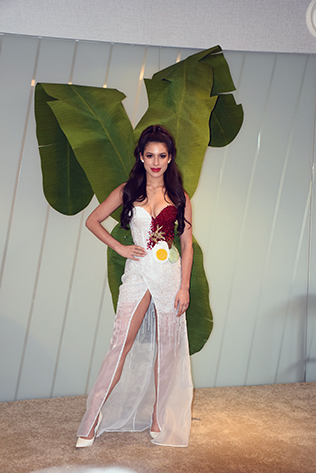 The Dior-trained designer said it took a team of six working on the design with a total of 400 hours of craftsmanship and a month at finally delivered a spectacular and sensual original masterpiece.
He said: "I wanted to challenge myself to do something out of the box, something I have never done before and I want to showcase my talent to Malaysia and to use what I learned from other countries and bring them back here. I want to use that experience on this dress to show our ability.
"When Datin Elaine Daly introduced me to national costume, the first thing that came to my mind was food. When I was studying abroad and when we talked about Malaysia, the only thing I can think of when it comes to Malaysia is food, so what kind of food I can represent Malaysia? It's nasi lemak we all love and even foreigners love nasi lemak. It represents Malaysia, it's an iconic food.
"I have friends from oversea coming to Malaysia and all they ask for is nasi lemak. We all know we can have it for breakfast, lunch, dinner or even supper. It's the food that we all know so I really want to use nasi lemak to make it into a costume that represents Malaysia to the world.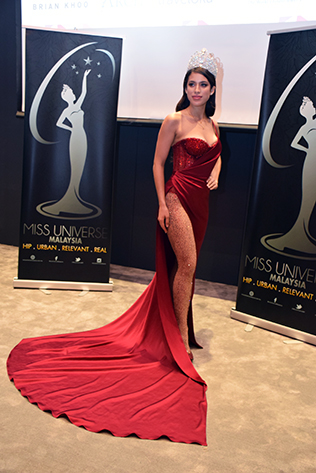 Datin Elaine Daly said Samantha is very happy and comfortable wearing the iconic national costume.
"We wish her the very best and we hope she brings the country's first Miss Universe crown back with her."
For the red evening gown, Brian Khoo said: "I was actually inspired by the looks and fashion sense of the legendary Saloma who was a great entertainer of Malaysia, and I want to translate the inspiration and ideas into a creation that will enhance Samantha's body as she has a nice figure and I want to showcase her figure in the gown that will make her feel stunning."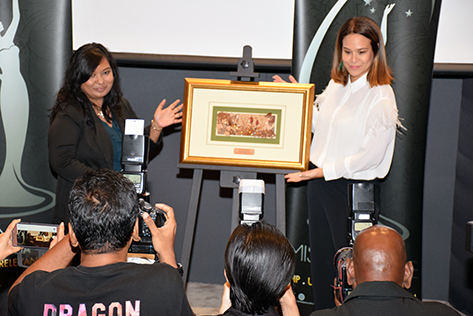 During the national gift auction segment where all contestants will be bringing mementoes from their respective countries to be auctioned off for charity, Samantha will be presenting "The Tropical Rainforest" a 2-D art piece created by Arch, a company specialising in selling unique hand-crafted art pieces and collectibles.
"The Tropical Rainforest" which features 10 species of wood, is crafted and assembled by local artisans and master craftsmen to depict Malaysian rainforests rich with natural flora and fauna, and home to countless species of birds, animals and insects.