Beauty queens from 21 countries for Miss CosmoWorld maiden edition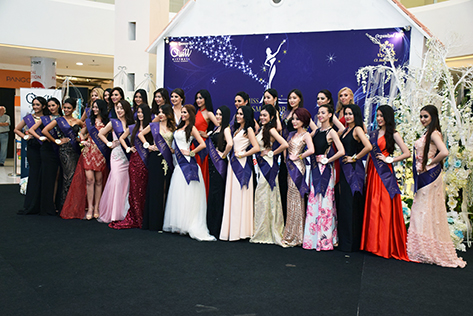 Malaysia's new home-grown beauty pageant Miss CosmoWorld's maiden edition grand final will take place on 12 November 2017 at The St. Regis Kuala Lumpur Hotel.
At a successful press conference held at Quill City Mall, Kuala Lumpur on 5 November 2017, 29 finalists aged between 18 and 28 from 21 countries, including Malaysia were unveiled.
South Korea, China, India, Cambodia, Singapore and Thailand each has two representatives in the competition while host Malaysia has three representatives.
The pageant is organised by CL Skin Sdn Bhd to select a contemporary modern lady who has a good heart, is independent and passionate about life and has good leadership quality, said managing director Carrie Lee.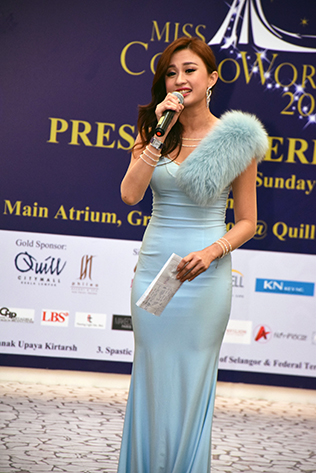 "We are excited our maiden edition of Miss CosmoWorld attracted contestants from 20 countries. We are giving away the largest prizes for a beauty pageant and we hope to make it into Malaysia Book of Records," said the Miss CosmoWorld founder in thanking sponsors and partners for their confidence in Miss CosmoWorld.
The pageant offers a staggering RM370,000 in cash and total value of over RM800,000 worth of sponsored prizes that include vacation trips, contracts, film star opportunity and other lucrative prizes to all the winners of Miss CosmoWorld 2017.
The contestants will be put through a rigorous beauty camp for over two weeks for grooming, team building, sport games, charitable activities of CSR project and other activities prior to the final.
Carrie, who is an ambassador for Disaster Aid Malaysia (DAM) hoped the pageant would create more values and will be organising fundraising for charity to benefit four charitable homes – Spastic Children's Association of Selangor & Federal Territory, Pusat Jagaan Kanak-kanak Kirtarsh Bukit Beruntung, Persatuan Kebajikan Mesra Megah Ria Johor Bahru and Salvation Army Boys Home.
After all the contestants introduced themselves, there was a preliminary talent competition to select the Top 6 talent winners who will battle it out in the final for the Miss Talent subsidiary title.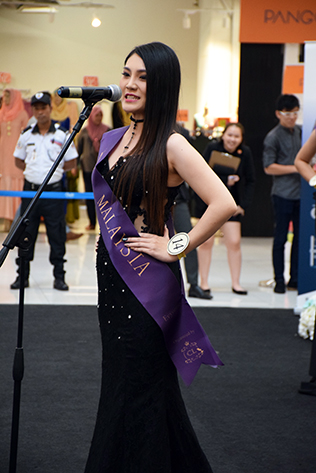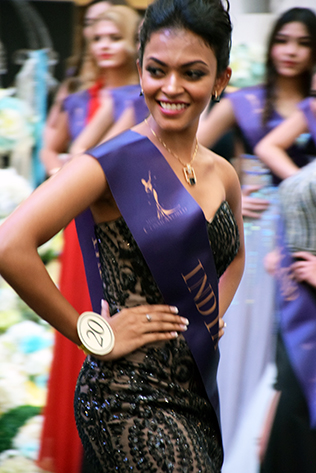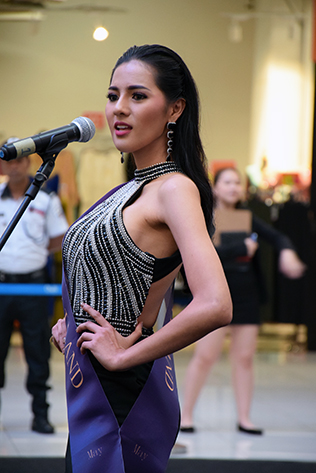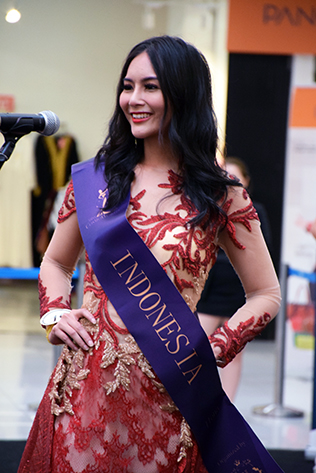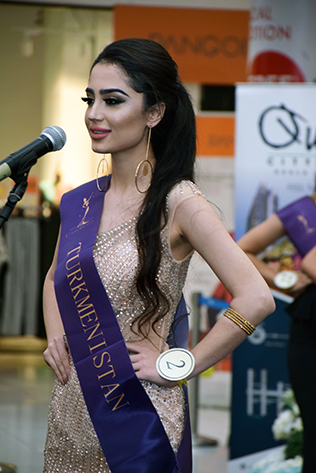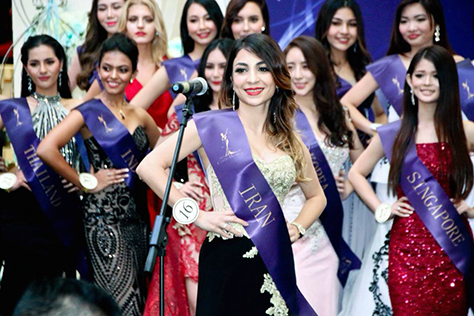 The six contestants who won over the judges and crowd with their talent performances were: Michelle Chen (China), Nitchanun Phengchaem (Thailand), Bamboo Chen (China), Melissa Chua (Singapore), Jomtian Jansomrag (Germany) and Kim Jiseon & Im Somi (South Korea).
In addition to the Top 3 Miss CosmoWorld winners, there will also be 12 other subsidiary titles to be won by contestants – Miss Elegant, Miss Personality, Miss Charming, Miss Popularity, Miss Perfect Body, Miss Beautiful Smile, Miss Glamorous, Miss Photogenic, Miss Perfect Skin, Best Creativity, Best National Costume and Miss Environmental Friendly.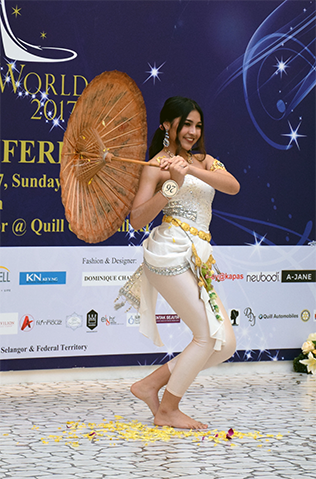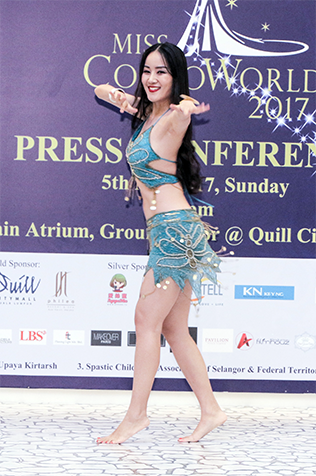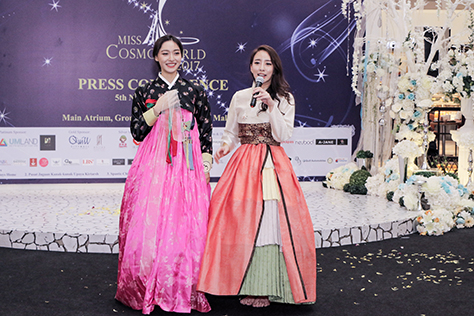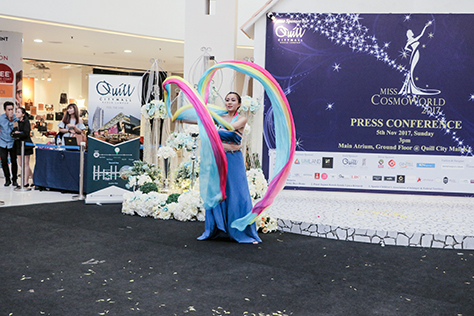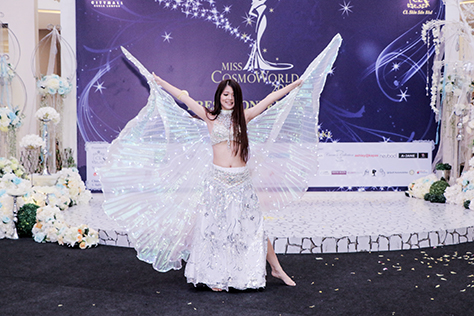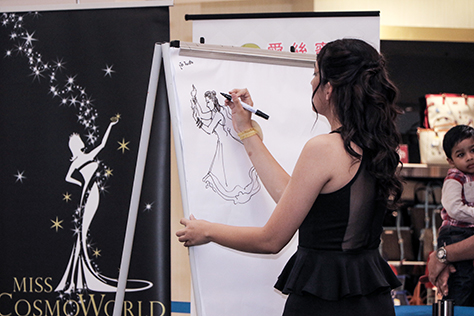 Here's the list of finalists in the running for the title and crown of Miss CosmoWorld 2017.
Argentina – Andrea, 28, teacher
Cambodia – Thol Sreynich, 18, model/student
Cambodia – Doung Lyvan, 19, student
Central Asia – Safina Goibova, 18, student
Chile – Monica, 22, model
China – Bamboo Chen, 26, host
China – Michelle Chen, 23, artist
Georgia – Christine Kekutia, 21, medical student
Germany – Jomtian Jansomrag, 22, student
India – Rupa Khurama, 28, model/actress
India – Namrata Chandrasekar, 22, fashion designer
Indonesia – Ilona Cecilia, 27, entrepreneur/actress
Iran – Elaheh Shakeri, 25, engineering student
Kazakhstan – Gulbanu Madiyarova, 18, student
Malaysia – Maggie Tan, 22, IT sales executive
Malaysia – Evyonne Chong, 26, personal assistant
Malaysia – Shinni Liow, 23, accountant
Myanmar – Khiang Kyi Pyar, 24, model
Philippines – Aeryko Chu, 26, businesswoman
Russia – Svetlana Sheyko (Lana), 27, model
Singapore – Audrey Chen, 26, entrepreneur
Singapore – Melissa Chua, 21, entrepreneur
Slovakia – Ivana Stotkova, 22, law student
South Korea – Kim JiSeon, 23, student
South Korea – Im Somi, 28, host
Tajikistan – Manizha Odinaeva, 18, student
Thailand – Natthapat Pongpraphan, 24, model
Thailand – Nitchanun Phengchaem, 18, student
Turkmenistan – Fotima Makhmadalieva, 22, model