M3 Tech wins accolade for innovative i3Apps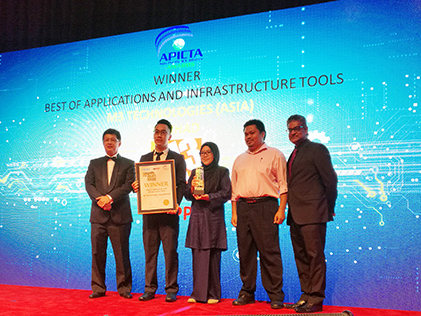 M3 Technologies (Asia) Berhad (M3 Tech), an MSC-accorded IT solutions and value-added services provider, has bagged the prestigious MSC Malaysia Asia Pacific ICT Award 2017 for Best of Applications and Infrastructure Tools during its awards night at Kuala Lumpur Convention Centre on 13 October 2017.
The company received the accolade for its innovative i3Apps software, a mobile application creator, that allows for anyone, without any programming or coding knowledge, to create customised, cost-effective mobile applications to suit business of any type, which may then be published onto mobile platforms, including Google Play and iTunes App Store for international access.
"We are thrilled to have won this award which is a form of recognition from the National ICT Association of Malaysia (PIKOM)," said M3 Technologies (Asia) Berhad general manager Kevin Ng Chen Lok.
"This achievement is a great boost for M3 Technologies as we continue to help businesses and brands with our innovations in this rapidly evolving environment.
"This will be a great platform for us to demonstrate our capabilities amongst global ICT industry players gaining international exposure and further developing our ideas," Ng said.
M3 Technologies (Asia) Berhad was also shortlisted as a finalist in the Best of Research & Development category for its i3Tracker software and Best of Retail and Supply Chain Management category for its i3TeamWorks software.
Organised by PIKOM, the annual MSC Malaysia Asia Pacific ICT Award (MSC Malaysia APICTA) program recognises creativity, innovation, and excellence in Malaysian ICT.
All the 18 MSC Malaysia APICTA 2017 Awards winners and merits recipients will represent Malaysia at the International APICTA 2017 in Dhaka, Bangladesh from 7th until 11th December 2017.