Ageless beauties ready for pageant final
The 21 finalists competing in the second edition of Ageless International Beauty Pageant 2017 never seem to look any older as they demonstrated their talents and abilities on stage during a talent show held at Envy Nightlife KL.
The seemingly ageless beauties lighted up the stage exhibiting enormous energy, vitality and cheerfulness as they sang, danced and played musical instruments.
The talent on stage is part of the pageant which will have its grand final on 21 Dec 2017 at the grand ballroom of Sunway Resort Hotel & Spa, Petaling Jaya.
The Ageless International Beauty Pageant 2017, co-organised by Qui Production Group and De BEAUTY is open to women aged 35 and above, and has two categories including the Classic category.
The competition focuses beyond mere beauty as the pageant judges will be looking at the character, academic and career achievements of contestants in keeping with the theme Be A Star.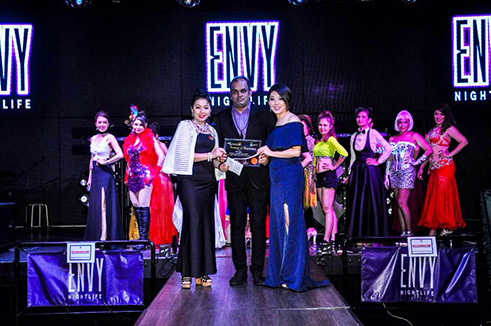 "The Ageless International Beauty Pageant isn't just another pageant. It is distinct in that it aims to inspire, motivate and cultivate strength for the modern women through balancing family, career and social responsibilities. It is hope that this will encourage and inspire the many friends and families to be more generous for charitable causes," said Qui Production founder Ann Q.
Qui Production Group managing director Janis Chong said they were delighted to collaborate with De BEAUTY as they were certain the partnership will provide participants with the best physique and self-confidence.
She said, "The Ageless International Beauty Pageant recognises and showcases talented, intelligent and beautiful ladies who aspire to gain invaluable experiences on the world stage."
"We are thrilled to organise this pageant together with our partner for the first time. Through our partnership, we hope to bring more attention and inspire a wider audience of powerful women to participate in this pageant," said De BEAUTY founder Jak Tan.
Malaysia's inspirational entrepreneur Nadira Mohd Yusoff was appointed the official ambassador and spokesperson for this year's Ageless International Beauty Pageant.
The Girls in Tech Malaysia (GIT KL) managing director and Women Entrepreneur Network Association (WENA) president said, "I am honoured to be recognised as the ambassador for Ageless International Beauty Pageant 2017. To me, this is also a responsibility to inspire others and show that any woman is capable of achieving success."
The Ageless International Beauty Pageant 2017 grand final show will include special appearances by Hong Kong artistes Bob Lam and K4 at the grand final.
The crown winner for The Ageless International Beauty Pageant 2017 will receive a prize package worth RM30,000 (RM25,000 for Classic winner) which include cash, scholarship and sponsored gifts.

Ageless International Beauty Pageant 2017 finalists
Miko Liew
Amanda Yong
Ruth June Yap
Komiko Chip
Ice Tan
May Low
Emma Chou
Jesslyn Leng
Alyssa Kwan
Janice Fong
Tiramisu Chip
Yokie Chan
Classic category
Elaine Chai
Evon Khoo
Tracy Lim
Yew Ling Ling
Sharence Sim
Jasmine Lee
Jenny Yeong
Penny Yong
Lee Seok Ching