Vandals burn BN flags in Kedah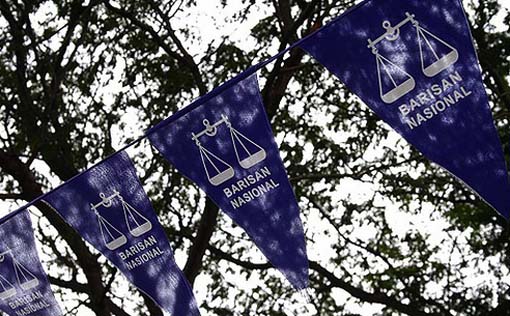 Semeling, Kedah – The Deputy Chairman of the Pemuda Barisan Nasional Bahagian Merbok, Anuar Ahmad, has lodged a police report alleging that some 20 BN flags in the area was intentionality burnt and vandalized here in Taman Malinja two nights ago.
UMNO Bahagian Merbok Head, Tajul Urus Mat Zain said that the incident was only noticed  in the wee hours of the morning on the following day by several UMNO members who passed that way.
The 14 Barisan Nasional flags and 6 UNMO flags were erected a couple of weeks ago. However the flags were allegedly vandalized and burnt after a gathering or seminar of some sort which was  held by a political party in vicinity of Taman Malinja the night before.
According to Tajul, Barisan Nasional  and UMNO have always respected others and have never been involved in such incidents with other political parties or groups and hence have been forced to make a police report to investigate the matter further and to  curb such "samseng" behaviour for re-occurring in the future.
The culprits responsible for the vandalism and burning are still unidentified nor have any party claimed responsibility.
The Kedah Barisan Nasional Chairman, Datuk Paduka Ahmad Bashah  Md Hanipah, when contacted with regards to the BN flag burning incident which took place in  Semeling two days ago said that it was very childish and an act of  cowards, who are afraid of  confrontation.   He also added that in matured politics, one should  not have to stoop to such low levels.
"Before this, the Kedah State UMNO head quarters were vandalised twice. In both incidences, graffiti using provocative words were written all over the office walls",  Bashah claimed.
Bashah also said that the  UMNO Alor Setar Head Office also fell victim to a bomb threat once, which a was made via a phone call, that later turned out to be hoax.
"This incident with the burning of Barisan Nasional and UMNO flags is just another  incident in a series of concerted  effort orchestrated  by certain parties who are very much threatened by the in roads and the good works done by  Kedah Barisan Nasional."
Bashah however alluded for all Barisan Nasional and UMNO members to stay calm and leave it to the police to look into it, investigate and take appropriate action on the perpetrators as the authorities deem fit.
This comes on the heels of a police report made by Anuar Ahmad, Deputy Chairman of the Pemuda Barisan Nasional Bahagian Merbok, two days ago alleging that some 14 BN flags and 6 UMNO flags were  intentionality burnt and vandalised in Taman Malinja, Semeling.