Suspect charged for the gruesome murder of 5-year-old Nurul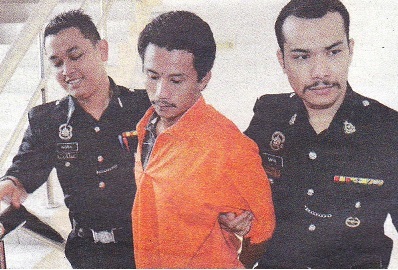 Twenty four year old contract worker, Muidin Maidin, was charged in the Johor Bahru Magistrate Court for the murder of five year old Nurul Nadirah Abdullah, here, yesterday.
The suspect has been charged under Section 302  of the Penal code for committing the murder crime in a palm oil plantation in Bandar Seri Alam between 11am to 7pm on March 1, 2012 and if convicted, the charged suspect will face the mandatory death sentence.
Muidin Maidin was seen nodding his head when the charge sheet was read out to him in court.
The case is mentioned before Magistrate Mohd Isa Mohamed.
However, no plea was recorded and Magistrate Mohd Isa Mohamed has fixed the case for re-mention on May 4, 2012 while awaiting the autopsy report to be ready.
Another suspect, Razmin Mosun, 34, was not charged for the murder of Nurul Nadirah Abdullah but was charged for drug abuse offence.
He was sentenced to one month jail sentence after pleading guilty for committing the offence on March 2, 2012 at 8pm in Seri Alam police station, here.
Deputy Public Prosecutor, M Vinodharan is prosecuting while both the suspects were unrepresented.
Present in the morning court proceeding were Roselyn Alan, 25, mother of Nurul Nadirah Abdullah, Roselyn's mother, Milnah Jul and close relatives.
Meanwhile, Johor Police Chief, Mohd Mokhtar Mohd Shariff confirmed that the remanded female suspect relating to the case has since been released unconditionally.