Indian artists put off hunger strike until April 14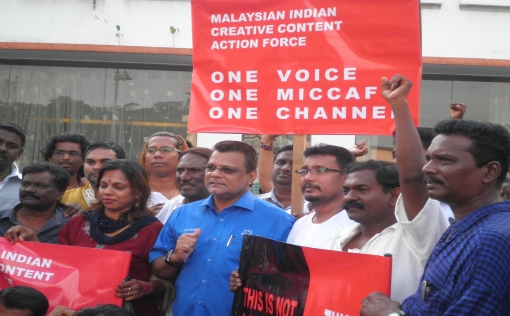 Confusion and tussle broke out in a local Indian artists gathering to support a planned hunger strike protest spearheaded by the Malaysian Indian Creative Content Action Force (MICCAF) in Brickfields, yesterday.
More than a hundred local Indian artists and their supporters gathered at Brickfield's Naga's Restaurant to support a planned hunger protest.
At a press conference prior to the planned protest, MICCAF spokesperson, N.S. Krishna put forth the coalition's demands to have Channel 201 of ASTRO (Vaanavil) be made up of 100% local content by the end of 2013, and to have a Channel 202 (Vellithirai) to telecast more local telemovie on the prime time slot.
MICCAF also called for the resignation of ASTRO's Head of Indian Programming, Rajamani Chellamuthu, accusing him of being responsible for the lack of Malaysian-made outsourced programs in the pay television service.
During the press conference, local director-playwright, S.T. Bala was making calls for the resignation of Rajamani, when local telemovie director, Maras Ravi stormed to the press conference table and shouted at Bala's for making such claims.
A commotion soon broke out, which lead for the members of the group to join in the fray. Some members of MICCAF soon led Ravi out of the hall to avoid altercation. Following the incident MICCAF vowed press charges against Ravi.
Jobless local Indian film workers
Krishna claimed that almost 300 Indians enter the field every year but many were left heart broken after not being able to secure an employment with television stations and production houses.
"Out of this 300, 5 will find work in TV, 3 will become journalists, and the others will end up in customer service or insurance companies," claimed Krishna.
Producer and fellow spokesperson, Jasmin Abdul Wahab, echoed Krishna's sentiments, citing her fellow artists and film-makers have to drive taxis or sing in pubs to earn a living due to the lack of support from Malaysian media companies.
According to MICCAF, Astro spends about RM300 million to develop local content, out of which only RM 1.5 million is spent on Indian contents, which are then mostly spent on in-house program development.
Jasmin also stressed that these in-house programs are of substandard quality and do not provide a platform to local artists and filmmakers to showcase their talents.
Kayveas saves the day
President of the People's Progressive Party, M Kayveas commended the group for putting this issue into the spotlight and pledged to talk to the prime minister on MICCAF's demands and have Deputy Minister of Information, Communication and Culture, Maglin Dennis D'Cruz to spearhead a discussion with Astro and other Malaysian channels.
Kayveas also requested MICCAF and its supporters to call off the hunger strike and set a deadline of April 14, on the Tamil new year, to have their requests answered.
"You can continue your hunger strike at the PPP office; I will work with the authorities to give you the grounds and permit" said Kayveas.
Amidst some confusion, Kayveas' proposal was received by MICCAF and the planned hunger strike and protest was cancelled for the day.
MICCAF member Shanjey Kumar Perumal was more optimistic and agrees with the postponement to April 15. He also said that he is looking forward to what the deputy minister will bring.
"Worse case scenario, we'll commence the protest on the 15th at the PPP office or in front of the PM's office," he said.
MICCAF will begin talks to increase local content with Media Prima Berhad on 12th April, and vows to have a dialogue with ASTRO by the promised date.