Walk to create awareness on recycling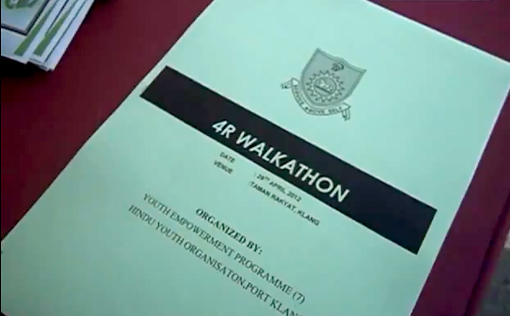 Participants of Youth Empowerment programme (YEP), which was founded by Hindu Youth Organisation Port Klang (HYOPK), will be organizing a walkathon on April 29 at Taman Rakyat, Klang.
The walkathon, which is also known as "4R Walkathon" is a community event to create awareness on the importance of recycling. 4R is a common acronym for Reduce, Reuse, Recycle and Respect, a theme used in recycling projects to educate on preservation of environment through responsible waste disposal and being a good stewards of mother nature.
The walkathon organised by YEP is competition with a slight environmental twist. According to the competition rules the participants will be divided into groups and will walk in a designated path to collect potential recyclable waste. The team that collects most waste will be declared as winners and awarded with prizes.
This walkathon, which is an inaugural event, is expected to spur the participation of youths of different age group in environmental related activities.
Klang district information officer, Ahmad Shariff, will officially flag off the walkathon event, which is expected to attract some 3,500 youths from Klang and neighbouring districts.
The organisers of the event also call upon the business community, activist and social workers, as well as elected representative to walk with the participants in the event to create a memorable atmosphere for the competition.
This event, which is supported by Ministry of Youth and Sports, Selangor State Government and Majlis Perbandaran Klang, is expected to start at 6.30am.
HYOPK was formed on November 29, 1981 by a group of youth, who realise potency of unity in facing adversity. 30 years on, HYOPK has successfully carried out many programmes for empowerment of Indian youths.
HYOPK is also a recipient of Anugerah Perdana Pertubuhan Belia Negara 2009, an award for outstanding achievement in youth related activities awarded by Ministry of Youth and Sports.