Residents protest against the hillside development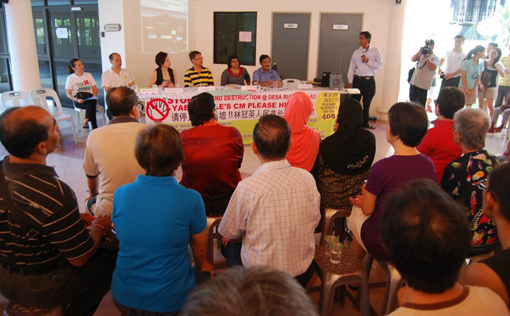 Residents of various housing estate and condominiums in the vicinity of Sungai Ara came out in full force yesterday to object the hillside development near their area.
The residents of Desa Ria Sungai Ara comprising Raintree Garden A and B, Regency Heights, Cypress Garden, Sri Merpati Apartment, Sunrise Garden Condo, Sri Kenari Apartment and residents of Sungai Ara has been facing on-going hill side development which they feel hazardous.
Together with the legal representative from Consumers Association of Penang (CAP) and Sahabat Alam Malaysia (SAM), the residents held a peaceful protest and a press conference to voice out their dissatisfaction.
Jimmy Lim, an architect who has been residing in the Sungai Ara said that dense forest  should not be abused or misused in the pretext of bringing development to Penang.
"This is not only for us but for the next generation to come," said Jimmy.
According to the residents, the hillside land was originally classified under the Land Conservation Act 1960, at the time when the ownership was transferred to the developer  on 30th December 2010 but to much of the dismay of the residents the land status has been recently converted to "residential development" by the state government.
The residents also claims that despite the national guideline that prohibits housing developments on hills exceeding 250 feet above sea level and slope gradients exceeding 25 degrees under class III and IV, this project has been approved by Majlis Perbandaran Pulau Pinang (MPPP).
CAP's vice president and legal advisor, Mohideen Abdul Kadeer said that as citizens, we should know how to exercising their right in this land development issue. He also stated that this development project was planned for making profit and asked the involved parties especially the state and federal government to think before jeopardising the environment in the name of development.
The residents main concerns are the rampant landslides and serious environmental damage to the dense forest. The loss of lives and properties caused by landslides and soil erosion in the past tragedies since the first case in Highland Tower and the more recent one in Hulu Langat last year also has become one of their major concern towards the massive hill project near their housing estates.
According to the resident committee, they had sent out invitations to Chief Minister  Lim Guan Eng, State Exco member Abdul Malik Abul Kassim, who is also the Batu Maung state assembly person and State Exco and Housing committee chairperson, Wong Hon Wai, om Wedneday and have received acknowledgement that they have received the invitation. However the committee were not sure for the reason of their absence.
Meawhile, MPPP's public relations officer, Faridah Omar said that a press statement will be released soon in regards to the protest.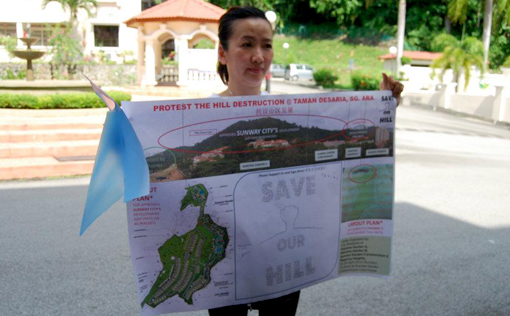 Photos by Carolyn Khor, Citizen Journalist
Video by Imran Hilmy, Citizen Journalist