The homeless, soup kitchen and volunteers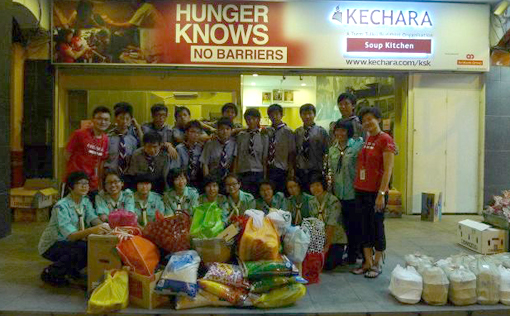 For over five years, a group of volunteers from Kechara Soup Kitchen (KSK) cooked and distributed food to the homeless around Kuala Lumpur, all year round.
KSK is a non-profit organization inspired by the spiritual advisor of Kechara House Tsem Tulku Rinpoche to feed the needy and homeless in urban Kuala Lumpur.
Started by just four people, KSK seek to alleviate the suffering of people of all races and religions and make the society a better place; hence its slogan "Hunger Knows No Barrier".
KSK relies on volunteers to carry out its operations as it had only one full time staff and they receive an average of 80 volunteers for their bigger operations on Saturday nights.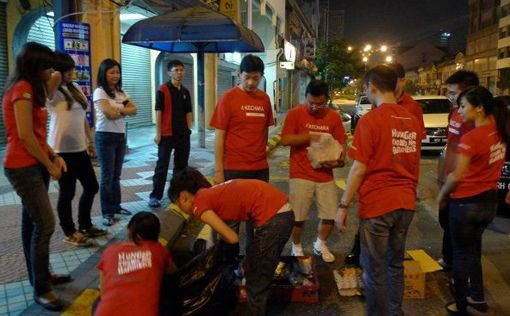 KSK committee member Wong Kwok Wai, who has been with organisation for over two years, said that while he was helping others, he realized that he is the one getting help.
"Previously I have so much greediness and discrimination. Seeing and listening to the homeless helped me become a better person," said Wong.
"We are so used to fighting. Our culture and environment make us become competitive and materialistic. We forget many factors that make us who we are such as luck and help from other people."
Vegetarian lunch packages are prepared at KSK, which is located at Jalan Barat (off Jalan Imbi), and an average of 150 homeless will come to have their stomach filled on weekdays.
Meanwhile, on Saturday nights, over 700 food packages, consisting of rice and three vegetarian dishes, bread, mineral water, hard-boiled egg and an apple, are distributed to the homeless across 10 different routes in Kuala Lumpur such as Kota Raya, Dang Wangi, and Cahaya Suria.
And on Sunday evenings, vegetarian food will be distributed at specific areas around Petaling Jaya.
He acknowledged that food is not the solution to the problem.
"But food is the key to their hearts, to build trust and eventually hope. That is the most important thing."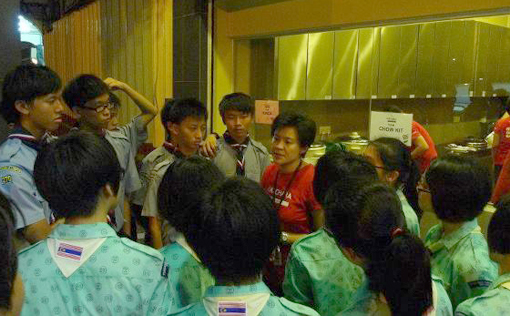 "There are so many homeless people, but we didn't notice them. Why? It is because we are too busy chasing after the next promotion, big houses, luxurious cars…we are so caught up with our problems and greediness that we forget that we can do good and be beneficial to other human beings," said Wong while briefing a group of volunteers from Taylor's University.
Since its establishment in 2006, KSK has gained recognition from the government and the media for its effort to help the community. KSK also has branch in Penang.
Photos source: KSK
* This article was originally published on April 10, 2012