New coalition to hold anti-Lynas protests on Friday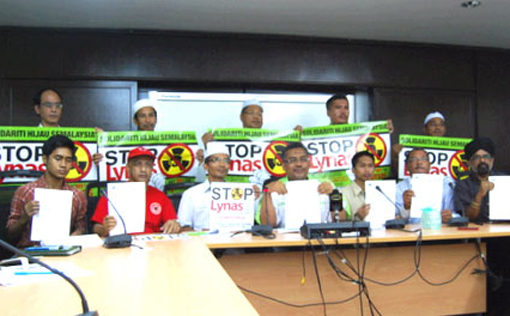 A new coalition of  NGOs will hold a series of demonstrations nationwide this Friday in protest against the Lynas rare earth refinery in Pahang.
Dubbed the Solidariti Hijau SeMalaysia – Stop Lynas (SHS-SL), the group, comprising of 23 NGOs, said most of the demonstrations would be held after Friday prayers.
At a press conference at the PAS headquarters today, spokesperson Zulkefly Mohamad Omar (centre in photo) said that the biggest gathering would be held at Dataran Shah Alam, Selangor where more than 10,000 people are expected.
Among others, organisers said the demonstration would serve as an avenue to protest against the newly-established parliamentary select committee (PSC) on the Lynas refinery.
"The PSC was established to misdirect attention and criticism by Putrajaya. The committee is weak and toothless. Its main objective is to allow space to ventilate in order to cool down public anger," said Zulkefly.
'Campaign against Lynas a national issue'
Zulkefly said that the Lynas project was already a fait accompli and the outcome of the PSC probe would make no difference.
He added that the demonstration also serves as a platform for the public to react towards the outcome of a suit by 10 Kuantan residents who are seeking a judicial review over a temporary operating licence that has been approved for Lynas.
The decision on the application would be heard on April 12, a day before the scheduled SHS-SL rally.
Zulkefly stressed that the campaign against the Lynas refinery was a national issue.
"(This is) not a Chinese or Kelantan issue, but one that is of national interest regardless of race or religion.
"We hope to show the prime minister that all Malaysians are united in fighting against Lynas," said Zulkefly, who is also Negri Sembilan PAS chief.