Feedback: Electoral voters registration
With the impending 13GE around the corner, CJMY went out to conduct a series of survey on the electoral voters registration within the city area, here, yesterday.
The Kampong Melayu Majidee post office was our first stop to find out the voter registration procedures carried out in the neighbourhood post office.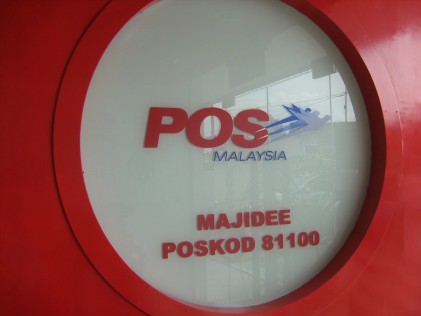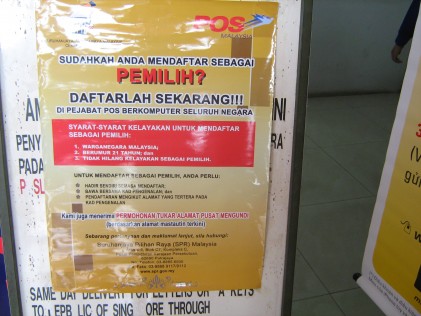 The electoral registration procedures as explained by counter staff, Haslinda Bte Elias, was up-to-date.
We then asked whether if one could register on someone else behalf and she replied with a smile and said absolutely not.
Our survey showed that the electoral voter registration form were plentiful in stock.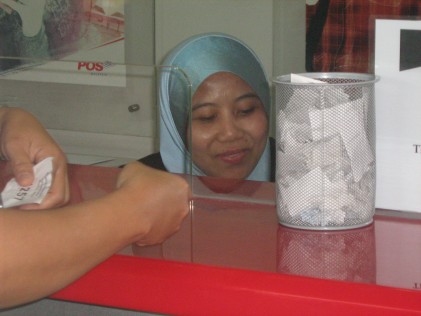 Later, we approached Amin, 42, who came from the post office and asked whether is he a registered voter.
He told us that he is a registered voter and added that he has verified and confirmed his registration through the use of short messaging service (SMS).
Amin commented  that it took some time before the details will appear on the electoral register.
However, he said, he was pleased that he could verify and confirm the registration via sms.
Next, we went to another post office at Jalan Kelewang in Taman Seri Tebrau, here.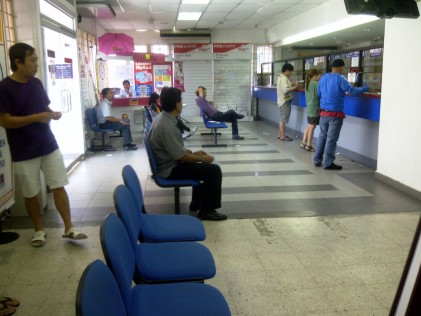 Again we posed the question to the counter staff whether there are any voter registration form available.
Counter staff, Roziana Aruiffin answered affirmatively.
However, an online chat with Chunying, a Malaysian lawyer who works and lives in Cardiff, UK, told us a different story.
Chunying said, she felt very excited when she learned that she could register on-line since this will be her first time to exercise her right to vote.
After checking further, she discovered the Election Commission on-line facility was limited to downloading the Form A only and not for registration.
She was told that Malaysians living abroad will need to go to the nearest Malaysian Embassy, High Commission or Consulate office to personally hand in the Form A.
She said, the nearest Malaysian Embassy office she could register as a voter is located in London and for her to be registered as a voter, she has to apply for leave and embark on a 3-hour train ride to London.
Adding she said, why postal voting which had been announced by the EC chairperson, Abdul Aziz Yusof, some seven months ago had still not been implemented.
A disappointed Chunying commented ' the EC is certainly dragging its feet citing logistics problems and said that the matter needs 'further study' which is a lame excuse.'
Looking at the current scenario, I am sure the overseas Malaysians online voter registration and postal voting will not be implemented any time soon, she added.