Mkini: We are not your punching bag
What could have been a better and more meaningful way to commemorate World Press Freedom Day 2012 than to protest against the harassment and violence against journalists covering the Bersih 3 "bantah duduk" event last Saturday, on the 28th April.
More than 50 staff from Malaysiakini Online Portal and journalists from other online and print media gathered in front of the Malaysiakini Headquarters in Bangsar to protest the manner whereby  journalists were harassed, beaten up and detained during the Bersih 3 rally.
For full story, read: Malaysiakini protests violence against journalaists.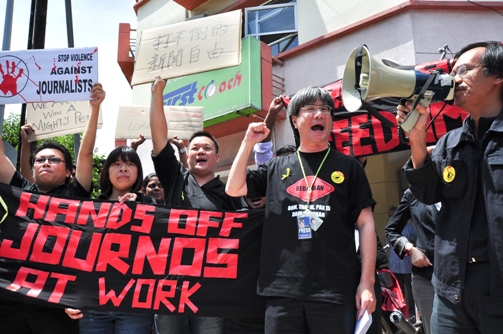 Fathi Aris Omar, the chief editor of Malaysiakini, said that journalists should not be treated as punching bags for the authorities, and that since the confiscation of equipments and accessories from the media is not a standard operating procedure of the Malaysian Police, they should return these equipments back to the journalists concerned with everything intact.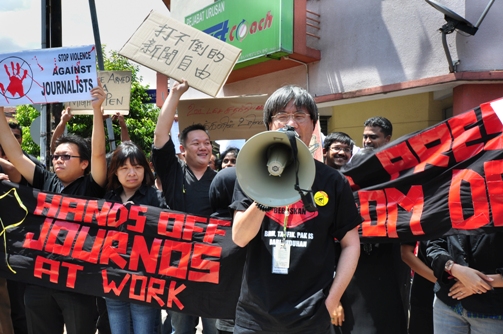 Steven Gan, the chief editor and founder of the Malaysiakini group of companies said that the  increase in cases of violence against journalists is alarming. It is like a new trend in Malaysia and must be stopped. During the Bersih 3 Rally, more than a dozen journalists from the online and print media were beaten up, detained or had their equipments confiscated.  It is therefore poignant that Malaysian journalists commemorate World Press Freedom Day with this protest to demand better protection and treatment of journalists covering events.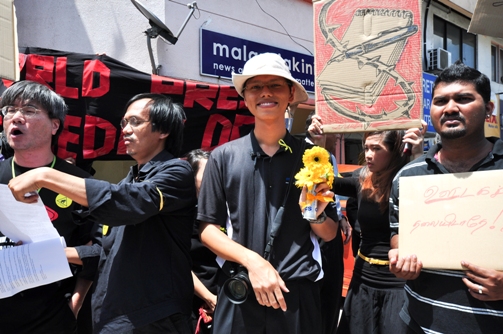 Koh Jun Lin (at centre), a journalist with Malaysiakini who was detained and had his camera equipment confiscated attended this morning's protest with chrysanthemums in an empty canister of CS teargas, a reminder of the hazard faced by journalists in Malaysia.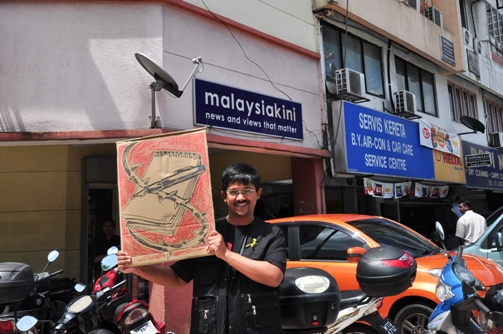 Premesh Chandran, a co founder of Malaysiakini was the first to arrive at this morning's protest at noon time.  He was soon joined by more than a 100 journalists and supporters from the public.
Below are some of the pictures taken during the event.