Ismail Sabri: Govt committed to reducing people's burden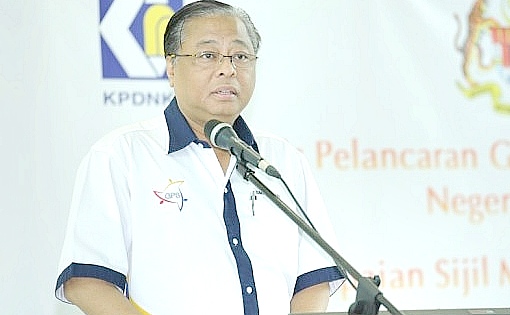 The Domestic Trade Minister, Ismail Sabri Yaakob, has stressed that the federal government as well as the Ministry of Domestic Trade, Co-operatives and Consumerism (KPDNKK) have been very committed in actively coming up with initiatives specifically aimed at reducing the burden of the people.
He said this to reporters after launching the the Kedah Level Undergraduate Consumer Movement (GPS) and the 1Malaysia People's Menu (MR1M) programme at the Mu'adzam Shah Hall, University Utara Malaysia (UUM), here in Sintok, Kedah, in a ceremony held in conjunction with UUM's Career and Entrepreneurship Carnival 2012.
In his speech, Ismail, who is also the member of parliament for the Bera constituency, stated that the Barisan Nasional government has started a variety of programmes such as the 1Malaysia products, the MR1M for higher learning institutions, the 1Malaysia Cooperatives and many other initiatives including the granting of loans and subsidies in order help lighten the cost of living of the people.
The latest in the long line of such initiatives is the introduction of the student discount card that would benefit close to 1.4 million final year students (phase 1) of all public and private institutions of higher learning, community colleges and teaching institutes to enjoy considerable amount of discounts at various participating stores and outlets such as fast food outlets, book and stationary shops, beauty parlours, opticians, clinics and many other places.
With regards to this, Ismail went on to say that 17 companies have confirmed their cooperation with the government to participate in the programme and hoped that by the time the student discount card is launched by the Prime Minister sometime in the middle of this year, there will be at least 20 companies, including MASWing, for the benefit of the students from East Malaysia, as well as  some petrol companies which the government is currently negotiating with.