Kids steal limelight at Amber Chia Academy show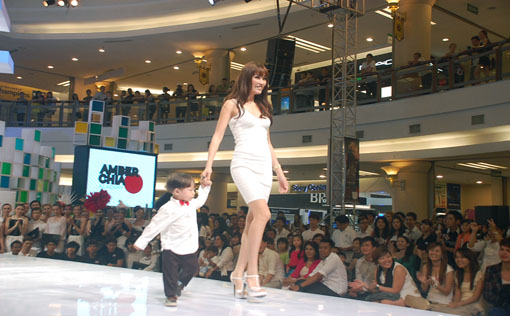 Ten kid models all aged three to ten years old stole the limelight as all eyes were on them when they showed their modelling skills walking the length of the runway on their own as part of Amber Chia Academy's 2nd graduation show held at 1 Utama shopping centre in Petaling Jaya recently.
The first batch of these young children models from the Amber Chia Academy (ACA) make its founder principal Amber Chia felt proud when they stormed the runway garnering admiration and enthusiastic approval from the audience, including their parents, with their loud cheers and applause.
"It's good to start them from young and as you can see they actually enjoy the show," Amber Chia said.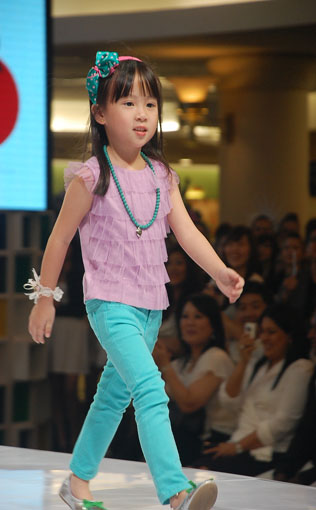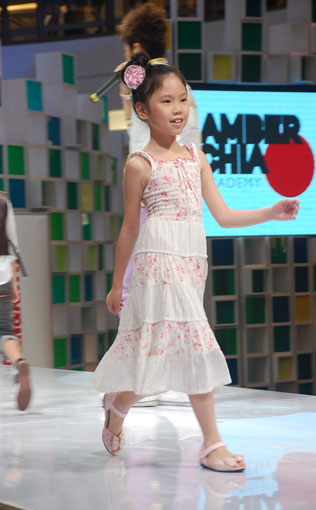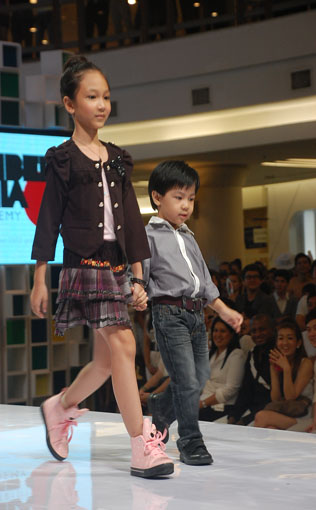 "Initially when they started lessons, they were all shy and some cried. However, they gained confidence in themselves and their abilities through more lessons and support and today they really perform and enjoy the runway."
Amber's toddler Ashton Wong, being the youngest model that evening also took on the runway for a special appearance.
"My son is only 18 months old and I even let him start from young. If you want them to build the confidence, to groom them, I think the younger the better," added Amber.
Not to be outdone, the graduating runway models and makeup artists then took the runway in fashion styles with the former parading their catwalk skills clad in Keith Kee Courture and Konbersasian collections by stylist Swing Chan whilst the latter put on a spectacular showcase of their geometric-themed makeup presentations.
Then, catwalk guru Benjamin Toong strutted confidently down the catwalk in supersize 11-inch heel-less shoes to loud burst of cheers and applause.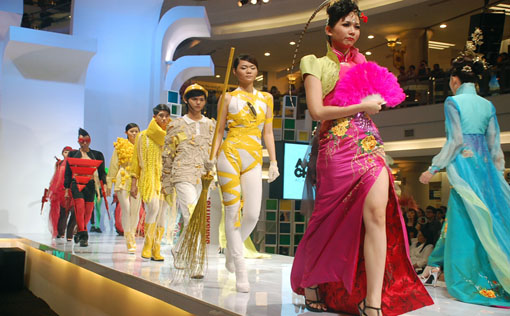 Miss Malaysia World 2010 Nadia Heng, a former modelling student of the academy emceed the show which was attended by about 300 guests who included family members and friends of the graduates.
Among those present at the show were Malaysian Official Designers' Association (MODA) president and fashion guru Gillian Hung, fashion designer Hideaki Lim, Malaysia top male supermodel Wilson Tan, The Brand Laureate president Dr. KK Johan and Carlsberg Malaysia general manager Soren Ravn.
"This is our second graduation show and whenever I see my students on the runway I feel very proud, most touching and very happy because from nothing we trained them and seeing them transformed into runway models," said Amber.
"Not only do they know how to walk but also the way they dress and carry themselves and they look totally different and that's what I feel proud about.
"I am happy to see a lot of our students had gone on to win numerous awards and also doing successful in the fashion and beauty industries. I am looking forward to the new courses which we are going to launch and hopefully we will unearth the talents."
After the fashion show and make-up presentation, a total of 90 graduates of Amber Chia Academy (ACA) from the Jaya One and Malacca branches received their certificates. Each graduate was called to the stage to receive a certificate from Amber Chia.
A total of eight outstanding graduates received awards for Most Promising Female Model (three recipients), Most Promising Female Model (three recipients) and Most Promising Make-Up Artist (two recipients)

Most Promising Female Model:
Eileen Chuah, from ACA Jaya One, PJ
Charmaine Liew, from ACA Jaya One, PJ
Brenda Pang, from ACA Malacca
Most Promising Male Model:
Soo Xu Ze, from ACA Jaya One, PJ
Aven Chop, from ACA Jaya One, PJ
Wan Sufi Bin Mat Saman, from ACA Malacca
Most Promising Make-Up Artist:
Claudia Cheong, from ACA Jaya One, PJ
Tey Ching Ee, from ACA Malacca
Fan Favourite ACA Model:
Angeline Yee, from ACA Jaya One, PJ