Ceylonese community receives RM2.5million aid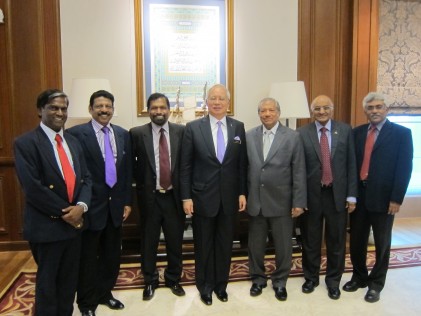 Malaysians of Ceylonese origin received a pleasant surprise recently when Prime Minister Najib Razak came to their aid by providing RM 2.5million for the purchase of the Malaysian Ceylonese Community Centre at Taman Kanagapuram.
Leaders of the Ceylonese community met the Prime Minister at his office and were overjoyed that the prime minister knew more about the community and its contributions to the nation.
The PM made it plain that he has very high regard for the Ceylonese community, he said that his personal physician is a Ceylonese Tamil. He spoke of great individuals of our community and particularly named Ananda Krishnan as an example for all Malaysians to follow.
Reference was also made to the anesthetist who so recently attended at the PM's recent knee surgery, who is none other than our member and the wife of the MCC President Dr NKS Tharmaseelan, Dr Sivasakthy Tharmaseelan.
The PM also spoke about the contributions of the Ceylonese who arrived in ships more the 100 years ago and served the civil service with passion and intent. He also reminisced about the contributions of the community during the leadership of his late father, the former Prime Minister Abdul Razak who had attended several meetings with the community and acknowledged the contributions even in those early years.
When MCC was first founded, the government of the day acknowledged its dominance and appointed its leader as the member of the senate. In the days that followed, members of the Ceylonese community were appointed as the permanent representatives to the United Nations, ambassador's, high commissioners, legal advisers , personal physicians to prime ministers and royalties, financial advisers, admirals and captains of industries among the many.
Dr NKS Tharmaseelan, President Malaysian Ceylonese Congress said "MCC along with FOMSO has received the said RM 2.5 million towards the purchase a property to serve as a community service center for the Ceylonese Community. We are grateful to Prime Minister Najib Razak for being so gracious and acknowledging the contributions of the community.
"We are in the process of urging the government to give a substantial grant as aid for the Tamils in Sri Lanka. The request which will receive the personal attention of the PM who has shown great care and concern for the Ceylonese Community both here and across the shores."