Adhere to the Code of Ethics, journalists told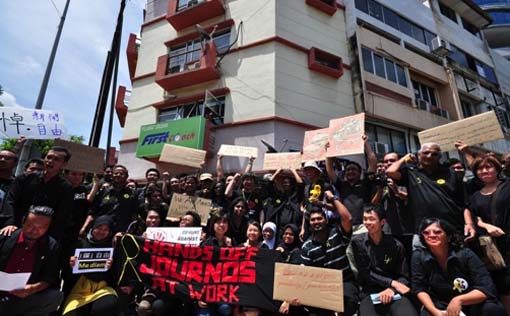 The National Union of Journalists (NUJ) of Peninsular Malaysia urged for fair and accurate reporting in the media.
Through a press statement released to print and online media companies yesterday, the NUJ stressed the importance of ensuring that ethical journalism is practiced at all times in these sectors.
NUJ acknowledges that one of the toughest challenges faced by media personnel is to maintain strict jounalistic principles in times of crisis.
In 2011, the then-NUJ president Hata Wahari called on authorities to monitor the reportings of mainstream print media, which he accuses of acting as mouthpieces for the ruling government.
He provided examples of blatant attacks against top Opposition leaders and MPs by a Malay-language daily, and chided the government for failing to take action against the daily's editors.
This, he claimed, would only show the government's consent in creating racial disharmony and discouraging unity in this multi-racial nation.
In the recent Bersih 3.0 street rally that saw police attacks against several members of the media, NUJ's general-secretary V Anbalagan called on PDRM's Ismail Omar to explain the rationale behind the violence.
On April 28th, journalists representing Malaysiakini, Guang Ming, Malay Mail, Nanyang, Channel News Asia, Al Jazeera, Makkal Osai and Merdeka Review were targeted by the police near the epicenter of the rally.
Some of the journalists were violently assaulted, while others had their cameras and memory cards damaged or confiscated.
The reports by mainstream print media created uproar among net-izens who shared pictures and experiences of the rally online and accused the print media of bias and unfairness.
NUJ's current president, Chin Sung Chew, backs the need for unbiased reporting by stressing a key NUJ objective, which is to defend Press Freedom and to maintain full ethical standards in journalism.
He reminded reporters and members of the NUJ that journalists must respect the truth and the right of readers to the truth, and encouraged full adherence to the journalist's Code of Ethics.
"NUJ wish to remind all reporters, especially members, that it is not their duty to judge but to provide a balanced report. We must always remain true to our profession and maintain our integrity," he stated.
The National Union of Journalists (NUJ) of Peninsular Malaysia celebrates its 50th year of association in 2012.