Super GT Queen Malaysia Search 2012 found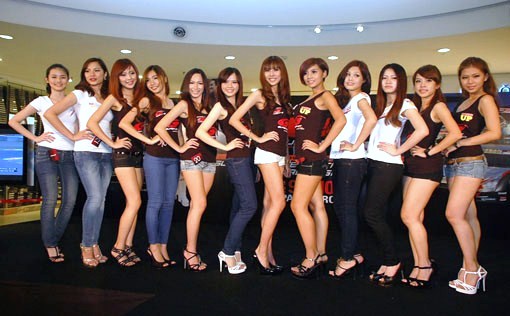 Twelve contestants have made it through to the finals of the Super GT Queen Malaysia Search 2012 after competing against each other in the semi final round held at Bangsar Village 2 shopping centre, Kuala Lumpur on Saturday May 12.
A total of 22 semi finalists did their best to impress the judges with what they got to book a place in the grand final scheduled for June 9 at Sepang International Circuit.
The search contest to find the new face of ambassador of Super GT Malaysia 2012 is one of several off track activities of the Super GT 2012 Round 3 Malaysia that will be held on June 9-10.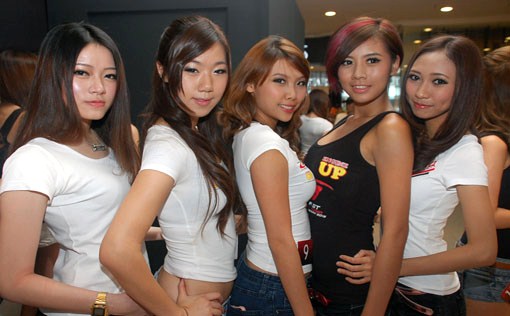 "I am quite satisfied with the girls chosen and the judging panel agreed to the 12 finalists picked as we believe these girls have the qualities and potential to be a Super GT Queen," said Kenji Chan who presided over the contest as chief judge.
"I am sure they are very new but they will have a month-long training to go. I think this is special because they need to be trained in singing, dancing and even kickboxing and they will learn how to talk publicly and how to behave and carry themselves.
"We are looking for someone to be the new face of ambassador to represent Super GT Malaysia to Super GT Japan on 2013. She plays an important role in promoting the country and will definitely need to have brain and knowledgeable enough about cars, about social skills, about public speaking and she must also know her own culture, all of these she can share them to Japan.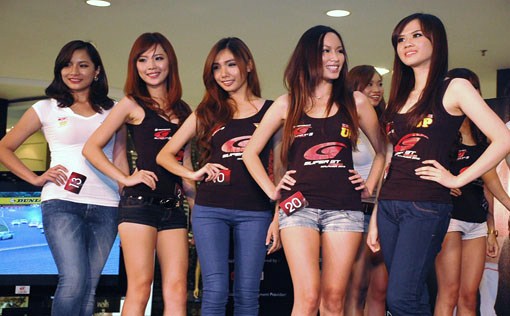 "In Japan she can witness the GT race in the place of origin, the cheering fans and the roaring crowd and see how they are so awesome about the whole thing. She understands the whole thing into Japanese culture and when she returns home, she can then share her experiences with our people and I think that is more important than anything else. This is what I called beautiful. Knowledge is beautiful rather than a good looking person but without the values which are important."
The first round of the competition saw all the 22 contestants walked down the catwalk in casual wear of jeans and t-shirts. Then they strike a pose, introduced themselves and answered questions from the judges. In the next round, they came on stage in entertaining fashions wearing bridal and evening wear.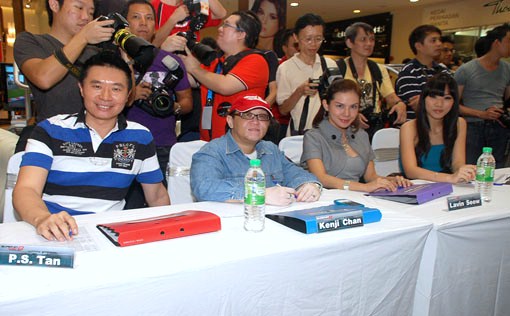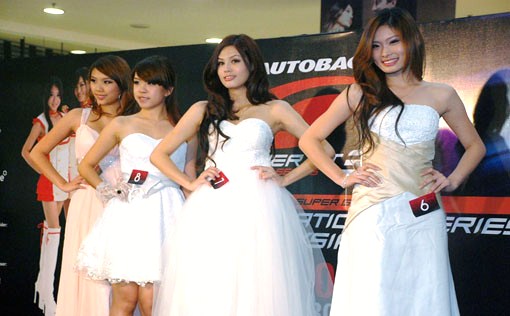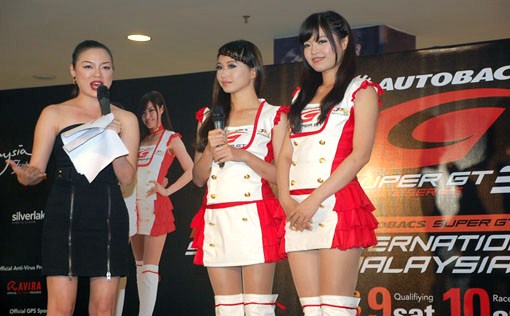 Emceeing the show was Joanna Kwan who kept the energy up and the crowd hyped up. The opening dance by Dragon Production featuring the 22 semi-finalists and a harmonica and saxophonist performance by multi-talented young musician and harmonica world champion Keith Valentine Tan provided the lively entertainment.
In preparation for the finals on June 9, the finalists will undergo a month-long intensive training by industry experts in various fields to refine their skills and talent such as grooming, make-up and hair, catwalk, posing, charisma, communication and dancing. They will also leave for Kota Kinabalu, Sabah from May 25-27 as part of social networking with the finalists of Miss Earth Sabah 2012.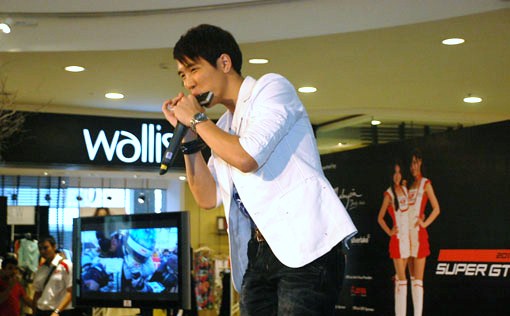 Miss Malaysia Earth 2009 Mandy Nandu of MNE Productions, event organiser for Miss Sabah Earth 2012 pageant and the ambassadors of Engine Up made a special apperance much to the delight of those in attendance.
The Super GT Queen Malaysia Search 2012 is presented by Engine Up. The winner will also be awarded a 24-month ambassadorship with Amaze Communications and Modeling, the event organizer.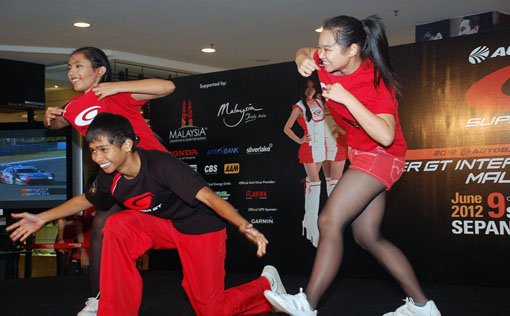 Results of the Super GT Queen Malaysia Search 2012 Semi Finals
 Top 12 Finalists
 Erica Chan
Victor Yong
Mico Lee
Roselyn Woon
Julie Tan
Lily Kon
Charissa Chong
CookiesYap
Pauline Koo
Rice Hing
Yumi Meiki
Cath Lim