Lynas: In layman's terms (Part 1)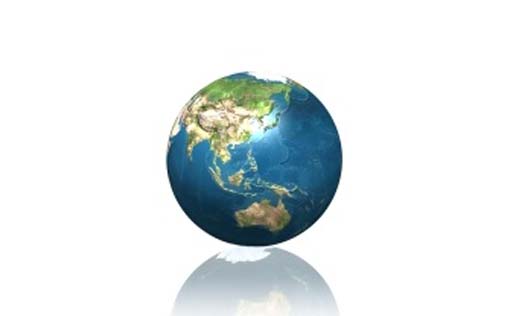 How it all began
Rare earths is a term used for a certain kind of radioactive earth having a group of elements which are refined to obtain key ingredients in high technology industries such as your iPhones, laptops, hybrid cars and wind turbines.
Deposits of this earth are usually not found in great quantities for viable economic mining.
However, USA, China and Australia are said to have rich deposits in reserve. Currently 97 percent of the refined rare earths for global consumption come out of China.
Production of rare earth elements declined in the USA. Once a high producer of the same, as recent as the 1990s, USA has drastically cut down on production of these elements due to enforcement of stringent environmental regulations and the ensuing escalating cost of production.
Australia, it appears is seeking to carry out her rare earths processing outside Australia.
These rare earths upon refining leave in its aftermath, radioactive waste harmful to people and the environment.
The thorium in the waste has a life of 14 billion years and in the very long process of decaying will release radioactive gases. The refining process also uses huge amounts of acids which will then have to be disposed of.
Radiation can cause several health problems ranging from neurological problems to cancers amongst others and is even known to affect unborn babies.
It is known that the people of China living and working around rare earth plants have suffered untold hardships but to what extent they actually suffered and the environment has been ravaged due to the rare earth refining activities, the rest of the world may never know.
It is interesting to note however that in the last couple of years the Chinese Government decided to limit the export of refined rare earth metals citing environmental issues.
With China cutting down on this precious commodity the world price for same is riding new heights. Therein lay the advent of Lynas in Malaysia.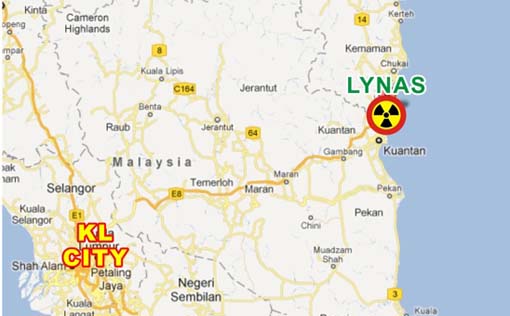 Lynas in Malaysia
Lynas Corporation of Australia has been allowed to set up a 700 million dollar rare earth processing plant in Gebeng near Kuantan in the state of Pahang, known as the Lynas Advanced Material Plant (LAMP). The approval was given to them by the government in 2008.
Most Malaysians were unaware of this until the New York Times revealed it by which time the plant was reaching completion.
After the debacle of Bukit Merah, the now better informed Malaysian public are not prepared to allow Lynas to operate on their shores.
They are not prepared to sit back and sacrifice the health and livelihood of the innocent for wealth as it is said that when fully operational, the plant at Gebeng will rake in a sum equivalent to 1% of the Malaysian economy.
The Malaysian public is determined to be heard and people from all walks of life are joining up to force the Malaysian government to retract the approval given to Lynas.
It has been reported that 20,000 tonnes of radioactive waste a year will have to be disposed of by Lynas from the plant in Gebeng when it is fully operational.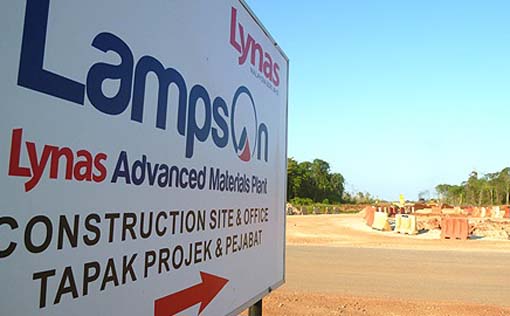 18 April 2011 – Expert: Lynas will be far worse than Bukit Merah
Public health expert Dr T Jayabalan has stated that the radiation will be deadly as radiation levels build up according to the volume of radioactive waste piled together.
There appears to be no clear plan on the disposal of this radioactive waste by Lynas.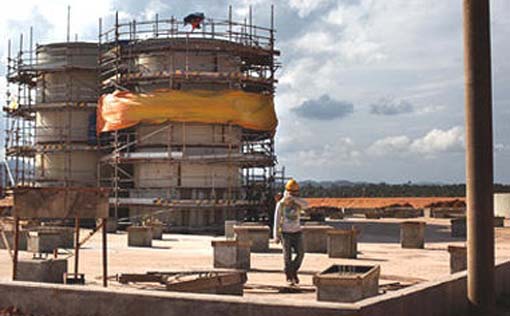 20 April 2011 – Fadillah allays fears over rare earth plant
Deputy Science, Technology and Innovation Minister Fadillah Yusof in attempting to allay the fears of the growing rumblings against the setting up of the plant in Gebeng stated that the radiation levels were very low and that the ministry, through the Atomic Energy Licensing Board (AELB), had approved the site and construction licence for the period Sept 19, 2009 to Sept 18, 2011, to Lynas only to set up the plant.
He further said,"The licence was issued because the activities to be undertaken by Lynas are safe and do not pose a danger to the public, workers and the environment."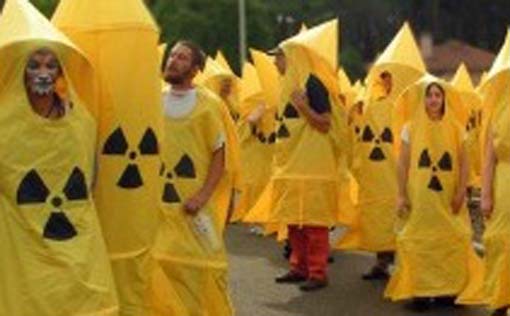 21 April 2011 – Public to face zero radiation, says Lynas
Lynas came out in support of this to say that the people living around the Gebeng plant will face zero radiation.
They also gave their reasons for deciding on building the plant in Pahang, the 'preferred' location although approval had been obtained from China and Australia, leaving out the apparent lucrative incentives including a 12 year tax-free status.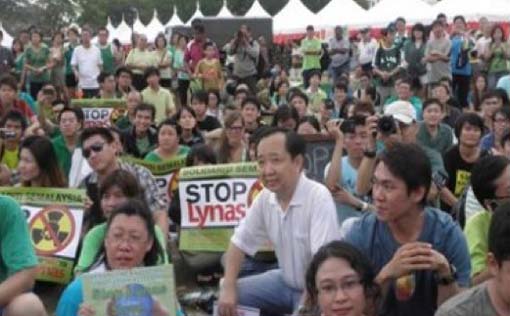 22 – 23April 2011 – Meanwhile articles Gov't won't allow projects that affect public health and Lynas confident of getting green light were publised a day apart.
The public outcry metamorphosed into the formation of organisations like 'Stop Lynas, Save Malaysia'.
Together with Pahang Bar sub-committee they set out to find the reason(s) behind the authorities allowing the operation of a plant with such negative connotation to operate in Malaysia.
AELB and other relevant bodies had questions to answer. Talk of setting up an International panel to study the Lynas plant surfaced only in April 2011.
Prime Minister Najib Razak said that the government will not permit any project that will affect public health.
But in the midst of it all Lynas was confident of getting their licence to operate as the plant was supposed to be a first-class facility meeting world safety standards.
*****************************************************************************************
This article is a four-part series: Part-2 will be published next week.