District unity officer: Enhance relevance of Rukun Tetangga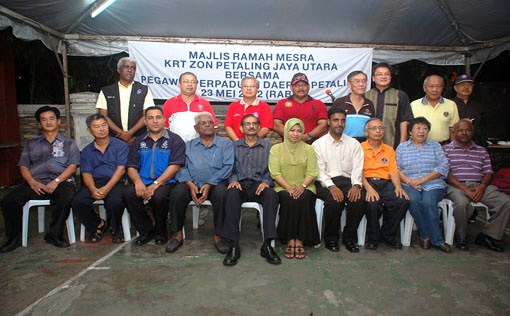 Members of Rukun Tetangga (RT) Area Committee in Petaling Jaya Utara (PJU) were told to enhance Rukun Tetangga to make it relevant to the needs of the community in their areas.
Petaling district unity officer Rina Ab. Harun made the call at a Majlis Ramah Mesra get-together event in the evening of May 23, 2012 at the open basketball court in Section 20 Taman Paramount, Petaling Jaya which was attended by about 100 members from 19 Rukun Tetangga Area Committees in Petaling Jaya Utara.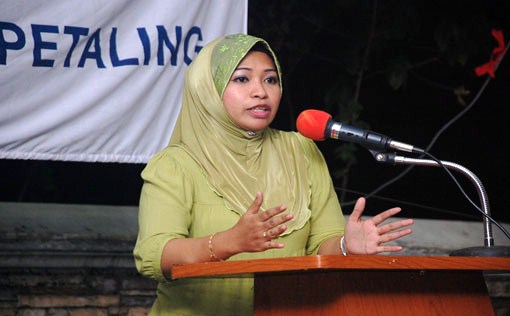 "If crime cases are high in certain RT areas, they could conduct Skim Rondaan Sukarela (SRS) or Voluntary Patrol Scheme to reduce crime but if the area is safe with no security or safety risks present, then the need is more on community activities," said Rina.
"The concept is only one and that is to ensure the unity of the people always remain intact. Let us work together to minimize misunderstandings. We do not want quarrels which can divide us because we are one family, 1Malaysia."
She said that the people cannot run away from the challenges in the movement towards unity as the era of globalization and borderless world has made it difficult for the people to stay united in cities like Petaling Jaya. Thus it is important to foster good relationships with our neighbours because it is vital to unity within the community.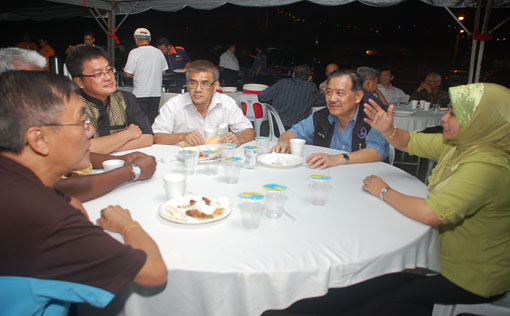 "The role of RT area committee in this time is needed because without them carrying out projects aimed at fostering a sense of unity and neighbourliness, I believe we may not even know who our next door neighbours are.
"We may know their appearances and their faces but if we do not have effective interaction and communication like we do here tonight, then the relationship between neighbours will be lacking. And if we do not know our neighbours, it is easy for criminal activity to happen. It is also difficult to ask for help from neighbours if we face trouble."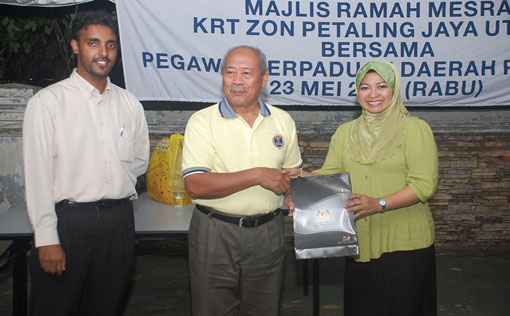 She said that she was moved by the large presence of committee members from 19 Rukun Tetangga zones in Petaling Jaya Utara and hope to take this opportunity to meet and get to know them personally. As she met the committee members to know them better, she also listened first hand to the ideas and issues raised by them.
Later Rina presented souvenirs as tokens of appreciation to the chairmen or representatives of all the 19 Rukun Tetangga area committee.
Also present at the function were PJU zone unity officer Shaik Zaiful Nizam bin Shaik Mansoor and SEA Park police station OCS Inspector Gunam Resul.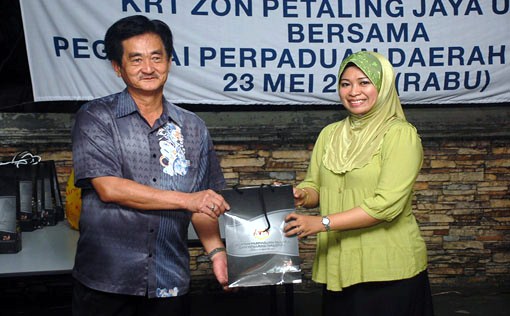 Inspector Gunam Resul who represented his boss Petaling Jaya OCPD Asst Comm Arjunaidi Mohamed said in his speech that the OCPD had instructed all chiefs of police stations not to let their guard down and to always stay in touch with Rukun Tetangga area committees in any situation by providing them any service, advice and assistance needed such as to participate in joint SRS patrol, to attend RT meetings and to hold concerns for safety of areas under RT.
He said "The police station chief must always open their ears to listen to advice of subordinates because fighting crime is not the only role of a police station chief. The role also involves engaging with the community in many different categories in line with people-oriented policing concept such as mesra rakyat (people-friendly) programs, school visits, attend PIBG meetings and many other agendas and activities."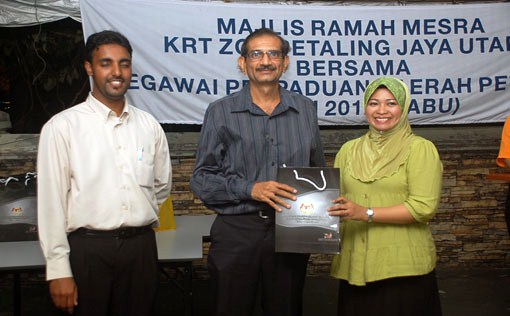 Gunam said he brought with him his vast experience gained at Pantai Police Station (where he previously served as the police station chief) to build closer rapport between the police and the Rukun Tetangga area committees under the SEA Park police station to fight crime together in the neighbourhoods.
"We have regular meetings with the Rukun Tetangga area committees at the SEA Park police station once in every three months. The last meeting was held in March and the next meeting will be in June. Such meetings help us to know each other better and through the exchange of information we help to check crime in the neighbourhoods."