Rotary clubs distribute 200,000 reusable bags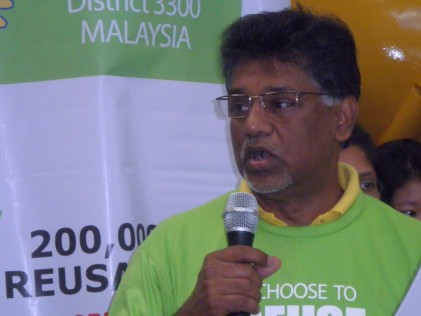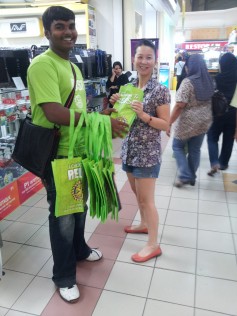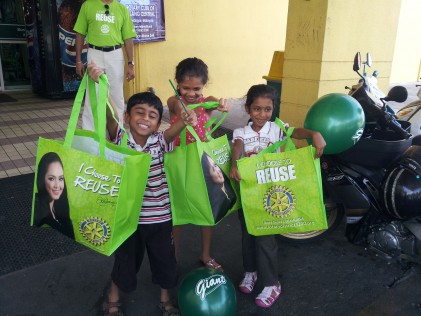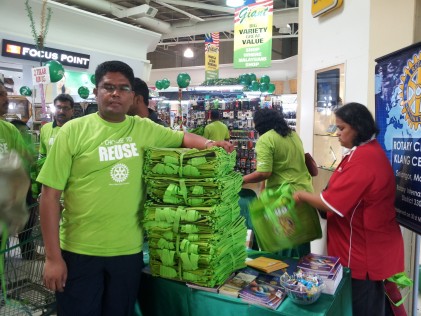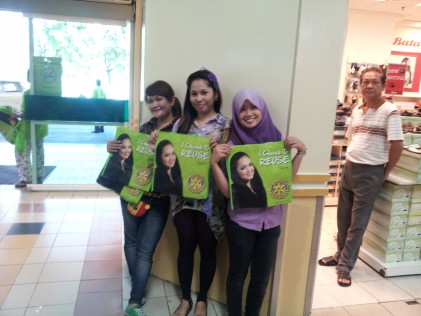 Rotary Clubs in District 3300 Rotary International (Malaysia) distributed 200,000 reusable bags simultaneously at 30 selected hypermarkets in Peninsular Malaysia recently. In Klang, Rotary Clubs of Klang, Klang Central, Port Klang and Bukit Tinggi distributed 8,000 bags to shoppers at Giant Hypermarket, Bukit Tinggi.
Speaking at the launching of the Klang chapter "I choose to Reuse Campaign",  Selangor exco member Dr Xavier Jayakumar hopes the campaign could increase awareness while reducing the amount of garbage collected in the vicinity.  He added that should the quantum of garbage increase, local authorities would have no choice but to built unpopular incinerators as the population in Klang grows to 1.7million.
The community service project by Rotary District 3300 also attempted to create a record on Malaysia Book of Records as the Largest simultaneous Distribution of Reusable Shopping Bags and was supported by local celebrities such as Siti Nurhaliza, Reshmonu, Nadhira, Daphne Iking, and Naqib.
Rotary International is a community service organisation founded on 1905 in Chicago, USA with 1.2 million Rotarians belong to over 32,000 Rotary clubs in more than 200 countries.
In Malaysia Rotarians contributed to formations of  Tun Hussien Onn Eye Hospitals, National Kidney Foundations, Spastic Centres , Zoo Negara and Diaylsis Centres such as Haemodialysis Association of Klang.