Kajang animal rescue shelter in dire need of help
What do you do when you see an injured dog lying on the street? Do you just walk past and pretend not to notice it?
What do you do when you see on YouTube someone abusing a dog? Do you condemn the abuser in your armchair at home and spread the video on Facebook, and feel that you have done your part?
Most certainly not. You could spring into action – report to the Society for the Prevention of Cruelty to Animals (SPCA) or find out where the dog is and rescue the dog.
Rescuing dogs had been what T. Puspa Rani had been devotedly doing for the past seven years.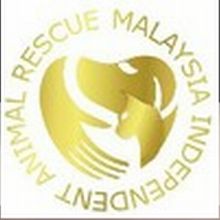 Puspa, 36, is the president of the Malaysian Independent Animal Rescue (MIAR) located in Kajang, Selangor.
MIAR is a non profit organisation which is dedicated to saving the lives of strays.
There are 7 volunteers in MIAR and one full-time staff. They help in running the shelter which takes in dogs that are injured or abused.
They also rescue dogs from being put to sleep at the animal pound. The dogs will then be put for adoption.
All the volunteers are part-timers and they usually come in only during the weekends.
Puspa, a mother of two children, age two and seven, is running this dog shelter full time. She left her job as an auditor seven years ago, to concentrate fully on rescuing and re-homing the strays and abused dogs.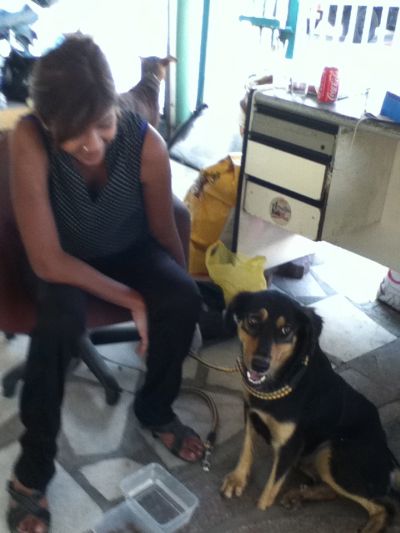 Puspa's love for animals, particularly dogs, knows no bounds. Her immense love for dogs started when she was just a little child. She is now an experienced dog rescuer. She is one of those very few dog rescuer who can handle aggressive dogs.
MIAR's shelter is housed on rented land. On 2 May 2012, the place was badly affected by floods.
Puspa and her volunteers managed to run up the hill to save the dogs but they had lost everything else. Puspa is appealing to the public for donations in cash or kind.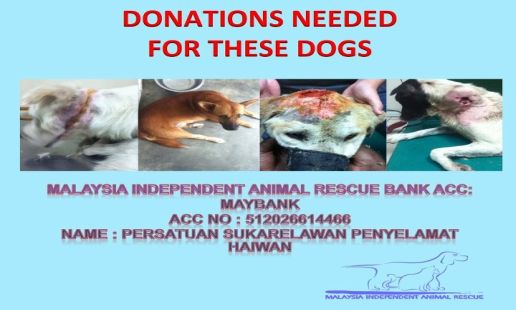 "We mainly concentrate on rescuing dogs that are injured, thus our expenses are very high, especially the veterinary bills.
"We appeal for cash donations and we also hope someone can donate or rent us a home at an affordable price, a piece of land where we can set up our shelter.
"The present land that we are in now, is prone to flood. Within the last three months, there had been three floods.
"Of course, we also welcome volunteers to our shelter. They can help by taking the dogs for a walk, giving them a bath or just cuddle and play with them."
Puspa also hopes that the public will come forward to adopt the dogs.
Presently, there are 65 dogs in the shelter and several kittens. She said that if the dogs are adopted, then there will be more room for them to rescue and shelter other dogs.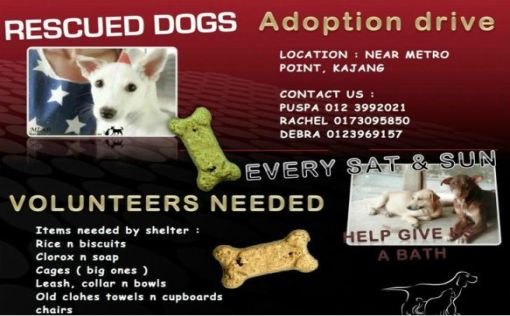 MIAR has an adoption drive on every Saturday and Sunday. The response had not been very good, according to Puspa.
Many who came, like to look for dogs that are of good breed. This saddened Puspa as she felt that they fail to understand that what is more important is that a dog – any kind of dog – just need a home to be cared and loved.
As compassionate people, we should reach out to our 'best friends', no matter what kind they are.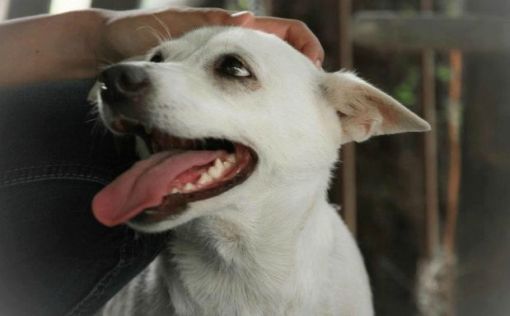 There were many horror stories of how the dogs were abused and injured.
Anyone who read these stories and see the equally horrifying and disturbing pictures of the injured dogs, will be moved.
There was one dog who was slashed with a parang by his owner.
He managed to escape with a chain still hanging at his neck and his wound was found to be filled with maggots.  (He was named 'Slash' by MIAR).
MIAR found a dog dumped and left in the market to die. His paws were soaked with corrosive and his eyes were affected too. His eyes could not be saved.
To see the pictures and get more detailed stories, please visit the MIAR website.
Puspa informed Citizen Journalists Malaysia (CJMY) that expenses incurred a day to run this shelter varies a lot, depending on the circumstances and the situation of the dogs. However, she said, if there are  serious cases of badly injured dogs to attend to, just for those dogs, she estimate about RM3000 a day. 
Average for a month, they will need to spend about RM15,000, if there are at least five cases to attend to.
Apart from the veterinary bill, daily essentials like rice, towel, soap and medical items are needed.  The full-time worker, who attend to the dogs daily, feeding and nursing them, need to be paid too.
"At the moment, the funds come from random donors and some are sponsored by my husband.
"We received calls from the public everyday, informing us of animals in distress. The distress calls sometimes came from other states too, as far north in Sg Petani, Kedah and lately, in Batu Pahat, Johor." Puspa said.
"However, we do not have the resources to help them all.  We try our best to save as many dogs as we could but sadly, in our country, cruelty towards dogs is so common that we get injured dogs every month. We can only do as much as we can."
Those who would like to donate, you can call MIAR's administrators at 012-399 2021 or visit its website donation page.
NOTE:  All pictures are taken from MIAR's website.