Photoblog: Penang's Feast of Corpus Christ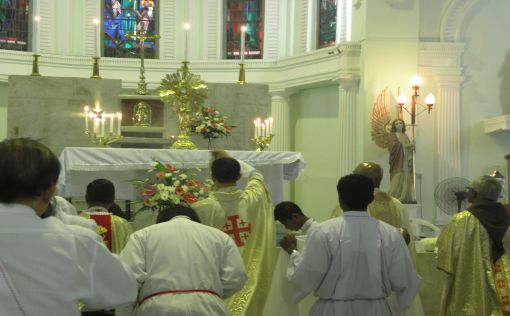 Nearly 1,500 Catholics in Penang island celebrated the Feast of the Corpus Christi also known as Feast of the Body and Blood of Christ on 10 June with a Mass and a procession on the street.
The event was organised by City Parish, Penang, which has four churches under its. Five priests and Emeritus Archbishop Soter Fernandez were present to celebrate Mass and join in the procession.
The Mass which began at 5.30pm, was held at the Penang's UNESCO World Heritage Icon, Church of the Assumption in Farquhar Street.
Catholics believe in the real presence of Jesus Christ in the Eucharist. The consecrated Eucharist host, which is placed in the Monstrance is blessed and carried in procession on a decorated lorry.
The faithful believe that they are 'walking with Jesus', the Eucharist host in the Monstrance representing Jesus.
After the Mass at the Assumption Church, the procession began. Several flower girls strew flowers on the road to for the Monstrance path before and after it was placed in the vehicle.
The people held lighted candles and sang songs of praise while walking along the 2km route.
It wound its way through Penang Road until it reach the Church of Our Lady of Sorrows in Macalister Road.
During the procession, the vehicle carrying the Monstance stopped three times for people to venerate the Eucharist.
The priest lifted up the Monstrance three times, while all the people knelt in reverence of the Eucharist.
When the procession reached its destination at the Church of Our Lady of Sorrows, there was a Benediction service after which the congregation adjourned for fellowship and dinner.