Open day: Sunway College Johor Bahru
On 17 June 2012, Sunway College Johor Bahru organised an Information Day for parents and students to familiarise themselves with the educational programmes it offers.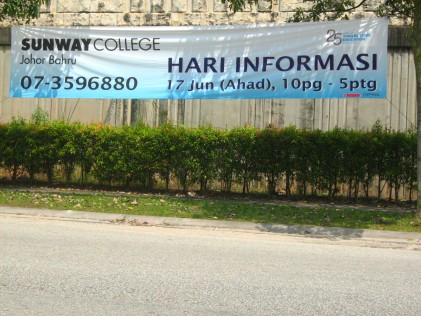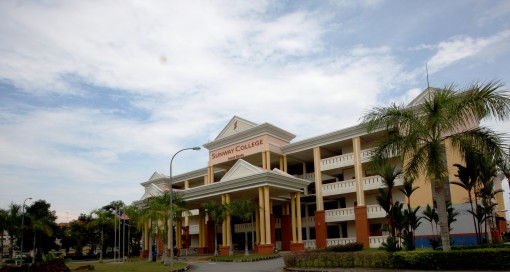 Lecturers were available to give personal consultation on education pathways available to students who were accompanied by their parents.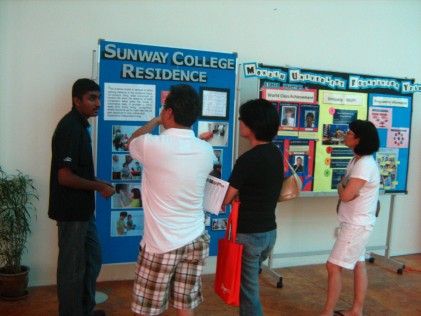 It was also a chance for them to meet representatives from renowned universities and to explore options for undergraduate studies relating to medicine and allied health, pharmacy, engineering and science fields.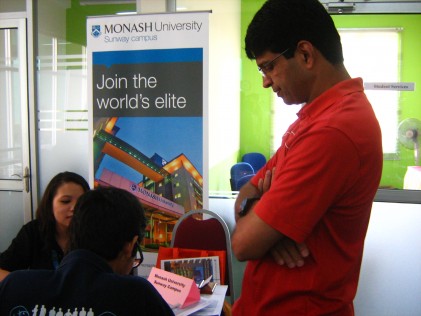 The universities which took part in the Information day included the Monash University Sunway Campus, University of Melbourne, University of Queensland, University of Southhampton Malaysia Campus, Newcastle University Medicine Faculty Malaysia, University of Nottingham Malaysia Campus, Nanyang Technological  University and the International Medical University.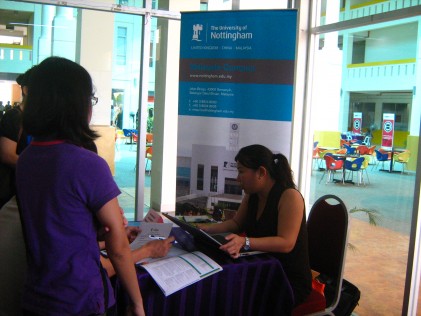 Citizen Journalists Malaysia (CJMY) spoke to Tan Teck Hock who had turned up to enroll for the July intake for the Association of Chartered Certified Accountants (ACCA) programme.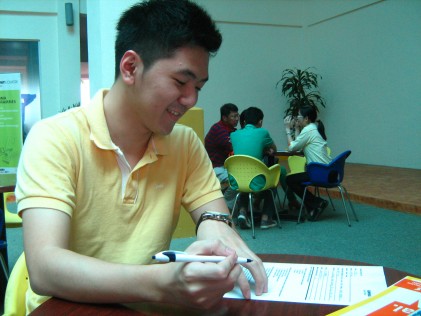 As an audit assistant at Crowe Horwath, when asked why he had chosen Sunway, he said his friends recommended the college as students could receive quality education there.
In a briefing on the Sunway Pre-University Scholarship, students learnt that for the first time, Pre-University scholarships were available for 2013.
The three programmes that were eligible for this 'new' scholarships are
1. Australian Matriculation (AUSMAT)
2.Cambridge GCE (A Levels)
3. Monash Foundation Year (MUFY)
The amount of scholarships available to them was 8,000, 10,000 and  15,000.00.
Students could use their trail examination results to apply for the scholarship.
Sibling discounts were also applicable to the three diploma programmes. Siblings of currently enrolled student are entitled to a 50% discount on the tuition fee.
CJMY spoke to Clavence Yap who had obtained a Diploma in IT and is now taking up the Diploma in Business at Sunway. He had brought his brother to enroll at the college.
According to him, that his brother is the 4th child from his family to have gone through the Sunway education system. Tan hopes to complete his ACCA within three years.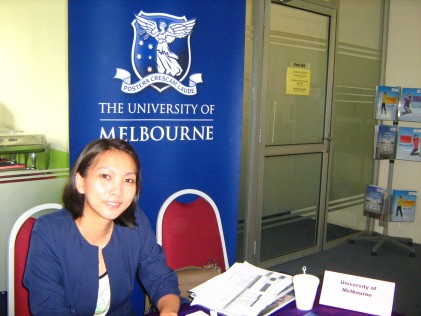 Country Officer of The University of Melbourne Ong kar-Yee explained that" the curriculum offered by the University of Melbourne are slightly different from other universities."
She added, "With effect from 2010, if a student wished to study engineering, he needed 5 years.
"At the end of the 5 years he would  graduate with what looks like a double degree. He could stop after the Bachelors and could switch to a different course."
For further information, Ms Ong can be contacted at 03- 2615 7319.
Marketing Manager of Sunway College JB Linda Lim explained that the reason why the college decided to organise an Information Day for the first time.
She explained that June is the time when those who had completed their SPM, UEC, STPM andf A-Levels examination are  looking to progress to a college or a university.
The universities invited to the Open Day were those which focused on medicine and health science to serve the college's Pre-U students who are science based.
Lim ended the interview saying the Info Day response was "overwhelmingly successful" and it would be an annual June event.