Taking cancer by the horns
Margaret Khoo, a vivacious and cheerful 68-year-old from Johor Bahru, is a breast cancer survivor of 19 years.
She helped to organise a team of 40 survivors and volunteers from JB to participate in the Relay for Life 2012 in Penang over the weekend.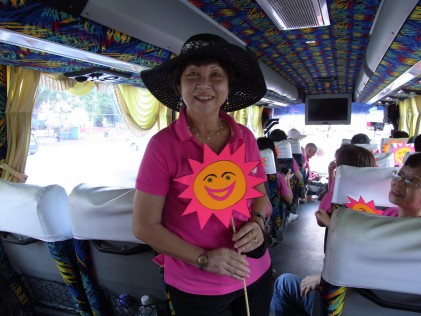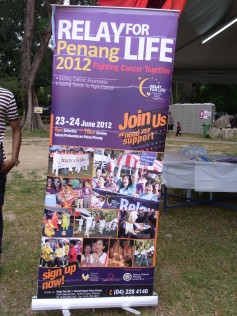 The purpose of the Relay was to court and reassure cancer patients and their families that the cancer-battling journey need not be solitary.
The National Cancer Society of Penang organised the 'Relay for Life – Fighting Cancer Together'.
The Relay for Life 2012 was supported by Penang Hospice Society and the Majlis Perbandaran Pulau Pinang (MPPP).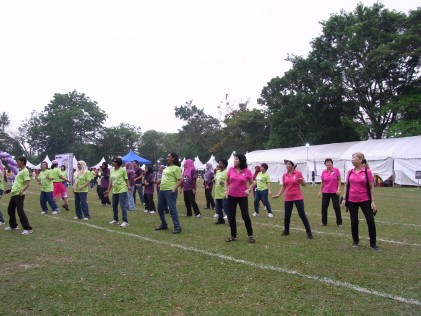 Penang CM Lim Guan Eng motivated those present and told them that the state government would always support the survivors.
This annual event in Penang fosters camaraderie between cancer survivors, patients, together with their families and friends. It was also an opportunity to revive memories of loved ones lost to the seemingly burdensome disease.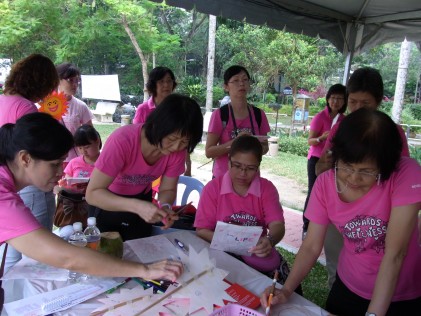 Margaret told Citizen Journalists Malaysia (CJMY) that she felt as if she had won a battle when bystanders clapped and cheered the survivors who walked the first lap in the field. It was symbolic that those present walked the field continuously until the next morning in the form of a relay.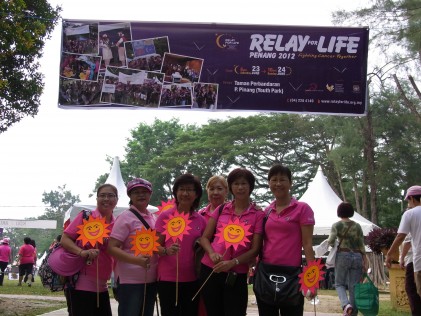 Margaret said," I am a breast cancer survivor myself. I lost my sister to breast cancer, a brother to lymph node cancer and another brother had cancer of the rectum. I want to encourage those who have been afflicted not to give up. The theme celebrate, remember and fight back is apt."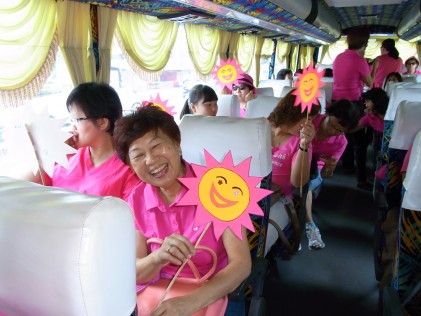 She continued," Nowadays, the latest treatment have fewer side effects. Those affected should take the advice of their doctors and go for treatment. Some women are more concerned about their looks. They want breast reconstruction before chemo treatment."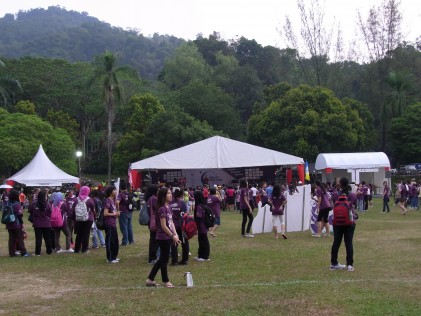 Margaret said she counselled a 36-year-old patient, "What is the use of having breasts when you have no life?"
The woman took her advice and went for chemotherapy treatment. After the series of treatments, she decided she did not need reconstruction."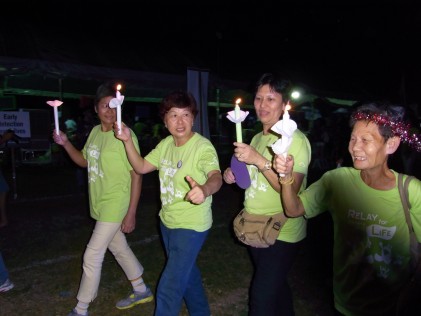 Betty Chuah, 75 years old, told CJMY that she is a survivor and now helping out with the Sisters of the Poor as a volunteer.
She does not feel that she has to sulk in silence and retreat from the world.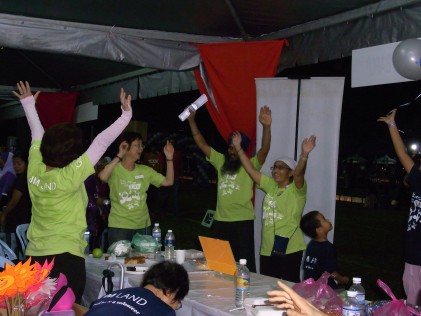 A couple who spoke to CJMY said that they supported each other.
The wife and husband is suffering from stomach and kidney cancer respectively.
He has one kidney left. Yet, they were seen cheerfully going around making sure everyone had their food and having chatty positive conversations with people around.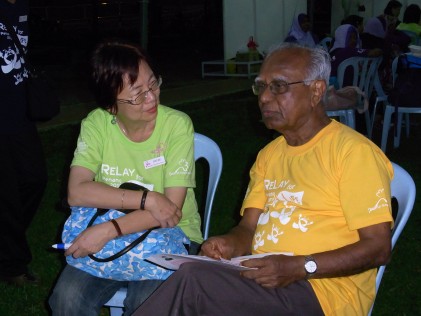 Margaret had these words of advice, "To be told that you have cancer nowadays is not a death knell like before. There are many treatments available  but early detection is important. Forget about being a vain pot and listen to your doctor."
Related articles:
Conquering cancer, Relay for Life
Photoblog: Penang CM walk with cancer survivors