10,000 expected to attend Himpunan Hijau Ke Putrajaya today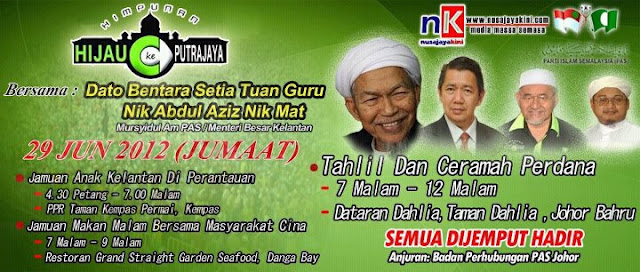 PAS Johor is scheduled to kickoff  its jam-packed Himpunan Hijau Ke Putrajaya programme at Taman Kempas Permai, Tampoi, here, today.
Some 10,000 participants are expected to attend the event which will start at 5pm with a string of guests-of-honour including, PAS spiritual leader and Kelantan Menteri Besar, Tok Guru Nik Aziz together with PAS Vice Presidents, Salahuddin Ayub and Husam Musa, its national youth chief, Nasruddin Hassan Tantawi,  PAS Johor chief, Dr. Mahfoz Muhammad and others state leaders.
A grand feast will be held subsequently, a thanksgiving, devotion and mahgrib prayer sessions will be conducted and to be followed by a political ceramah in Dataran Dahlia, Taman Dahlia.
Later at 7pm, the PAS leaderships and party members will have dinner with local Chinese and Indian communities in Grand Straits Garden Seafood Restaurant, Danga Bay, here which is scheduled to end at 12 midnight.