Myanmar diaries: The elephant dance
The elephant dance depicted in the video was shot at the floating Karaweik Palace  in Kandawgyi Lake, Yangon.  The cultural theatre is shaped like the royal barge of ancient Burmese kings.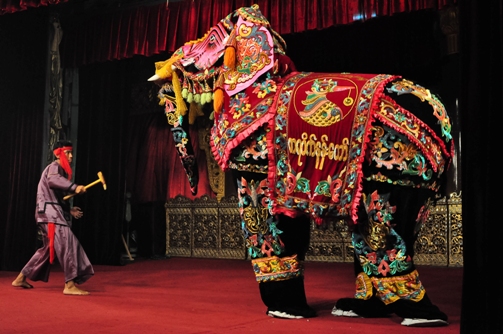 The elephant and the trainer
Legend tells us that during the 10th century, the first king of the Burmese Empire, King Anwrahta while travelling back from China with religious Buddhist relics stopped at Kyaukse near Mandalay in Central Burma.  He had placed the relics on the back of a white elephant which then went straight to the foothills of Kyauske and knelt down.  Seeing this as an auspicious sign, the King ordered a pagoda to be built on the hilltop as a commemoration to Lord Buddha.
Thereafter,  during every October full moon, which marks the end of the Buddhist lent, the people in this area celebrates the Elephant Festival.  Huge  but light elephant figures are made from bamboo and paper.  The men take their places inside the elephant figure and dance to the accompaniment of gongs, cymbals and drums. The bamboo elephants are colourfully painted and decorated, glittering with gold foils, satin, velvets, pearls, gems etc.
The  making of such bamboo elephants are family traditions and passed down from one generation to the next.  The family secrets are closely guarded with the details, design and proportions handed down orally.  The art of making bamboo elephants is included in the list of ten noble arts in Burma.
During the festival, the people gather at Kyaukse for the annual elephant dance competition followed by procession of the elephants around town and to the hilltop pagoda.   There is much fanfare, rituals and fancy footworks in the dance competition.  The winner of the competition gets to perform at the hilltop pagoda and in state functions all over the country.
The elephant is a symbol of physical and mental strength as well as responsibility and earthiness.  Lord Buddha was said to have been born an elephant in his previous incarnations,  and he was conceived when his mother dreamt of a white elephant entering her womb.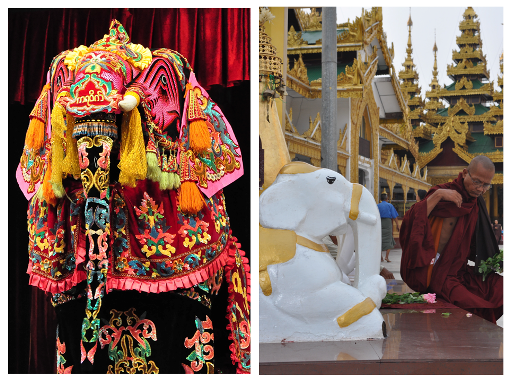 Front view of a bamboo elephant and the white elephant guarding a Buddhist pagoda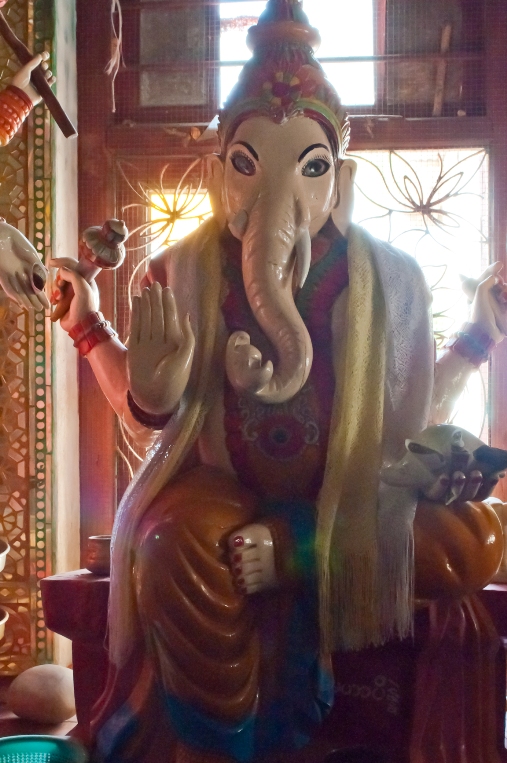 According to Buddhist iconography, the elephant faced Hindu deity Ganapathi or Ganesha is an emanation of Bodhisattva Avalokitesvara (commonly known as Goddess of Mercy in China)