Spectators and volunteers make London Olympics whole
Citizen Journalists Malaysia (CJMY) went on a random walkabout talking to both Londoners and Malaysians on their views of the games. While on the walkabout CJMY stumbled across two sets of volunteers at the games. One group were called Games Markers and another group of 100 volunteers were chosen specifically to write about the games.
The spectators
Clara Ho, 23, Malaysian-born Marketing and Communications Officer at Cardiff University shared with CJMY her views on the 2012 Summer Olympics.
Kamal Misirlioglu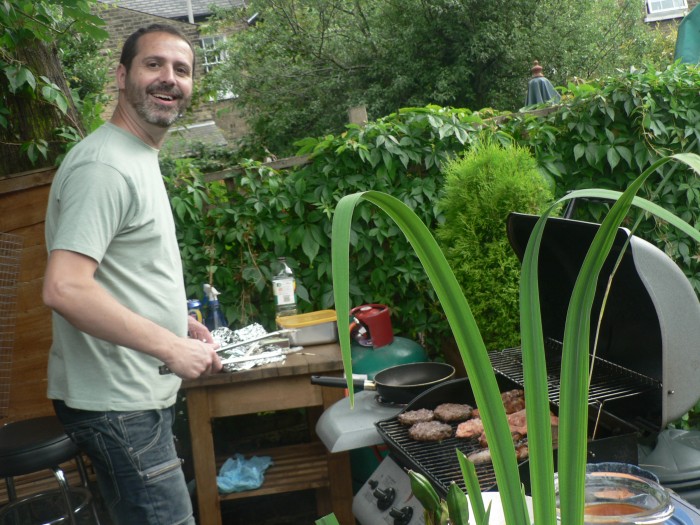 A 46-year-old freelance accessory designer has been living in London for the last 16 years. He told CJMY that the games he would be watching during the Olympics would be cycling, swimming and rowing. When asked how much he paid for the tickets, he charmingly replied that he would be watching the games on telly.
Misirlioglu said that the games had caused travels to be a nightmare. "Travels in London has always been a nightmare as the transport system is so old that it's going to be impossible to cater to the 500,000 passengers expected over the next two weeks," he said.
The accessory designer said that the opening ceremony was fantastic. "I loved to see James Bond and Queen Elizabeth II jumping off the helicopter. Also, the second thing which captivated Misirlioglu was the lighting of the cauldron. The history of England was stunningly displayed and coming from Turkey he found Mary Poppins fascinating.
Finally, Misirlioglu said that the best things about the Olympics was to see 200 countries under one roof, the only time the world becomes boarder-less.
Misirlioglu loves England because he loves living here. He loves the diversity of the food and the health service is good as he gets good medication.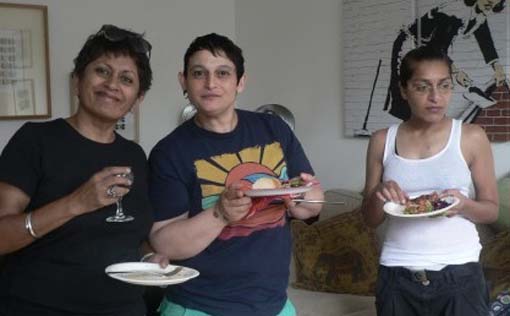 Qurra, a 37-year-old DJ and fashion designer born in Scotland said that she have been a  DJ for the past 12 years. "I play mainly a mixture of hip hop, bhangra, Bollywood and Arabic music and R&B. I am now learning to produce music and sound engineering."
During the Olympics Qurra said that she would be keeping her eyes on the athletics events especially the 100 M, 200M sprint and the hurdles.
"I also like gymnastics as I've always loved sports and Great Britain has a great team.
"Would love to watch athletics because of big names such as Usain Bolt bring back a lot of childhood memories.  I played football for 3 years and also tennis and hockey," said the music enthusiast.
When asked how much she paid for her tickets, Qurra too said that she would be watching the games on telly.
She was happy that the games was being held in London and had no gripes whatsoever.
On the Opening ceremony she said that British people in general are very cynical. "I was very cynical because I did not expect anything great at the Opening Ceremony. However, with Boyle as director I was curious to see what he would produce and was not disappointed.
"He historically depicted GB as a green rural place that changed with the Industrial Revolution and brought it to the present with the youth and multicultural aspects.
"He made me happy about this country with its music and diversity. I am proud to be a Brit.
"I didn't like the beginning cos it was  a slow beginning. After that slow start, I thoroughly enjoyed the ceremony," she quipped.
This is going to be an exciting 2 weeks and Qurra will catch some games. It is believed that a seat at the OC was going for £75 (RM 375) and when she actually wanted it, it went up to £150 (RM 450).
"I heard there were seats going for 2,000£."
The Volunteers
At the Olympics, staff and volunteers are called 'Games Makers' because they help make the Games happen.
Games Makers will be on hand at all venues to answer your questions, help you find your way around and direct you to your seat. You can spot them by their snazzy, brightly coloured uniforms. If there's anything you need, just ask one of them.
Outside of venues, there will be plenty of other trained volunteers and staff to help visitors .
These include London Ambassadors, Travel Champions and Ambassadors – who will be wearing bright pink tabards – and local authority 2012 volunteers.
 Jenny Chalmers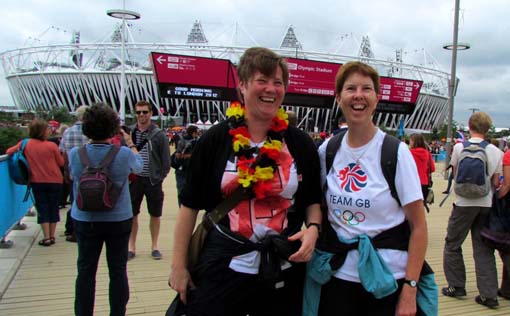 I am a semi-retired headteacher in my fifties. I now work for two days a week in a school for children with behavioural difficulties where I teach gardening. I also write some educational articles and teach behaviour management to other adults.
I live in the East End of London, only 5 miles from the Olympic Park in Stratford. It has been very exciting watching the site develop from an industrial wasteland to a beautiful parkland with the stunning Olympic buildings and meadows of wildflowers.
For me one of the most important things is that after the games the buildings will be retained and the area will be used by local people.
I volunteered as an Olympic Ambassador for the games. My role has been to help out at events and provide information for visitors.
One of my most exciting moments was when the Olympic torchbearer was taking the torch across a lake near where I live and I had to help him on with his life jacket and hold the torch for a few seconds whilst he got it on.
Unfortunately no photo of this as there was only me, another volunteer, the torchbearer and the police at this point.
I am watching  just about everything on television.  BBC TV has about 25 channels of Olympic sport so I'm hopping from one sport to another. I have managed to see two sports live so far.
On Tuesday I saw the ladies hockey which cost £35 per ticket in the Riverside stadium in the Olympic park. For this I saw two matches, including Great Britain win against South Korea and was able to wander around the Olympic Park.
The atmosphere everywhere was very friendly, people from all nationalities having fun and enjoying the sport. Last night I also went to see the boxing at the Excel Centre by the river Thames.
My ticket cost £20 which I thought was very fair. I have never seen boxing live before so it was very exciting, especially when again I was able to see two matches when Great Britain won.
The atmosphere then was electric and the noise deafening.
I am also going to see the quarter-finals of the football on Saturday. Again the tickets were £20.
I thought the Opening Ceremony was incredible. It was very British! I liked the way they managed to include the best of Britain, its history, dance, invention, music and of course the British sense of humour. Mr Bean and the Queen parachuting were so funny.
I am very impressed with the games so far. It makes me very proud to be a Londoner, everyone seems to be enjoying them and impressed with the organisation.
The only big impact it has on my life is that I spend too much time in front of the television. The transport system has been busier but seems to be coping very well.
A very exciting time to live in London!
Veronica Hekic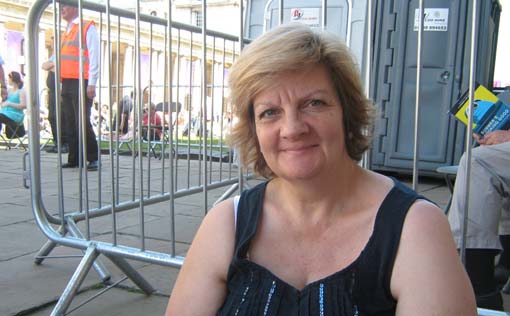 I am in my 40's. I was born and bred in Luton, until I married and moved to London where I am today. I am widowed and have 3 children, the youngest (15) is disabled but still laughs at my jokes!
I have a huge sense of humour and enjoy being able to take a joke back too. I am a school governor which is a voluntary job at a local school.
I am a full time mother and carer for my son who is 15 years old and in residential care (home) He is suffering from Rett syndrome which is a chromosome deficiency. It causes disorder of the nervous system that leads to developmental reversals, especially in the areas of expressive language and hand use.
My 18 year old daughter had her handbag snatched by 2 men who ran off. This happened last Friday. She is still traumatized. She screamed and a police car identified them. The two men had to stay overnight  in police lock-up.
My role in the Olympics? I have been selected as one of 100 persons selected to write about the Games:  I am a creative writer and I just write what I feel.
Be my arms,
Wave for me.
Be my legs,
Run for me.
Be my feet,
Win for me.
Be my brain,
Think big for me.
Be my voice,
Cheer for me.
Be my head,
Be team GB for me.
Be my heart,
Beat Gold for me.
I am writing this poem as if my son is talking to you.
"I know he would wish Team GB all the love and best wishes he could, I too, wish team GB good luck in the London 2012 London Olympics."
Video edited by: Fung Lee Jean