Facebook users protest against the stifling 114A
If you'd felt it queer that today there was almost non-existent traffic in your FB account, it could be that your friends are actively participating in the internet black day campaign launched by the Centre for Independent Journalism (CIJ).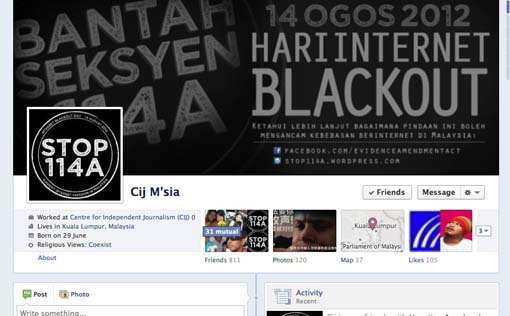 This is the first ever internet blackout day to protest against Section 114A of the Evidence Act 1950.
This amendment to the Evidence Act has been seen as having severely infringed upon the freedom of online expression and undermined the civil liberties of Malaysia's internet users.
Anyone, including the government, can start legal or criminal action against social network users, website owners, mobile device users or WIFI network providers over content posted by other individuals.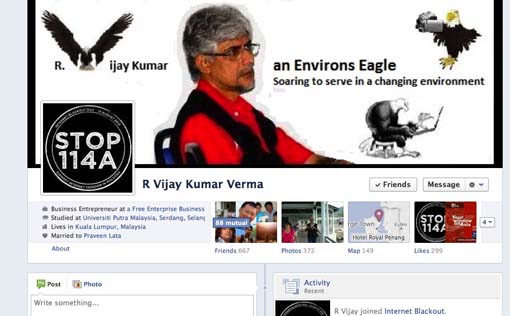 If your friend uses your tweeter account to tweet something negative about a businessman, you could get into trouble.
Or you have a blog and one of your followers writes something unsavoury regarding a famous personality, you could also be in hot soup over that blog.
Thirdly, if your neighbor uses your WIFI without your knowledge, creates a YouTube account under a false name and implicates someone, you will be in trouble.
In all these cases, you are presumed guilty and the burden of proof is upon you.
One of the most visible supporters of this amendment is Citizen Journalist Lucia Lai of Penang who has changed her profile picture to vehemently stamp her protest regarding this amendment and provided many links to her Facebook friends.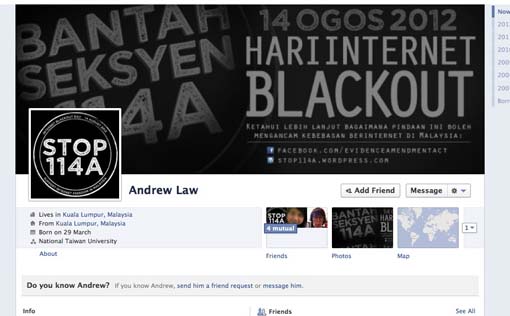 Vincent Soh (Soh Chee Hong) of Johor Yellow Flame changed his profile picture and said that today, he has not posted any comment in order to endorse this protest.
He wrote," No more posting, activity, sharing, likes and etc from me for next 24hrs. 30 minutes countdown to shut down my FB.
Silent protest to our brain regarding Section 114A." His friend Kwee Yong Tan and Chew Boon Han supported him.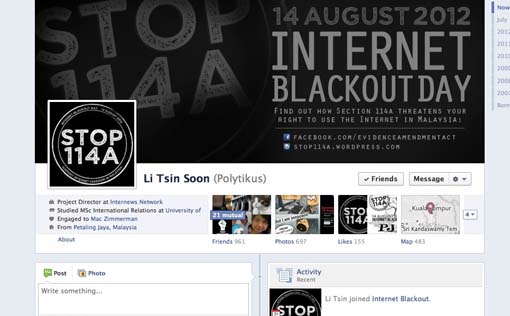 Kah Seng , another FB user wrote," The whole legislative philosophy of presumed guilt and placing the burden of proof on the individual is also prevalent in the "Freedom" of Assembly Bill, which should be called "Guilt" of Assembly Bill.
The upcoming "Harmony Act" may be even more cynical. It should be called "Harm Only Act".
Our only solution is to kick out these predatory legislators."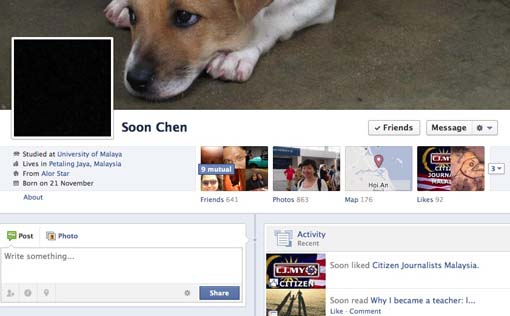 Martin Jalleh of Ipoh has also changed his profile picture to one of the identifiable black and white picture to depict the gloom and doom that faces Malaysian internet users if the amendment were to be gazetted.
The CIJ and other critics who also have included some figures in the ruling coalition such as the Umno Youth chief Khairy Jamaluddin and Saifuddin Abdullah, have called for it to be scrapped or revised.
The 24-hour blackout will last until midnight.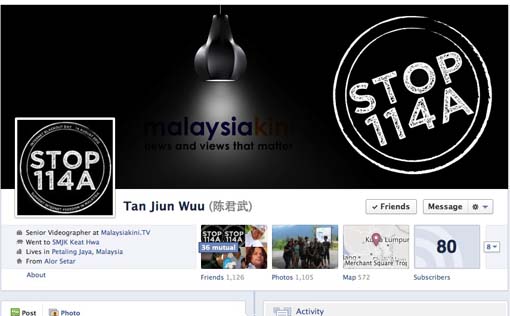 The prime minister must call for elections by next year against a vocally formidable opposition that gets most of its message out via the Internet due to a government stranglehold on traditional media. This amendment is obviously an attempt at stifling the opposition.
Photos: Photos for this article are screen captures of individual Facebook users taken with permission.