Anwar arrived in Muar with red paint splashed bus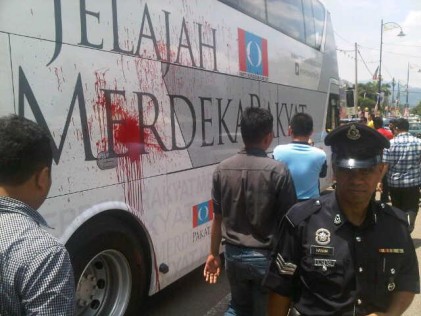 Anwar Ibrahim, Leader of the Malaysian Opposition and President of Party KeAdilan Rakyat arrived at Parit Yusof, Muar where he was met by over 700 people who sweltered the scorching sun to welcome his entourage with firecrackers .
Bas Jelejah Merdeka Rakyat, which transported him was splashed with red paint outside Masjid Jamek,Tangkak where he attended the Ledang PKR open house after Friday prayers.
Anwar addressed various issues which he alledged were used by UMNO and BN to confuse Malay voters. He was confident that changes will happen and said that an announcement will be made in Labuan tomorrow.
I have no intention of sending anyone to prison ,Godwillling we will take over Putrajaya, lets not have any ill feeling, I will be satisfied appointing Najib as the opposition leader, if he does not accept we will send him as ambassador to Mongolia, he added.