Inauguration of the new Sungai Way Nine Emperor Gods Temple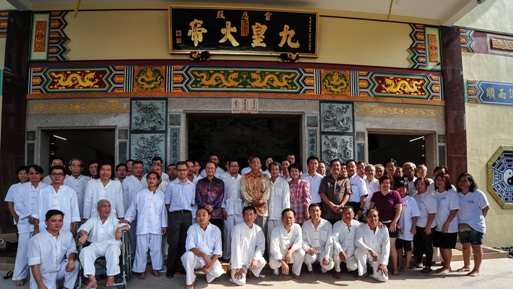 The Sungai Way Leng Eng Tian Khiew Ong Tai Tay Temple held its new temple inauguration ceremony on the auspicious 15th Day of the 8th Lunar Month, coinciding with the Chinese Mooncake Festival on September 30, 2012, all in good time for the 9 day Emperor Gods Festival  (commonly known as the  Vegetarian Festival)  which will commence in a fortnight's time.
This new temple has been built at a cost of  RM 5 mil and is located at the junction of Jalan SS9A/5 right in the centre of the township of Sungai Way in Petaling Jaya.
The 38 year old temple was constructed and relocated here to make way for developments on its former site some 2 kilometres further down the Sungai Way Main Road.
The building costs are funded mainly by devotees and public donations collected during temple ceremonies and dinners.
The Selangor State Government also donated RM 50 K towards the building fund.
On hand to witness the ceremony was YB Ronnie Liu, Selangor State Exco and YB Tony Pua, the Member of Parliament for Petaling Jaya Utara and some 200 devotees of the temple.
Related stories:
http://cj.my/post/71713/grand-procession-to-mark-nine-emperor-gods-temples-shift-to-new-site/
http://cj.my/post/72182/sungai-way-temple-relocation-an-exalted-occasion/