All tuned-up for Miss Hypertune finale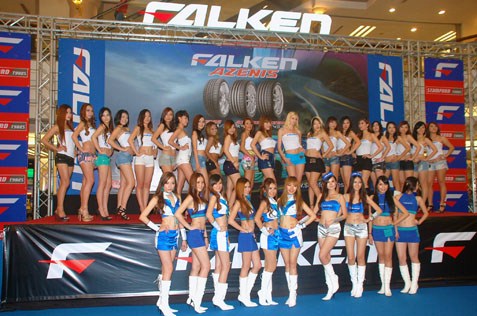 Twenty-six beautiful semi finalists of Miss Hypertune 2012/2013 made a promotional appearance for sponsor at the Falken Roadshow before a large crowd at 1 Utama shopping centre in Petaling Jaya on October 13, 2012.
The public appearance caused a flutter of excitement all over the mall with the crowd greeted them with cheers and applause as the bevy of beauties trooped to the centre court in tube tops and denim jeans shorts and danced Gangnam style to the loud music blaring full blast.
The beauty showcase provided the public with an opportunity to meet the Miss Hypertune semifinalists in the build up to the grand final on November 10 at Mist Club, Bangsar.
After their introduction in the catwalk, there were photo opportunities with the girls who put on their best smiles and posed for photographs with camera bulbs flashing non-stop throughout the event.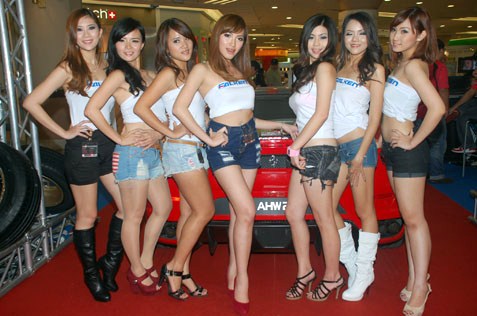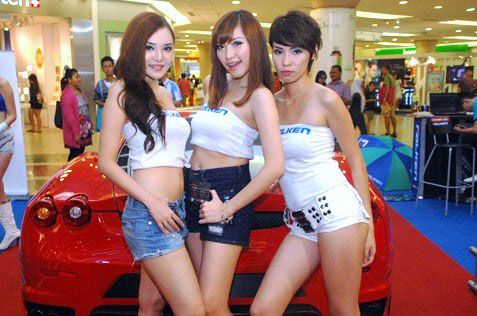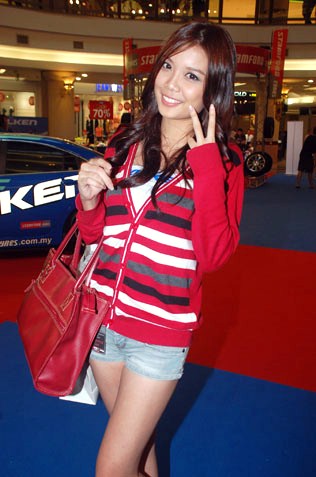 "We are proud of these girls who had made it through auditions in the hope of becoming the next Miss Hypertune, " said Sabrina Quigley Chin, founder of HE & SHE Management, the event organiser.
The performance car magazine Hypertune conducts a yearly model search contest with the winners get to grace the magazine covers of Hypertune, Shift and Miss Hypertune Journal.
Their good looks help to contribute to the magazines' popularity and success that they are enjoying today.
Sabrina said four of the semi finalists could not make it for various reasons. Fifteen of them would eventually be selected to enter for the grand final during the semi final round on November 3.
Miss Malaysia World 2011 Chloe Chen is among the panel of judges for the contest themed "Car with Beauty and Fashion".
The winner of Miss Hypertune 2012/2013 will walk away with RM2,000 cash, ReFa PRO beauty device from Japan worth RM1,200, other sponsored prizes and will appear on the magazine covers of Hypertune, Shift and Miss Hypertune Journal.
Besides there will be adoption of subsidiary titles with cash prize of RM200 each and sponsored prizes.
One of the hopefuls, a 20-year old law student doing her Bachelor of Law degree at Multimedia University (MMU) Malacca, Christine Lim said she came to know about the contest from her facebook friends.
"I hope to make it through to the grand final and hopefully to get a win this time," said Christine who was third runner-up in the Miss KSL Ambassador 2012 contest held in Johor Baru.
Christine who financed her study with a PTPTN loan said she worked as a freelance model to pay for her room rental, food and other pocket expenses as she did not want to burden her parents who wanted her to be independent.