Coin-tossing lion dance at temple's anniversary celebration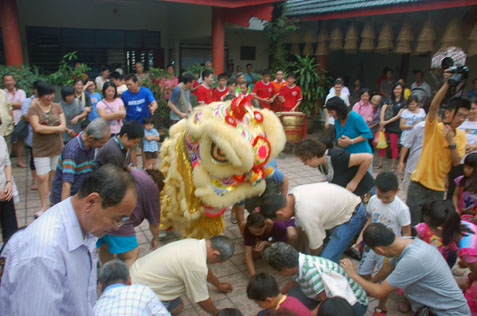 The Wong Loo Sen See Chee Choong temple at Jalan Lombong, 2 ½ miles off Jalan Cheras, Kuala Lumpur recently celebrated its 52nd anniversary with hundreds of devotees who thronged the temple offering prayers to the resident deities for good health, longevity and prosperity.
The highlights on the auspicious day, being the first day of the eighth month in the Chinese calendar, were coin-tossing lion dance performance, wushu demonstration and a free vegetation buffet lunch.
Temple chairman How Joon Wai said he was happy to see a bigger crowd of devotees this year as the event fell on Sunday, a non-working day.
He said temple officials from various Wong Loo Sen See Temples located throughout the country also attended the festive occasion to strengthen the bonds of fellowship and fraternity.
Devotees gathered at the temple's compound to catch the coin-tossing lion dance performance.
The pair of prancing lions performed the stunt of tossing coins into the crowd from their gaping mouths as traditional sounds from Chinese drums and cymbals provided the beat for the lion dance.
It is believed that whoever picks up the coins tossed by the lions will enjoy wealth and prosperity.
It is symbolic of being "showered with wealth and prosperity."