Peacock kolams for Deepavali by Raffles College students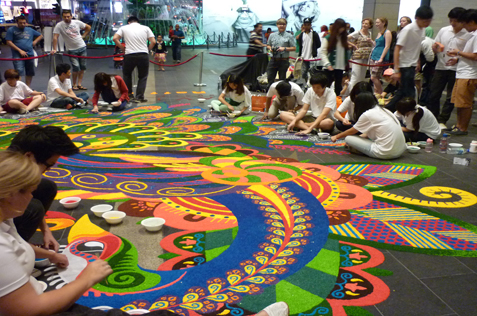 A team of 36 students from Raffles College's Visual Communication, Interactive Media Design and Interior Design programme,Kuala Lumpur spent over two days to create three peacock kolams at Pavilion Kuala Lumpur recently in conjunction with the Deepavali celebration.
The kolam project was the first ever collaboration between the college and the shopping mall.
The biggest kolam which measured 26 ft by 26 ft, featured a peacock outside the main entrance of Pavilion Kuala Lumpur.
Over the span of two days, with 548 kg of hand-dyed rice, the 36 students laboured to bring the design to life.
The design titled "A Sight of Light" was intended to evoke joy and happiness, mirroring the festive spirit of Deepavali.
For the students, the kolam project was a valuable learning experience as the process itself was a work of art. It was a first time experience for most of the students, who were happy with their work even though the task itself was tiring.
Besides learning about a different culture, they learned patience and the importance of teamwork.
"It's a good learning experience, being exposed to the working world, dealing with a client on a project like this. I am glad to be working with such a great team and I am so proud", said project team leader Caroline Chia.
"The project provides good exposure for the team. We learn to work as a group, the importance of teamwork, patience and working within the set time limit."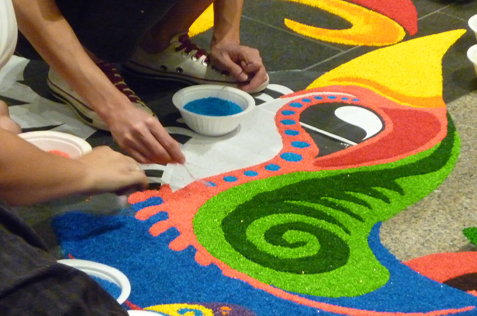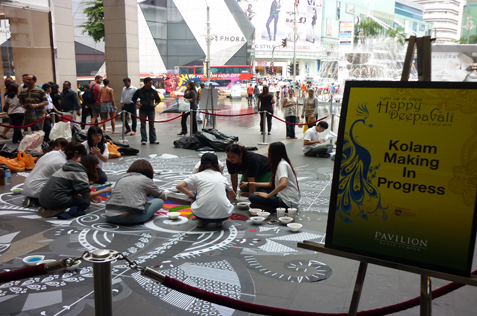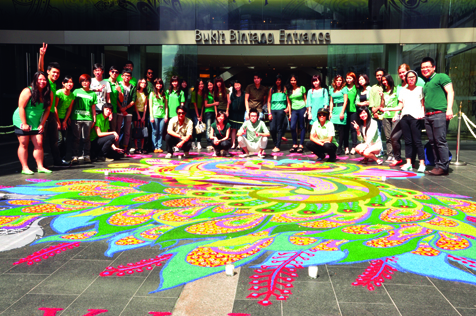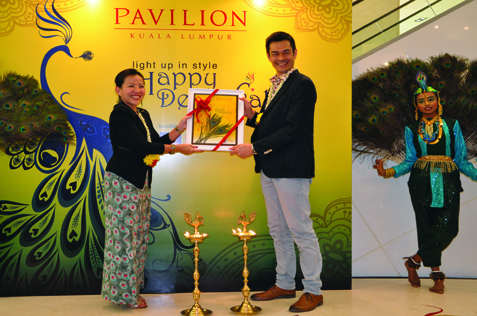 The team was guided by Visual Communication co-ordinator Shirly Khaw whilst Interior Design lecturer Ramesh Verapatharan provided advice on materials, colours, cultural significance and execution method.
The Fashion Design students were guided and assisted by lecturers Ronney Henry and Aisah Wahab.
The two smaller kolams were inside the mall.
The smaller main kolam design titled "An Exquisite Journey", featured a dancing peacock with its tail feathers fanned out in glory. Adding a dash of fashion to it was a gown designed by 10 Fashion Design students who took 60 hours to hand-stitch the peacock feathers onto it.
Assistant team leader James Chang said teamwork and patience were the most important aspects in making the project a success.
He said: "I am very happy to be a part of this project. We have good team spirit and everyone is learning something, especially the foreign students here about Malaysian culture."
An Interactive Media student Salaf Tegal from Sri Lanka said his involvement and overall experience in the project was one of great feeling of satisfaction knowing that he contributed to its final completion.
"I always knew Malaysia is a multi-cultural hot spot. This project allows me to get a better understanding about the festival and its origin."