MBPJ celebrates World Animal Day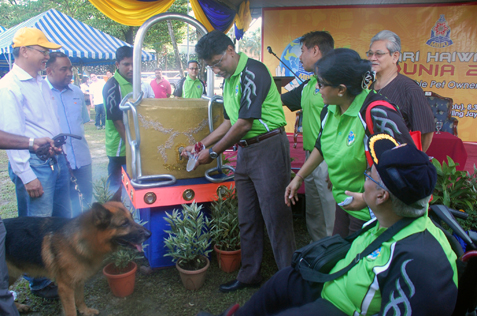 In observance of World Animal Day on October 4, the Petaling Jaya City Council (MBPJ) for the first time ever organised a half-day long activity focusing on dogs with its theme "Responsible pet ownership" on November 11, 2012 at Padang Astaka in Petaling Jaya.
World Animal Day is a day dedicated to paying tribute to all animals and acknowledging the important roles they play in our lives.
Selangor state health, plantation workers, poverty and caring government committee chairman Xavier Jayakumar launched the event which was aimed at educating animal owners, animal lovers and the general public by driving home the message of responsible pet ownership.
In his address Xavier congratulated MBPJ for organising the event focusing on pets and awareness for dog owners in the city.
"Last year, the council celebrated World Animal Day by holding a seminar only but this year it has progressed by giving attention to licensed dog owners in the city with the objective of creating awareness for dog owners so that they are responsible for the beloved animals under their care," he said.
"I think it is something we are moving on and doing quite well. It takes some time in creating awareness and educating the people about responsible pet care."
Xavier said the state government formed the Canine Advisory Team or CAT where the members comprising councillors and representatives from animal welfare NGOs and Department of Veterinary Services (DVS) met every month to discuss and deal on matters concerning pets and stray animals. It was a means to educate people to be responsible pet owners.
He said: "If you have a dog and take it out for a walk and it does its business on the sidewalk, then I think as a responsible pet owner you should clean it up but usually the pet owners don't do it. It is sad because it should be done.
"There is no law to compel dog owners but I would encourage dog owners to be responsible to clean it up after their dogs defecated."
He said there is currently no parks dedicated to dogs so he advised dog owners to put a leash on their dogs whenever taking them out to the parks and to be careful about the surroundings especially those who are averse to dogs.
"Before you take any animal into your home, be well prepared for long term responsibility and at any time if you find that you cannot handle the animal you have at home, then the best possible way is to move it to an animal shelter where there are people who would take care of this animal."
"This is important because puppies look cute when they are small but as they grow older you have a lot of responsibility in taking care of them."
Xavier later presented awards to three dog owners in recognition of their consistent effort in promoting responsible dog care.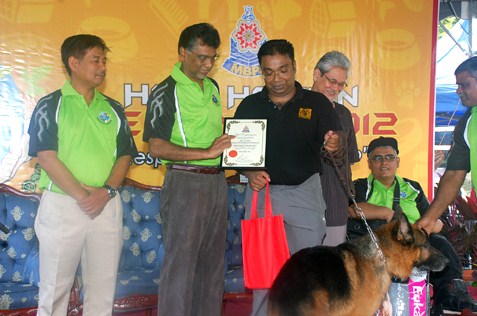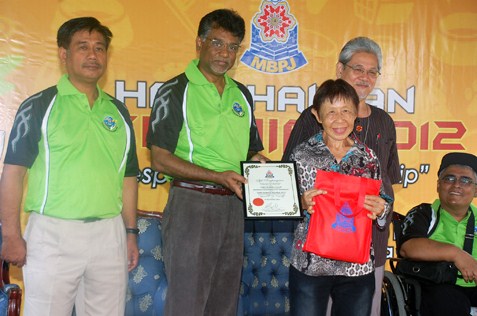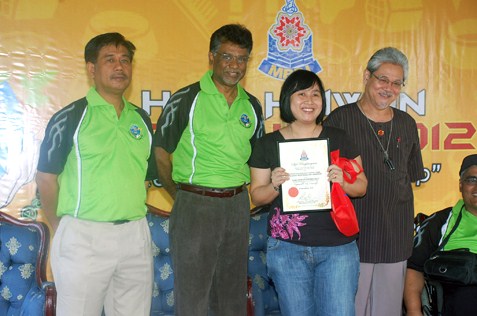 Present at the by-invitation only event were deputy mayor Puasa Bin Md Taib, council director of environmental health Dr Chithra Davi Vadivellu, Kota Damansara assemblyman Dr Mohd Nasir Hashim, councillors Richard Yeoh Yong Woi and Anthony Siva Balan A/L Thanasayan, who is also the event organiser.
Among the activities on the day of the event were dog obedience demonstrations by Malaysian Kennel Association (MKA) and animal-related talks by MBPJ, Department of Veterinary Services (DVS) and dog food brands Eukanuba and Rhone Ma,
There were various booths for fleas and ticks solutions, healthy food for dog care and information on dog license registration.
Guests were served non-meat food at the celebration as a gesture to respect animals on the special day.
On the issues of stray cows roaming in the city, Xavier said: "If we have to enforce the law and confiscate the cows, we do not know where to put the cows. There is no place."
To overcome the problem, the state government has allotted about 200 acres of state agricultural land in the north of Selangor where each farmer is given about 10 acres of land.
"We are giving the farmers a very nominal rate for the 10 acres of land, In fact, he actually gets it for free. The infrastructure has been built and the farmer has to build his cattle shed.
"We have a system of monitoring and educating them. These people are very experience cattle farmers although they do not go to school. But over the years of dealing with cattles, they have become professionals in their own ways as far as cattle farming is concerned.
"Theses cattle farmers are professors without degrees. Given an opportunity they will do well."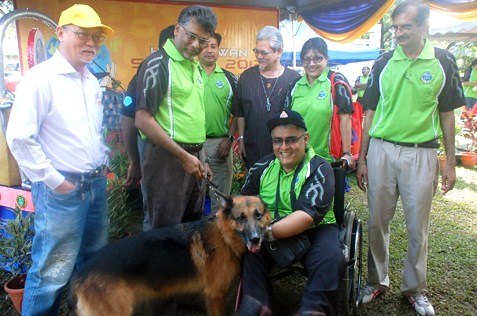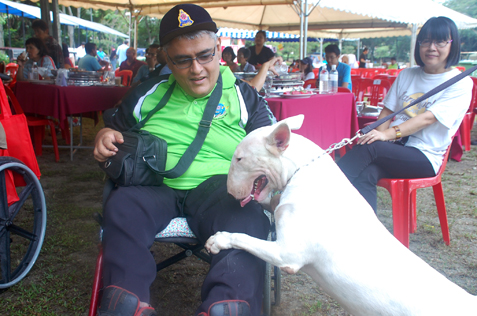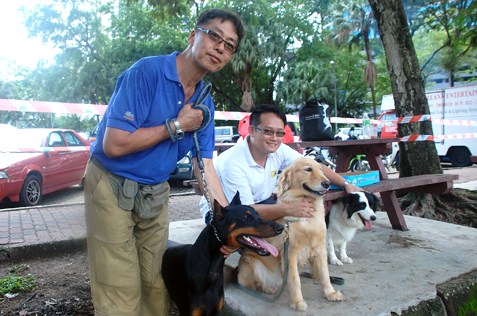 Event organiser Anthony Siva Balan said MBPJ was the only council out of 149 councils in the country celebrating World Animal Day.
He said: "This is the first time a local council has organised a program with the dogs in the MBPJ sponsored program and allowing dogs into a council field in the city which is a big leap forward for Petaling Jaya.
"No other animals were brought in because we cannot manage them. We don't have enough manpower and since we are doing this for the first time, we brought in trained dogs from Malaysia Kennel Association (MKA). We cannot allow the public to bring their dogs which may react.
"And we intentionally bring in Rottweilers, German Shepherds and Bull Terriers because we want to break away from the negative perception of people on these dogs. It's not the dogs that are causing problems, it's the people and veryone was quite amazed as none of us were bitten and the dog owners picked up after their pets.
"This is the kind of program we want to accomplish."
He lamented a lot of people who bought puppies or dogs for their children for all the wrong reasons without thinking about the lifelong responsibility.
"You go to a supermarket, see someone giving away unwanted puppies or dogs and you feel so sorry. And the worst thing you can do is to adopt them. Then it's a 15-year affair (a dog's average lifespan is about 15 years). It's not a 15-min affair you fall in love with it. You have to live with it for the rest of your life and causing problem to your neighbours and you ended up with the council," he said.
He said: "The council was very concern about fighting crimes but we don't use dogs enough. Dogs can be used to fight crime. People can take dogs out for a walk in the park to avoid snatch thieves. They must be open to that kind of idea.
"And in the homes too, the police will advise you to keep a dog. And even if they said you can't keep a dog, you can put up a sign that says 'Beware of Dog'.
"I talk to my own dogs. As a councillor I suffer depression but my dogs help me. They gave me a reason to live everyday and I am here for that. And that is why we are focusing on dogs," added Anthony, a proud owner of four dogs – a Doberman, a Shetland Sheepdog and two German Shepherds.
Stray dogs caught by the council will be handed over to animal shelter group Paws Animal Welfare Society (PAWS) but the council is looking into having its own pound.
"We want to move forward. We want to have our own pound. Its not a shelter but a place where the strays are brought in, then given a week (under existing by-law) for people to adopt before the strays are put to sleep."
He said MBPJ has bought a new dog-catching van and it is still going through the check and approval by DVS to ensure the van is animal-friendly. It has nice cages and is installed with an air-conditioned unit.
"We are looking for a dog park in Petaling Jaya Old Town area to allow dog owners to spend recreational time with their pets as dogs also require regular exercise just like we do. It's an existing park where we are going to try it out on a weekend first. It's in the process right now."