Penang Lighthouse lights up for Christmas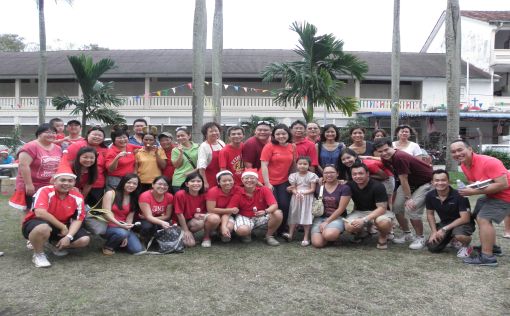 Thirteen years ago, Edward Low Soon Li, gathered his family and some friends on a mission to provide food for the under-privileged.
There were about 20 of them and they went to charitable homes, especially during Christmas and Chinese New Year, with food for the residents of the homes.
Now, there are about 80 of them and they are still actively visiting homes to provide them with meals.
These dedicated group of volunteers simply call themselves 'Friends'.
On 2 Dec 2012, for the third time running, they organised a Christmas gathering for the clients at the Lighthouse Drop-in Centre.
The Lighthouse is a 'Place of Hope' for the underprivileged, run by the Penang Office of Human Development, under the Catholic Church.
One hundred and seventy clients of all races and religions, dropped in the Lighthouse for food and entertainment to celebrate an early Christmas.
As the clients walked in, they were given a piece of card to write their names and the cards were hung at the Christmas tree.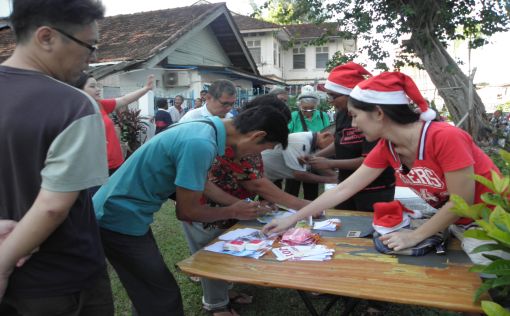 The Director of The Lighthouse, Gerard Robless began the event with a thank you speech.
He thanked all staff and volunteers of The Lighthouse but the biggest thanks went to Edward Low,  who was the main person instrumental in getting together the 'Friends' (for the third time) to give the clients a good meal and an enjoyable time.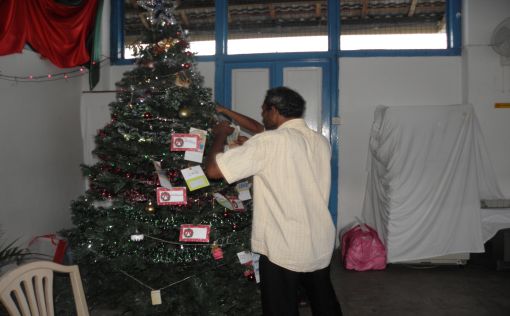 Before food was served to the clients, they were treated to a magic show by Kelvin Kor, one of the 'Friends' volunteer.
There was a band in attendance, which was from the Church of the Risen Christ, Penang.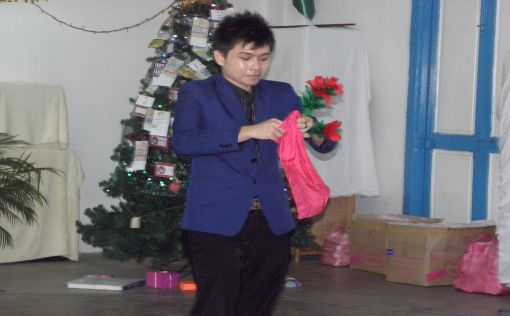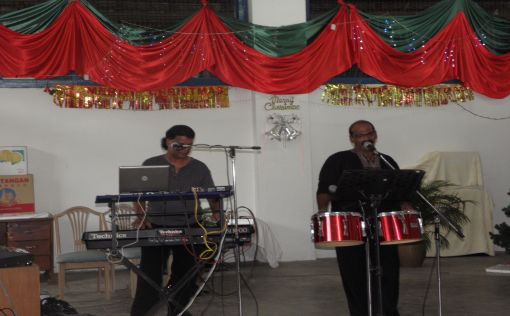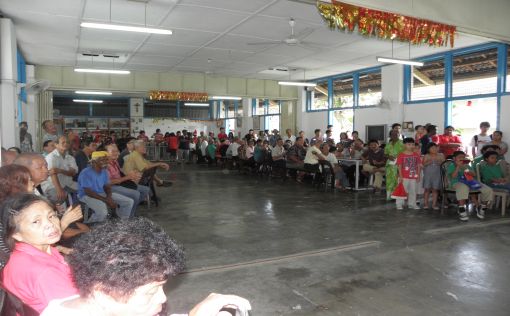 Something different that the 'Friends' presented in the Lighthouse this year, were two 'live stalls' – the char koay teow stall and the ice kacang stall.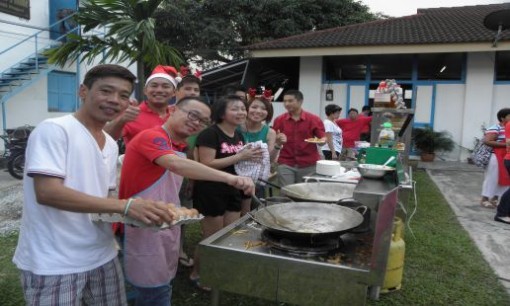 These stalls were organized and managed by 12 friends from thee same office, Havana Connection. Lenny Lim, the spokesman said that when Edward asked what they can contribute this year, they decided to try something new – setting up the two stalls. He informed that the magician, Kelvin, is from Havana Connection too.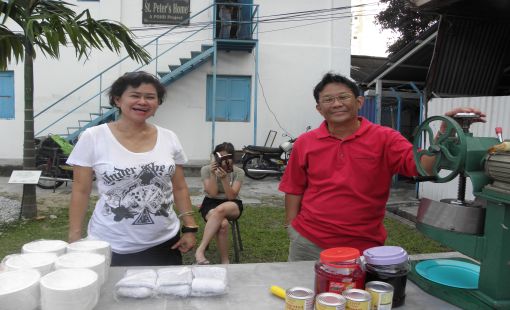 After the clients had tucked in the good food, they left with two goody bags – one with kueh-kueh and one with toiletries.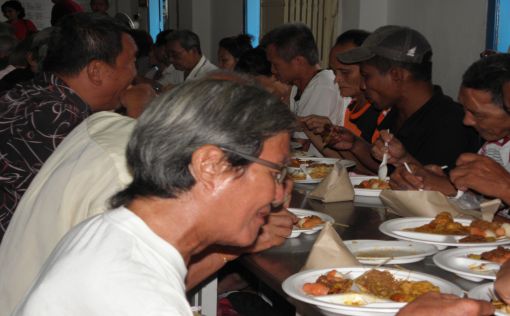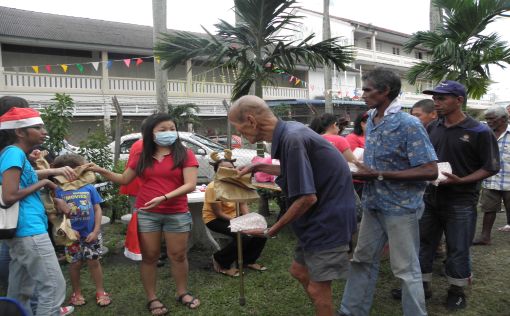 Edward Low, 37, who works in Training and Development, Intel Penang says:
"Initially I thought of this idea of visiting charitable homes and bringing food to them."
"I talked about this to my friends through email, and eventually many agreed it was a good idea; thus they volunteered their time and service.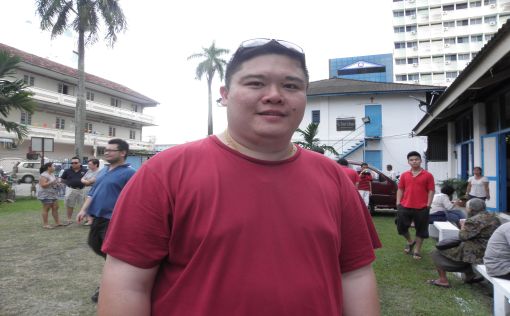 "We do not collect funds. All expenses comes from the pocket of the individuals as and when they were involved in a project.
"We try to evaluate the homes that we visit – to go to those homes that are not so well known, the homes that received less publicity.
"We usually go during Christmas and Chinese New Year and we not only provide them food but within our capabilities, we see what entertainment we can provide, like for today, we have someone volunteer to do a magic show," said Loh.
When Edward was asked what made him spent his time (not forgetting money) in doing what he does, he said "I look to what I am able to give as a gift that I have. I have the means to reach out to those less fortunate than me – a gift that I should use. It's only a small contribution on my part, to give them hope."
Kevin Ong, a volunteer of 'Friends' who had been with Edward ever since they started, said that he joined 'Friends' because he feel the need to support Edward in his noble cause.
"Sometimes we not only give food but we also give them presents." said Kevin. "This made them happy to have something to take home. It is our responsibility to help those less fortunate than us whenever we can.
"We do our best to contribute whatever we can in our own small ways."
"I would say it is those operating  the Lighthouse, who are the ones who contribute more than us."
"They had dedicated their time and service full time to see to the need of the under-privileged people," he said.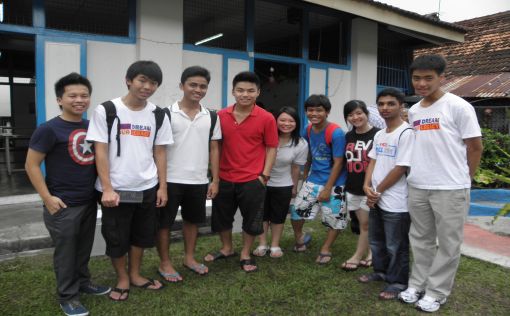 A Lighthouse client, Goh Boon Heng, 76 years old, who stays at the nearby Argyll Road, said he used to go to Rifle Range flats area for his meals but after his friend told him about Lighthouse, he decided to come to Lighthouse regularly.
This was his first time at Lighthouse and he said he enjoyed the food and the company.
Ooi Chin Leong, 32 years old, is a long-time client of Lighthouse. He said he had been visiting Lighthouse on and off for ten years and is very satisfied with Lighthouse as he said they always provides good food, and in a clean environment.
He expressed his gratitude to Lighthouse.