Petaling Jaya poor lavished with treats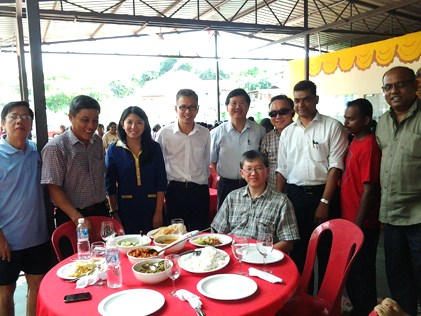 In conjunction with the recent Deepavali celebration, DUN Damansara Utama state hosted a Deepavali gathering for the poor and needy at the Sri Maha Mariamman Temple in Section 19, Petaling Jaya recently.
Led by  the state assemblyman for Damansara Utama Dr Cheah Wing Ying and  the councillor for Petaling Jaya City Council (MBPJ) Jeyaseelan Anthony, some 200 poor and needy families and single parents from Lembah Subang PPR Flats and Flat Bistari Jalan Harapan in Section 19, Petaling Jaya were feted to buffet lunch and handed goodie bags containing various types of foodstuff and essential to help them lessen their financial burden.
Many happy faces could be seen around when they received their goodie bags from the hosts.
The event was officiated by Petaling Jaya Utara MP Tony Pua.