Scripture reading instead of Bible-burning in Penang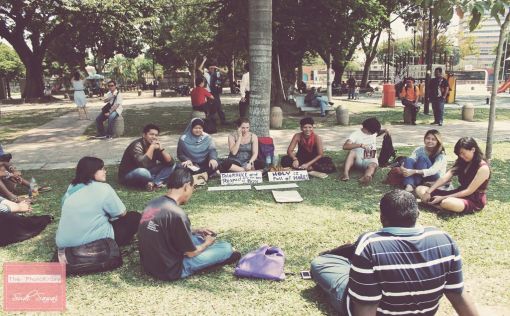 "Whatever happens, conduct yourselves in a manner worthy of the gospel of Christ.
"Then, whether I come and see you or only hear about you in my absence, I will know that you stand firm in the one Spirit,striving together as one for the faith of the gospel without being frightened in any way by those who oppose you.
"This is a sign to them that they will be destroyed, but that you will be saved—and that by God.  
"For it has been granted to you on behalf of Christ not only to believe in him, but also to suffer for him, since you are going through the same struggle you saw I had, and now hear that I still have."
These scripture verses from the Holy Bible, the letter of St Paul to the Philippians 1:27-39 hounded Kevin Eruthayanathan after the alleged 'Bible-burning festival' notice surfaced.
Not knowing that it was a hoax or that it might happened, Kevin was inspired (by the scripture verses) to hold a 'Holy Book reading' event on the same day of the alleged 'Bible-burning festival'.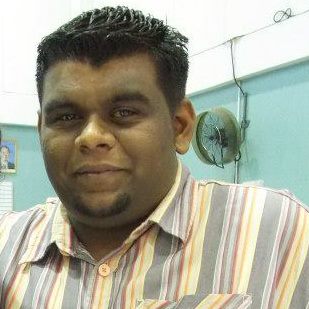 Kevin, 30, who is the State Coordinator of the Youth for Peace and Justice Movement, publicise the 'Holy Book Reading' event on Facebook and through his contacts.
Seventeen people turned up at Speakers Square, Penang yesterday at noon for the event, which included people from different faiths.
When Kevin was asked why he organized the event, he said he wanted to prove that there were sensible people who respect each other faith and will not dance to the tune of some ill-minded politicians who were trying to cause a rift in people of different faith.
"Ibrahim Ali needs to know that the people are united in solidarity and faith.
"We are a matured generation that has respect for each other we want to prove that people of different religion can come together to read and understand each others faith through their Holy Book and its not an issue at all." he said.
"The reading of each other's Holy Book is not meant to condemn but to understand and respect that we are all sons and daughters of one God that only knows how to love.
"God taught us to love your neighbour as yourself."
The 17 people who met at Speakers Square, read their own Holy Book and later they shared a verse that spoke of respecting each other's faith.
They also shared on the current situation on this 'Bible-burning' issue.
Majority of the Muslim present felt that they were ashamed of the call to burn Bibles.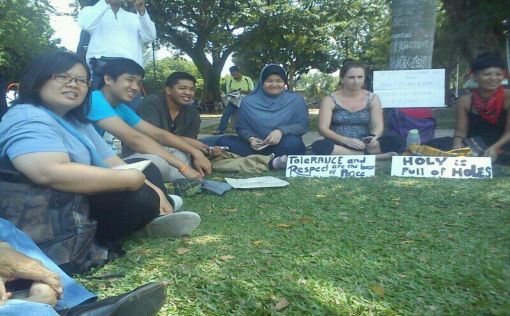 A Muslim couple shared that the dissent over the usage of 'Allah' in other scriptures had been blown out of proportion.
Muslim actress, "Muslina Mustaffa, read out, in an expressive way a poem on holiness.
The poem simply stated that everyone and everything was holy. She had earlier stuck a sticker to a tree that read 'Reading not burning. A festival.'
Kevin shared that he love Malaysia as his country but he was sad that there is no freedom of religion if there are restrictions imposed on religions.
"Not allowing us to use Allah, and now wishing to burn our Bibles – these infringe on our freedom of practicing our faith," he said.
"We are just a minority why are they so afraid of us? It is the minority that should be afraid of the majority but here is the reverse.
"When I attended inter-religious dialogues I feel so proud being in a culturally diverse country where everyone sees each other as a brother and sister in the eyes of God.
"However, when facing the world, I notice this subtle manner of creating hatred, animosity and envy among the different faith."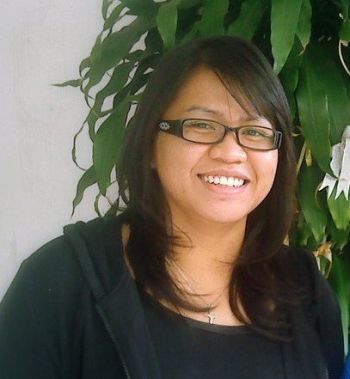 Sudi Sawai, a 26 years old Iban from Sarawak, told Citizen Journalists Malaysia (CJMY)  that she attended the Holy Book Reading event because she wanted to find out the support for using the Allah word.
She said that the Iban-speaking Christians in Sarawak had been referring to God as "Allah Taala" in the Iban language all the while.
Reading about all the attacks surrounding the usage of 'Allah and he Bible burning threat, she decided to attend the scripture reading event to show her community support.
"I'm happy to see people of different faiths gathered together to have a meaningful dialogue about their faiths.
Sudi always believed that people should engage more with people who came from different creeds.
"Only by that we could understand each other and throw away those suspicious feelings," she added.
Seen among the crowd was Penang Suaram Coordinator Melanie Yong.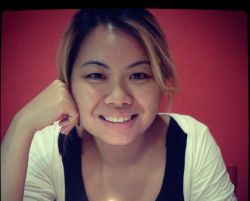 She said that she attended the event to show that the rakyat are able to counter any political games played by the politicians especially people like Ibrahim Ali.
"We also want to show that we are not easily fooled by what the mainstream media says, as we are able to think maturely and analyse the situation," she said.
"I really enjoyed the gathering with the others.
"It gives us, of different faith, an opportunity to come together to talk it out instead of  distancing ourselves  from each other in this tense moment.
"We had actually discussed and learn something from each other's faith."
"I hope to see more of this 'people power' initiatives.
"Its about time we took the future of the country into our own hands instead of leaving it to politicians who make the situation worse."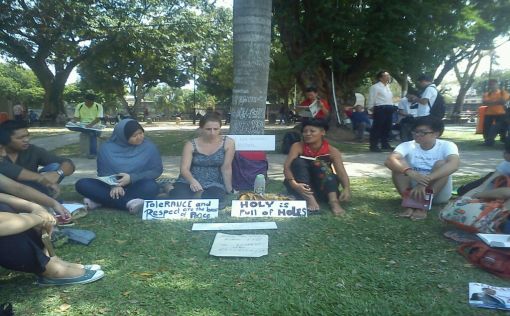 Related articles:
Bible-burning festival in Penang a non-event
Scriptures readers: why burn when you can learn?