Longest Yee Sang spread over Bukit Bintang
A 999-meter long and 60 cm in width "yee sang" – a colourful traditional dish of mixed vegetables and raw fish eaten during Chinese New Year – was spread on tables joined together and has made it into the Malaysia Book of Records as the longest yee sang in the country on February 17, 2013 .
The record of longest "yee sang" also known as "lou hei" was held in conjunction with the Chinese New Year Festival 2013 celebrations from 10.00 am to 2.00 pm.
The yee sang was prepared by 99 chefs and laid on four rows of 1,000 tables joined together. The tossing of yee sang is to attract good luck for all those present.
There were stage performances, lion dance, stilt walkers and God of Prosperity walkabout.
Present were prime minister Datuk Seri Najib Tun Razak, his wife Datin Seri Rosmah Mansor, Tun Dr Mahathir Mohamad and his wife Tun Dr Siti Hasmah, Kuala Lumpur city mayor Datuk Hj Ahmad Phesal Hj Taib, organising chairman Datuk Liew Poon Sak from Chinese Grass Roots Association and Malaysia Book of Records founder and managing director Datuk Danny Ooi.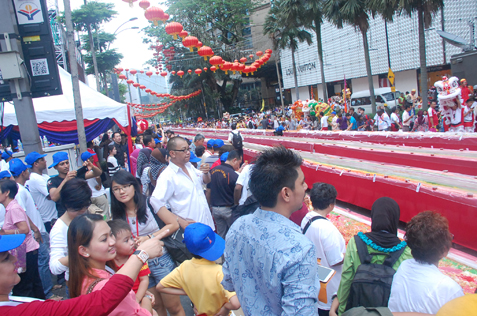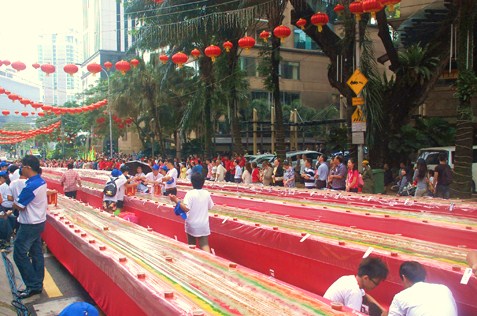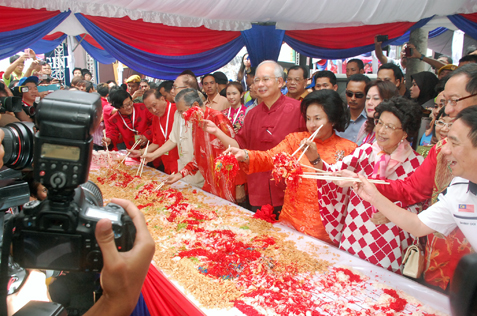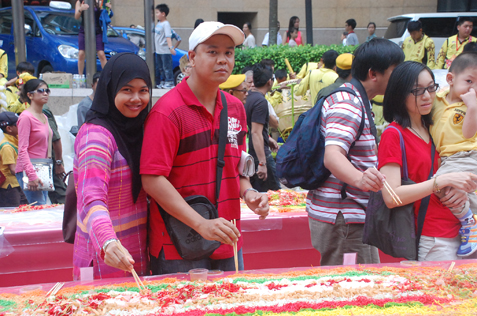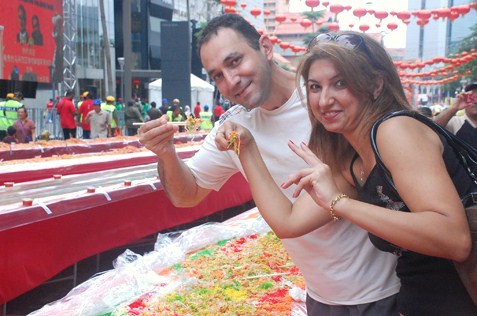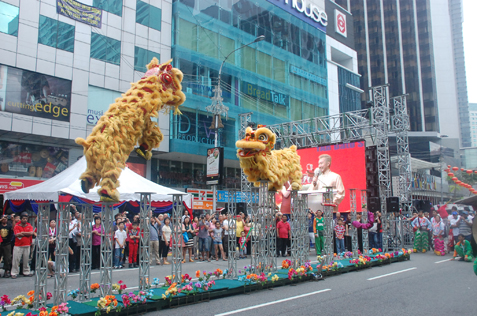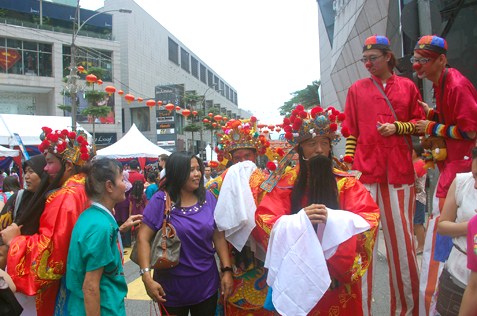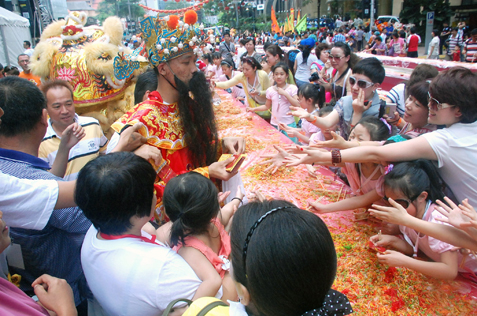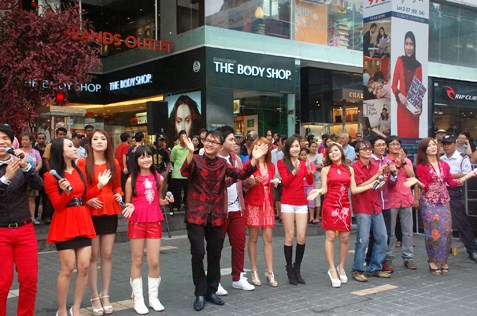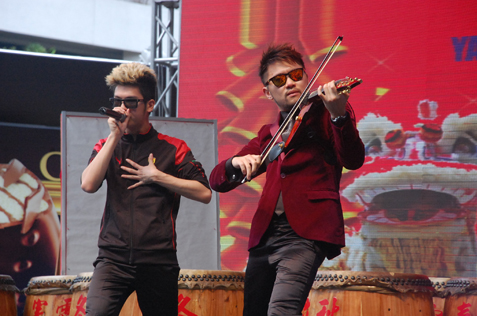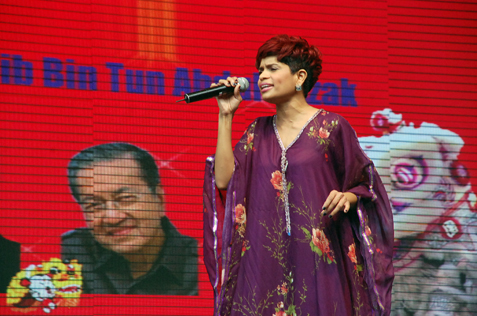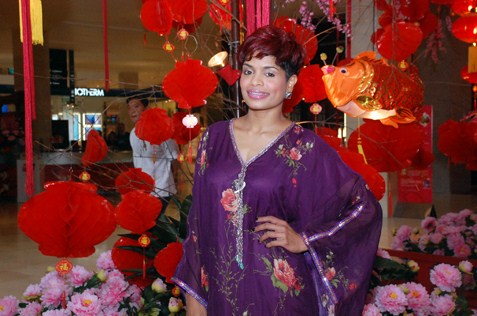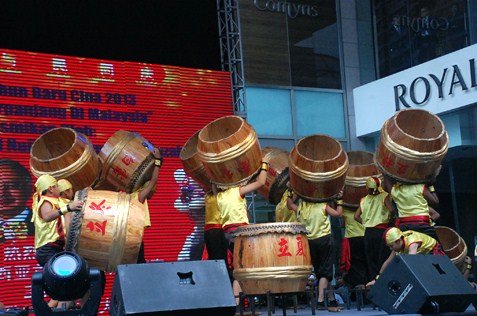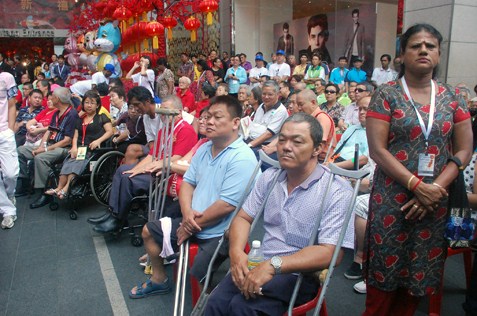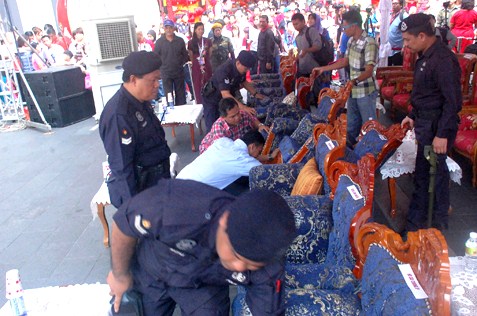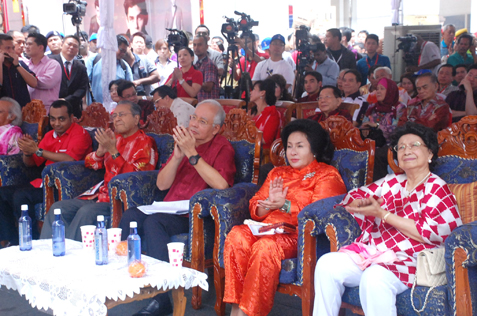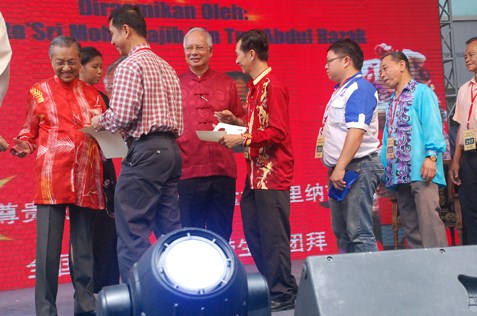 Each and everyone of the leaders of the 488 Chinese Associations present went on stage to receive a Certificate of Appreciation from Datuk Seri Najib and angpows from Tun Dr Mahathir Mohamad.
The VIP guests did the ceremonial tossing of the yee sang with chopsticks for great fortune for the new year.
Local artistes who performed were first Malaysian Idol Jaclyn Victor, beatboxer Kou Jee and violinist Dennis Lau, among others.
Jaclyn belted out two songs "Gemilang" (Glory) and "Set fire to the Rain" by Adele to the delight of the crowd.
"I think this is a good thing to perform in this festival which is for the people and for the country," said Jaclyn to Citizen Journalists Malaysia (CJMY).
"This is quite an elaborate happening right here in the city centre and it is quite a big deal.
"We live in a multi-racial country so I think it is important for every festival to be celebrated by Malaysians. This is the beauty of Malaysia which is so colourful with so much happenings all around the country.
"I am so happy and glad to be part of this Chinese New Year celebration to sing as I was always singing. I like to sing for anybody who will listen so I wish a Happy Chinese New Year to all who celebrate the festival."